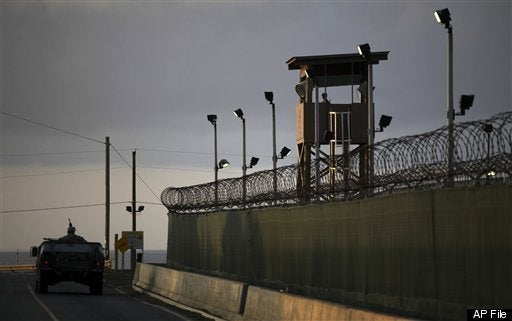 NEW YORK -- On Sunday night, more than a half dozen major news organizations in the United States and Europe began publishing shocking new revelations from a long-rumored WikiLeaks trove of documents about prisoners held at Guantanamo Bay.
Some outlets immediately acknowledged receiving the documents directly from WikiLeaks; others claimed to have another source for the more than 700 files stretching back to 2002. So how did two groups of media organizations -- one that worked with WikiLeaks and another that didn't -- get caught up in a race trying to scoop each other? Let's go back a few months.
WikiLeaks chief Julian Assange began telling some close media contacts in late 2010 that his anti-secrecy organization had been leaked documents offering details about all the prisoners at Guantanamo Bay in its possession. If true, WikiLeaks would once again be at the forefront of another major U.S government leak, following revelations they -- and other media outlets -- published concerning Afghanistan, Iraq and international diplomacy through the State Department.
But five months passed since a source told Reuters that Assange had "personal files of every prisoner in GITMO" and the documents hadn't emerged. NPR executive editor Dick Meyer had heard about the rumored cache and told The Huffington Post that his news organization even had discussions months ago with The New York Times -- which co-produces a database on Guantanamo Bay prisoners -- about what they'd do if they obtained the documents.
A few weeks ago, the Times informed NPR investigative unit head Susanne Reber and reporter Margot Williams -- who joined NPR last year after having previously maintained the Times' Guantanamo Bay database -- to give them the news: the paper had obtained the GITMO files.
The Times also provided the documents to The Guardian -- a reversal of the papers' relationship around the State Department cables, whereby the British paper supplied WikiLeaks documents to The Times. Assange was at odds with the Times; now he's cut ties to The Guardian, too.
Meyer says he doesn't know who provided them to the Times. For now, all that's known is who didn't.
"WikiLeaks is not our source," Times executive editor Bill Keller told The Huffington Post. "We got the material with no embargo."
Meanwhile, another group of media outlets were already sifting through the classified material, albeit under embargo. As with past WikiLeaks releases, news organizations accepted documents under an agreement to hold off on publishing until WikiLeaks does.
Since cutting ties with the Times, WikiLeaks had been looking for new U.S.-based news organizations to work with. In mid-February, WikiLeaks began working with McClatchy Newspapers and the Washington Post. WikiLeaks provided those organizations with the Guantanamo Bay documents near the end of March.
Mark Seibel, McClatchy's chief of correspondents, said that his news organization, "with a reputation for investigation and independence, would be a natural" fit to partner with WikiLeaks on this project. (McClatchy deservedly won praise a few years back for its skeptical coverage of the case for war in Iraq prior to the U.S. invasion, which ran contrary to some bogus front-page reports in The New York Times). Seibel added that McClatchy now possesses the State Department cables that WikiLeaks first started publishing last November.
WikiLeaks also provided the Gitmo documents to several news organizations outside the United States, including The Telegraph (U.K.), El Pais (Spain), Le Monde (France) and Der Spiegel (Germany) -- the latter three having been recipients on past megaleaks. The Telegraph appears to have replaced The Guardian as WikiLeaks' go-to U.K. partner.
As those news organizations dug through the files, the Times and NPR continued their own collaboration. Meyer said there were "lots of meetings back and forth" and the two news organizations shared materials over a secure server, working together on the co-branded interactive feature. Meyer said that Williams had continued helping the Times update its Gitmo database after leaving the paper and described her knowledge of the prisoners held there after the Sept. 11, 2001, attacks as "absolutely encyclopedic."

The two organizations, however, followed up different angles and produced articles independently. But there was one other collaborative effort: reaching out to government officials prior to publication. In recent days, Meyer said that representatives from NPR and the Times visited the White House and spoke with Pentagon spokesman Geoff Morrell and members of Joint Task Force Guantanamo.
Morrell, in a joint statement with U.S. Special Envoy to Guantanamo Bay Dan Fried, said, "It is unfortunate that several news organizations have made the decision to publish numerous documents obtained illegally by WikiLeaks concerning the Guantanamo detention facility."
They added: "These documents contain classified information about current and former GITMO detainees, and we strongly condemn the leaking of this sensitive information."
Meyer said that the news organizations agreed to some redactions requested by government officials but not all of them. He argued that publishing details from the documents is clearly in the public's interest.
"I think that these materials have compelling and obvious news value as well as historical value of the first order," Meyer said. "It's incredibly valuable and important material in giving insight into who the U.S. government has detained at Guantanamo Bay, who they've released, who is still there and why they're still there. What are the problems with releasing them? What are the problems with putting them through any kind of trial or tribunal?"
"We are confident in reporting on them that we are not compromising national security or any methods or sources of intelligence gathering," Meyer added.
A Washington Post spokeswoman said in a statement that the paper "did our due diligence with the government, as we always do with materials we publish that may implicate national security."
NPR and the Times had planned on posting stories Sunday night, but ended up publishing a bit earlier than expected after The Telegraph jumped out of the gate with its piece just after 8 p.m. EST. (Here are the first pieces from The Telegraph, the Times, and NPR).
McClatchy's Seibel said the WikiLeaks notified him at 5:30 p.m. EST that the embargo was lifted. So McClatchy -- and the other news organizations working on the project -- needed to scramble to finish their first stories as The Times and NPR put the finishing touches on theirs.
Carol Rosenberg, a reporter for McClatchy's Miami Herald and one of the foremost authorities on Guantanamo Bay in the press corps, said she was caught off guard by the abrupt change of plans. "All I know is I spent nearly the last month digging through documents and was surprised tonight to learn that the embargo was about to be lifted on two hours notice," Rosenberg said in an email. (Here are the McClatchy and Washington Post stories).
WikiLeaks acknowledged the media race to publish on its Twitter feed Sunday night, writing that "Domscheit-Berg" -- a reference to ex-WikiLeaks member and tell-all author Daniel Domscheit-Berg -- "NYT, Guardian, attempted Gitmo spoiler against our 8 group coalition. We had intel on them and published first."

Related
Popular in the Community