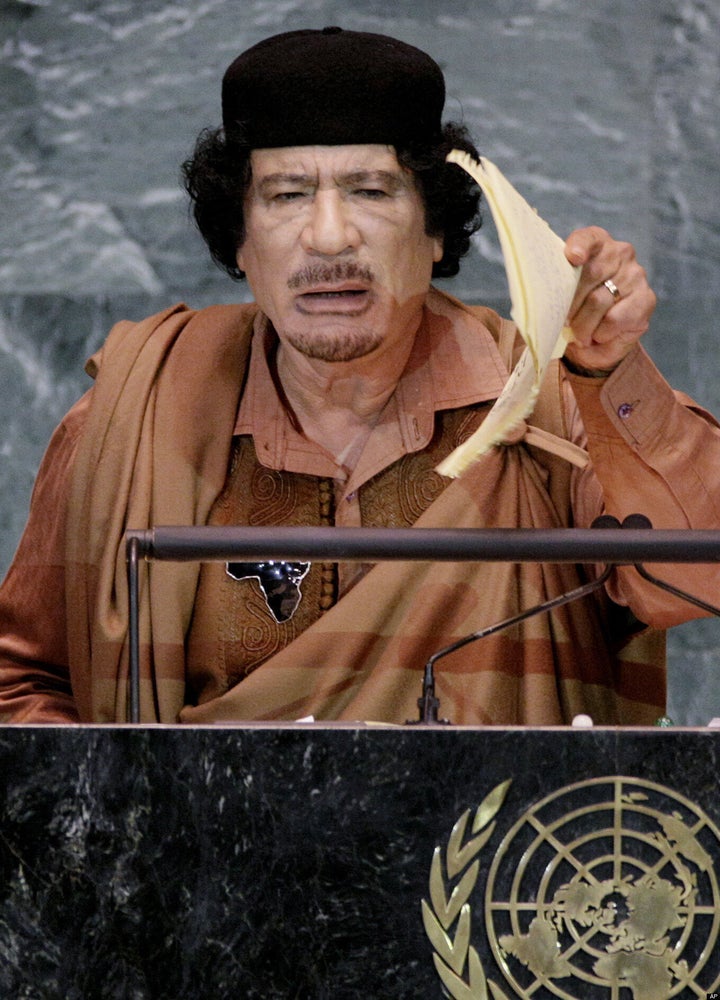 LONDON (Reuters) - Libya's ruling family tried to coerce billions of dollars from Libyan and foreign oil companies, and its leader Muammar Gaddafi exhorted the United States to sow division in Saudi Arabia, leaked American diplomatic cables reveal.
One cable seen by Reuters, sent from the U.S. embassy in Tripoli, shows Gaddafi's government exerting heavy pressure on U.S. and other oil companies to reimburse Tripoli the $1.5 billion Libya had paid in 2008 into a fund to settle terrorism claims from the 1980s.
The amount was the initial payment in a planned $1.8 billion fund. The cable suggests Gaddafi intended foreign oil companies to provide full funding for the scheme, which at the time was a key factor in improving ties between Libya and the United States.
Even before Libya paid into the fund, Gaddafi, "who prides himself on being a shrewd bargainer, made it clear that he intended to extract contributions from foreign companies to cover the ... initial outlay," according to the April 2009 cable titled "GOL ratchets up pressure on oil companies to contribute to U.S.-Libya claims fund."
Senior Libyan officials met representatives of 15 oil producing and service companies -- including Marathon, ConocoPhillips, Occidental, ENI, Total , Wintershall, PetroCanada, Repsol and StatoilHydro -- to say they must contribute or Libya's National Oil Corporation (NOC) would be compelled to "reconsider our relationship with you," the cable says.
Prime Minister-equivalent al-Baghdadi al-Mahmoudi is cited as telling oil firms that if they did not comply, there would be "serious consequences."
When Challenger Drilling's representative said it would have legal difficulties if it chose to contribute to the fund, the officials "were quick to offer possible mechanisms that would allow (the companies) to circumvent such problems," the cable said, citing a representative from Hess who later complained that "pressure had turned into coercion" at the meeting.
The instinct to ask oil companies for money was apparently not new. An earlier cable, sent in July 2008, relates how one of Gaddafi's sons, National Security Adviser Muatassim al-Gaddafi, was demanding "$1.2 billion in cash or oil shipments" from the NOC itself.
The reported attempts by Gaddafi's sons "to use the NOC as a personal bank" alongside doubts about prospects for meaningful reform, suggest "the regime remains unchanged with respect to the way it conducts key elements of its business," says the cable headlined "National Oil Corporation chairman Shukri Ghanem may seek to resign soon."
Muatassim may have intended to use some of the funds to establish a military or security unit akin to that of his younger brother, Khamis, and to pay for unspecified "security upgrades" he wanted to make in his capacity as National Security Adviser, the cable says.
Gaddafi had laughingly dismissed the claim, the cable says; but it cites a Libyan businessman outside the NOC as stating Gaddafi's children are "undisciplined thugs": "No one can cross or refuse such people ... without suffering consequences, particularly when the matter is to do with money."
The cables, obtained by WikiLeaks and seen by Reuters, also offer insight into Gaddafi's views on regional neighbor Saudi Arabia.
One cable recounts how, in 2006, Gaddafi had urged the United States to call for "self determination" for tribal groups of Saudi Arabia, "who would presumably choose a government other than the present monarchy."
Gaddafi's comments came on a visit by the late Democrat Congressman Tom Lantos, then a member of the U.S. House Foreign Relations Committee, and were made in Gaddafi's desert encampment on the outskirts of Sirte, according to the cable from August 2006 headlined "Congressman Lantos stresses bilateral achievements and regional challenges with Libyan officials."
In an hour-long meeting, Gaddafi mainly expounded on the rise of Wahhabism in Saudi Arabia, "which has become one of his standard topics," said the cable; he also lobbied for support for a plan to create "Isratine" -- a secular Jewish-Palestinian state -- as the best solution for lasting peace in the Middle East.
The cable separately recounts how a speech on political and economic reform by another of Gaddafi's sons, Seif Al-Islam Gaddafi, had earned a rebuke from Egypt's leader Hosni Mubarak. Lantos had congratulated Seif on his speech, it says. "Seif immediately noted that President Mubarak of Egypt called his father, the leader, to express his displeasure with the speech, saying it called for 'too much change and too much freedom' and warning that the country should be more conservative in its approach to change."
Seif claimed not to know what his father's reply to Mubarak was, the cable says, commenting that since the speech was broadcast widely on state-run media, it must have had the tacit blessing of the leader.
The cable also points to a bizarre sense of humor within Libya about the politics of dictatorship in the region. On the Lantos visit, it says, the delegation was shown an in-flight movie -- an Egyptian film called "The Leader" -- which makes fun of Middle Eastern dictatorships:
"Security personnel and a local translator confirmed that many of the jokes in the movie ... could be aimed at Gaddafi or Mubarak, including a scene showing disregard for members of the cabinet," the cable says.
It goes on to comment that "it is unclear if this was to show that the leader does in fact have a sense of humor about his monopoly on political power, or that a certain degree of toleration exists in Libya, or that the Libyans love a movie that pokes fun at Egyptian politics -- if in fact the Libyans intended any message at all."
(Editing by Simon Robinson)
Related
Popular in the Community