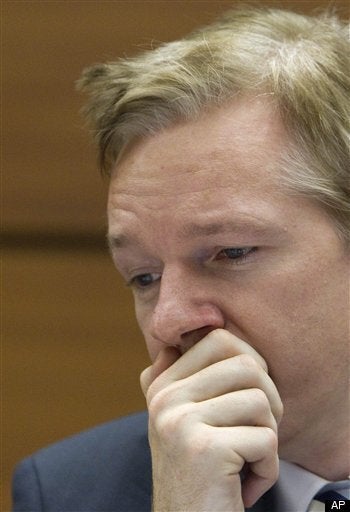 Nuku'alofa, Kingdom of Tonga. WikiLeaks has given New Zealand's Sunday Star-Times 1,490 diplomatic cables from the United States' Wellington Embassy. To date, only a few of those cables have been publicly released. However, they clearly indicate an increasingly close relationship between New Zealand and the U.S., as well as an increasing reliance by the U.S. on New Zealand when it comes to Pacific security issues.
While a closer relationship is desirable, given the growing importance of the Pacific in global affairs, primary reliance on New Zealand to guide the way in the Pacific is not sufficient and leaves the region vulnerable to outside influences and internal instability.
U.S.-New Zealand Security Relationship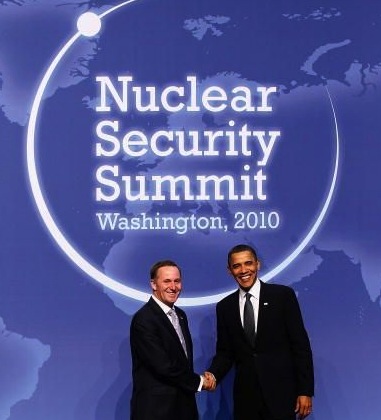 New Zealand Prime Minister John Key and U.S. President Barack Obama at the 2010 Nuclear Security Summit.
The renewed engagement between the U.S. and New Zealand seems to have gained momentum about five years ago. Since the 1980s, due in large part to its anti-nuclear stance, NZ was not treated as a full security partner by the U.S. While still a member of 'Five Eyes' (a security grouping of the U.S., U.K., Canada, Australia and New Zealand), it had restricted access to intelligence.
That started to change around 2005. A 2007 cable written as a 'scene-setter' for then New Zealand PM Helen Clark's visit to Washington reads: "Clark has since the 2005 election appointed to key positions a number of officials well disposed towards working with the United States."
Officials named included Foreign Minister Winston Peters , Secretary of Defense John McKinnon, and Director of the NZ Security Intelligence Service Warren Tucker. The cable explains: "these officials have improved their agencies' coordination on U.S. policy and instructed staff to be helpful to us wherever possible."
The U.S.-New Zealand relationship was further improved with the election of current NZ PM John Key, described in another cable as having a "strongly personal pro-American outlook".
The closer engagement coincided with increasing US security concerns about the Pacific, including concerns over China's expansion in to the region.
New Zealand as a Security Force in the Pacific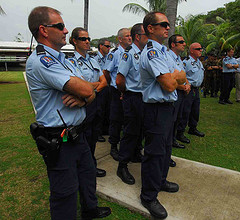 New Zealand police units with the Regional Assistance Mission to the Solomon Islands. Photo by Michael Field.
New Zealand has seemingly successfully branded itself as a reliable source of information and as an operational ally in Pacific countries such as Tonga. The 2007 cable reads: "We continue to cooperate closely on events in Fiji and have come to value the views of Kiwi officials regarding events in E.Timor, the Solomon Islands, and Tonga."
The cooperation is tactical as well. According to the cables, US Assistant Secretary of State for Intelligence and Research Randall Fort "commented that GNZ sigint had been critical to USG understanding of the 2006 coup."
A 2010 scene-setter for Hilary Clinton's January visit to New Zealand, features the header: "New Zealand's Special Relationship with the Pacific Islands".
The United States continues to draw on New Zealand's deep experience and unique connection with the Pacific Island region. New Zealand has a strong leadership role in the South Pacific and views itself as having a special connection with the island nations... We also cooperate and share concerns in the region on political stability... In the past several years, New Zealand has played an active role in helping to maintain the security environment in Timor Leste, the Solomons, and Tonga.
New Zealand, otherwise a relatively small country on the geopolitical periphery, gains strategic importance if Washington feels it can 'deliver' in the Pacific. NZ benefits from highlighting security concerns in the Pacific and placing itself in the center of the solution. The rewards are valuable. The 2010 cable notes: "Our intelligence relationship was fully restored on August 29, 2009 (which should not be acknowledged in public)."
The cables also show that New Zealand presents itself as better equipped to manage the Pacific than Australia. A 2008 cable reports the opinion of Maaten Wevers, who oversees NZ's intelligence committee: "Often there are significant differences with Australia, he added, as New Zealand is a more Pacific country than Australia and the latter is not always attuned to Pacific developments."
This message was reinforced in the 2007 cable, which reports that Helen Clark: "also realized after the Fiji coup that New Zealand had become too reliant on Australian intelligence."
(It is worth noting that, according to a WikiLeaks 2005 Canberra cable on North Korea, Australia had its own issues with NZ. The cable reports: "If U.S. officials wanted to hear the "bleeding hearts" view of "peace and love" with respect to North Korea, [Australian Foreign Minister Alexander] Downer joked, they only had to visit his colleagues in New Zealand.").
What This Means for Regional Security
In a time when the Pacific is getting more attention from Washington, Wellington's role in advising on the region is becoming more valued
This is potentially problematic in two ways.
First, NZ's information and advice may not always be as reliable as thought. There are examples of failure to predict/manage critical situations. For example, mismanagement of the Fiji coup by NZ/Australia resulted in pushing Fiji closer towards the China camp.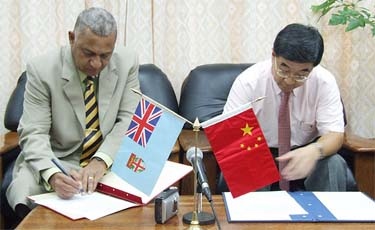 Fiji Prime Minister Commodore Frank Bainimarama and Chinese Ambassador to Fiji Cai Jinbiao make a deal.
Similarly, in Tonga, New Zealand has been backing the 'pro-democracy' movement. That group triggered riots in 2006 that burned down much of the capital city. Following the riots, failure by NZ to substantially participate in the reconstruction resulted in Tonga having to take out a debilitating loan from China. The fact that a group supported by NZ as pro-democracy resulted in the country becoming indebted to an authoritarian country is a small indication of the something going wrong.
Coincidentally or not, in the 2008 cable, US Assistant Secretary of State for Intelligence and Research, Randall Fort, notes that the larger Pacific region is more fragile today then it was ten years ago.
Another problem is the character of NZ's engagement of the region (which can affect intelligence gathering, analysis, and operations).
There is a perception of a pervasive NZ 'we know better' attitude towards Pacific island nations. For example, NZ is proposing sending a team to train the new Tongan parliamentarians in governance, in spite of the fact that the Tongan system is fundamentally different than the NZ one.
Similarly, in the 2007 cable, NZ Ministry of Foreign Affairs and Trade Deputy Secretary Caroline Forsyth offered that:
New Zealand sees an arc of instability in Melanesia, as there is a great deal of money but little to no capacity to use it wisely. The Solomon Islands are under control at the moment but there are still significant problems in terms of governance and corruption. The GNZ is weighing the necessary structural changes needed to make a long-lasting improvement in the SI society so that RAMSI [Regional Assistance Mission to the Solomon Islands] security forces might depart.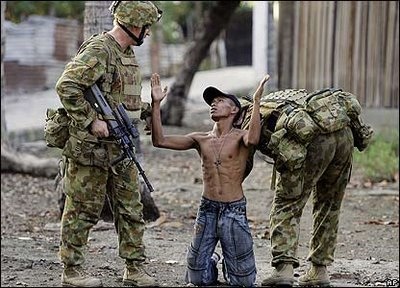 RAMSI troops in the Solomon Islands.
The sort of 'engagement' that results in one nation sure thinking it can, and should, make "long-lasting improvements" in another nation's society does little to build mutual trust and respect.
Second, NZ's interests are not necessarily US interests. NZ has its own range of national priorities and one would expect it to put those above the interests of partner states, no matter how close the relationship.
For example, the 2010 cable notes that: "There is also collaboration [between the US and NZ] on the Energy Development for Island Nations (EDIN) project, which aims to develop renewable energy resources for Pacific Islands and reduce their dependence on fossil fuels."
However, as is seen with the proposed Meridian deal, NZ is not above using tied aid to try to get Tonga to buy a solar power plant from a Government of NZ owned company. This could potentially tie Tongan consumers in to high energy costs and so undermining economic development, which can lead to instability, which can lead to greater gains by others, including China (as has happened in the past).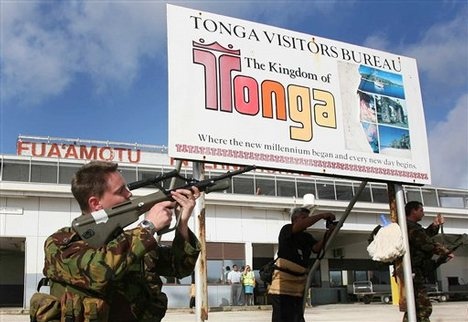 All in all, while a closer relationship between NZ and the US is desirable, it would benefit both nations, as well as the Pacific islands, if the responsibility for the region's security was more embedded in the region itself. Why settle for only 'a more Pacific country', when one can also engage with actual Pacific countries.
Given the Pacific's increasingly geopolitical importance, the US might want to consider opening more diplomatic missions of its own in the Pacific (perhaps even along with the UK and burgeoning partner India), as well as helping to facilitate the opening of reciprocal missions to Washington.
There is a lot of natural warmth towards the West in the Pacific, but the relationship with NZ has left some feeling burned. That can affect intelligence flows and operational capacities, creating vulnerabilities for all concerned. NZ should encourage more direct US engagement in the region, if only to buttress its own intelligence and security.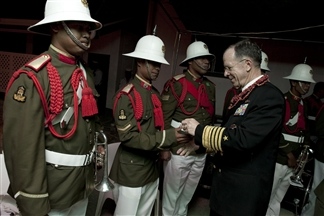 Chairman of the Joint Chiefs of Staff Adm. Mike Mullen, U.S. Navy, greets Tongan Honor Guard soldiers during a visit to the kingdom on Nov. 9, 2010. Mullen visited Tonga on the second stop of a Pacific tour to thank the Tongan people for their continuing dedication and support in sending troops to Iraq and Afghanistan. DoD photo by Petty Officer 1st Class Chad J. McNeeley, U.S. Navy.
Related
Popular in the Community