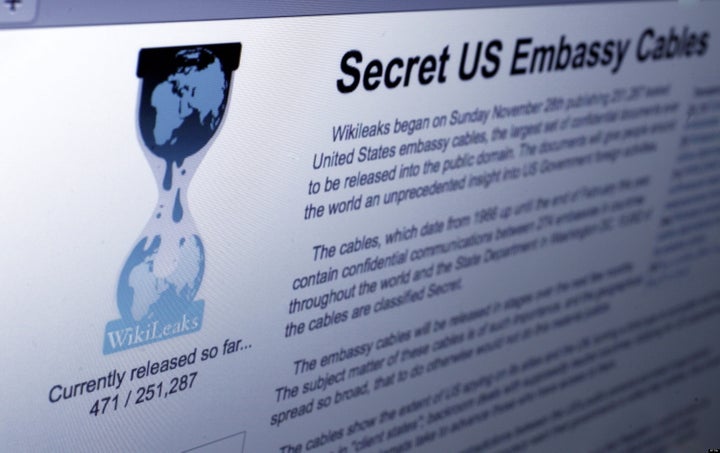 If Julian Assange's main goal is to restore greater transparency and accountability in government, then the WikiLeaks founder may have succeeded at long last -- in the small Central American nation of Panama. There, President Ricardo Martinelli finds himself under siege following revelations that he sought U.S. assistance in setting up wiretaps on his political opponents. Already, lawmakers have raised serious concerns about WikiLeaks cables, suggesting that Martinelli could be in for a rough patch. If the Panamanian president loses political leverage then his anti-labor, free trade agenda could lose momentum and the U.S. could be discredited in its wider geopolitical goals.
The cables, which divulge correspondence between U.S. ambassador to Panama Barbara Stephenson and her superiors in Washington, date from 2009. At the time, Stephenson was concerned as Martinelli had requested assistance "in building infrastructure to conduct wiretaps against ostensible security threats as well as political opponents." Appealing to the Americans, Martinelli said that Panama urgently required cutting edge technology when it came to fighting corruption and crime.
Specifically, Martinelli sought assistance from the U.S. Drug Enforcement Administration or DEA, which had set up a counter-narcotics wiretap operation in Panama known as Operation Matador. Under the program, the Americans collaborated with the Panamanian police and security forces but only under strict legal guidelines requiring a court order. In conversations with U.S. authorities, the Panamanians expressed frustration that Matador did not allow for "enough flexibility to select targets."
Martinelli then demanded that the U.S. provide him with "independent wiretap capability" as "rent" in exchange for use of Panamanian facilities. Unconvinced by Martinelli's pleas, Stephenson characterized the Panamanian as "naïve" and "dangerous." Martinelli and the Americans went back and forth in a kind of contretemps over the wiretap matter, with the Panamanian president fretting that local authorities failed to benefit from Operation Matador. Martinelli said he faced "powerful and corrupt individuals whose economic status is being threatened." Those same individuals, the president added, could "attempt to retaliate" by threatening his own personal security.
What's Behind the Cables?
Read a little further in the cables, however, and it becomes clear that Martinelli had other concerns besides confronting corrupt local businessmen. The Panamanian president, Stephenson declared, failed to distinguish between legitimate law enforcement and spying on political opponents. Martinelli, the ambassador wrote, "believes that his right-of-center political orientation makes him a target of leftist governments in the region who will attempt to infiltrate Panama's trade unions and destabilize the government of Panama."
An ardent free trader and Panama's largest supermarket magnate, Martinelli had been elected just one month prior to Stephenson writing her cable. In a sense, Martinelli's election came as a welcome respite for Washington. Already, the Sandinistas had retaken power in Nicaragua, Mauricio Funes of the FMLN had recently assumed the presidency in El Salvador, and Manuel Zelaya of Honduras had become a friendly ally of Venezuela's Hugo Chávez. Wasting no time, Martinelli started to bicker with Venezuela and sent Cuban doctors packing who had provided free medical care to Panamanians.
From the cables, it appears that Martinelli hoped that the newly elected Obama administration would see him as a counterweight to the so-called leftist "Pink Tide" sweeping through the region. The Panamanian had campaigned on a platform of neo-liberal economic reform, but must have recognized the tough political challenges which lay ahead. Indeed, free trade can be a highly volatile and contentious issue in Central America.
The very month Martinelli was elected, Honduran president Manuel Zelaya was faced with a military coup after pushing for his country's entrance into the Bolivarian Alliance of the Americas or ALBA, an accord designed to unite left-leaning countries in the region and thereby counterbalance Washington-style free trade. Needless to say, Martinelli supported the coup d'état in Honduras which sought to firmly move the troubled Central American nation back into the U.S. orbit.
Martinelli's Dilemma At the time of Stephenson's cable, Martinelli faced a dilemma: how could the Panamanian ram through his free trade agenda over popular protest? Panama's combative labor unions would be unlikely to simply roll over and accept the looming corporate-style U.S.-Panama free trade agreement, an initiative which had been signed two years earlier but had languished in the U.S. Congress. Panama is known for its strict labor provisions, and perhaps Martinelli calculated that by undermining the law he could gain valuable support from the international business community.
In Central America, however, ramming through free trade accords can be politically fraught and governments must resort to anti-democratic measures to get their way. According to Stephenson, Martinelli was "bullying" and had developed a "fixation" on wiretaps. In his personal comments, the president demonstrated that he was "willing to set aside the rule of law in order to achieve his political and developmental [presumably, economic development] goals." The Panamanian even went so far as to send a "cryptic" personal message to Stephenson from his blackberry, flatly declaring "I need help with tapping phones."
In a further cable dating from late 2009, Stephenson reported that Martinelli continued to employ "a variety of tactics ranging from straightforward requests to intimidating threats, in order to obtain American assistance and/or political cover for his wiretap project." Sounding the alarm bell, the ambassador suggested that if Martinelli succeeded in setting up his own independent wire program under the DEA, "he could blame it all on the gringos if it were exposed, which in this tiny country it inevitably would be."
Postscript to WikiLeaks Cables
In light of the fight which broke out one year after the Stephenson cables, it is no wonder that Martinelli had a paranoia complex. Throwing down the gauntlet, the president rammed Law 30, also known as the "Chorizo" or "Sausage Law," so-called because the legislation contained an excess of political pork stuffed into one omnibus bill, through the National Assembly.
In pushing for the law, Martinelli demonstrated his political bona fides to the Panamanian right, which had long sought to adopt the the legislation as part of its effort to "fast-track" U.S. approval of a free trade agreement.
Under the new law, the president could eliminate environmental impact studies for industrial projects, a provision which dovetailed with the president's future plans for economic development. Even worse, the Chorizo Law banned mandatory dues for workers in union shops, thus making union-busting much easier as employers could pressure workers individually to leave their unions. In addition, employers would be allowed to dismiss striking laborers and permanently hire scab replacements. During strikes, scabs would be granted police protection and under the law it would become more difficult to hold police accountable for killings and abuse.
Opposition was not long in coming: scarcely two weeks after the passage of the Chorizo Law a general strike shut down most of Panama City. When the Bocas fruit company (a subsidiary of notoriously anti-labor Chiquita) announced it would no longer collect union dues from workers on its banana plantations, workers went out on strike. The country then spiraled into pandemonium as students walked out of class and indigenous peoples protested evictions in advance of Martinelli's planned hydroelectric projects on ancestral lands.
When banana workers walked out onto a local highway, they were met with police who began to shoot indiscriminately. Two workers were shot to death and investigators say three young children and an elderly protester perished of asphyxiation from tear gas. Hundreds were wounded meanwhile, including 47 people who lost one or both eyes. More confusion ensued, with the police arresting 300 union leaders and labor militants burning down a local bank.
Finally, Martinelli blinked and agreed to suspend the anti-labor and environmental provisions in the law while convening a "national dialogue" on the matter. In October, he was forced to concede the battle by replacing the Chorizo Law with six less controversial measures. Though new bills reinstate environmental impact statements, smaller businesses won't be subject to such assessments. Despite such mixed developments for the environment, Martinelli's move represents a significant victory for organized labor since provisions restore workers' right to strike without fear of losing their jobs. What is more, collection of union dues is to be reestablished. Although sections focusing on police impunity have not been formally repealed, the new measures will probably reestablish accountability for the security forces.
Political Impact of WikiLeaks Scandal
Just two months after Martinelli caved into popular pressure and agreed to rescind the most egregious aspects of the Chorizo Law, another scandal broke. This time it was the WikiLeaks cables, which revealed the president's anti-democratic tendencies and paranoia over Panama's trade unions. The mounting criticisms have forced Martinelli on the defensive. Recently, the Panamanian president claimed he was misinterpreted and denied that he ever requested specific electronic assistance to track his political opponents. Fundamentally, Martinelli declared, his government was solely interested in cracking down on drug smuggling and organized crime.
Could Martinelli have been monitoring organized labor during the civil unrest which unfolded in the summer and fall? Was the Panamanian president successful in bullying the Americans into providing him with sensitive eavesdropping technology? Unfortunately, WikiLeaks cables won't reveal further information about the circumstances since the whistle blowing group's documents only go up to February, 2010.
Lawmakers, however, are demanding answers and further accountability. Former Attorney General Rogelio Cruz has said that the president must get the Supreme Court's consent before ordering wiretaps; otherwise the executive is flouting the law. Francisco Sánchez, president of the opposition PRD or Revolutionary Democratic Party, has remarked that Panamanian democracy is in jeopardy in the wake of the WikiLeaks scandal.
In her cables American ambassador Stephenson depicted the Martinelli government as a dishonest player and the U.S. as a shining beacon of morality. Yet, by pushing corporate free trade in Latin America, Washington creates political instability as civil society rallies to defend social gains. Faced with widespread opposition, governments adopt an anti-democratic stance as they push through the free trade agenda, becoming so paranoid in the process that they seek to enact illegal wiretaps. Perhaps, in the wake of the WikiLeaks scandal in Panama, popular forces can gain the upper hand and retake democracy from their autocratic and increasingly more draconian leaders. Nikolas Kozloff is the author of Revolution! South America and the Rise of the New Left (Palgrave, 2008) and No Rain in the Amazon: How South America's Climate Affects the Entire Planet. Visit his website, www.nikolaskozloff.com
Calling all HuffPost superfans!
Sign up for membership to become a founding member and help shape HuffPost's next chapter