The corporate media, especially the television media, has not been adequately covering the scope of the latest Wikileaks batch of emails.
Especially since some of the revelations may have a material impact on the upcoming presidential election in the United States, many feel these Wikileaks documents should be discussed in-depth on air.
Among some of the correspondences that some found disturbing, are a potentially close relationship between the D.N.C. and CNN host Jake Tapper. See below: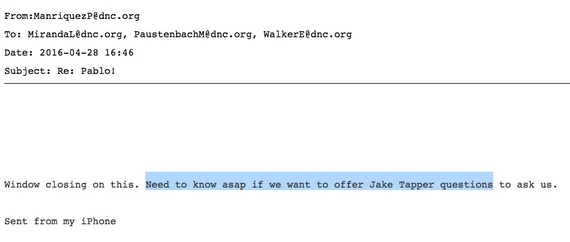 There was a time, not long ago, when we regarded that sort of thing as very much not journalism in America: at one recent point in history, interview subjects did not "offer questions" to a major cable television program's host hours before going live. Instead, it would be the journalist's role to come up with questions - and even pose some of those questions on-air to the guest - in order for the public watching at home to learn more about how their elected officials operate.
Similarly, some have concerns that the latest batch of emails may further provide proof of a vast global money-raising business, the Clinton Foundation and its complex web of subsidiaries, that puts American national security interests in jeopardy by offering foreign interests undue influence over - and access to - top U.S. officials.
All of this, of course, occurring with a profound lack of oversight or accountability after the fact.
For instance, many have called for the Clinton campaign to release Hillary Clinton's full schedule of meetings before the election, so that researchers can analyze the possible overlap between Clinton Foundation donations and time spent behind closed doors with the individuals and institutions that contributed large sums to the Foundation.
An oddly predictive article published last year in The Sacramento Bee, long before the latest batch of emails were released by Wikileaks, points to the ethical dilemma posed by the Foundation:
Under pressure to lift the veil of secrecy over who bankrolled his Canadian charity that's affiliated with the Clinton Foundation, Vancouver-based mining mogul Frank Giustra late Friday released the names of 21 of its largest donors, most with connections to the mining and oil-drilling industries.

The Clinton Giustra Enterprise Partnership (Canada) did not list the amounts of the various donations. It said it only disclosed the identities of those leading contributors who provided written authorization, while releasing a second legal opinion asserting that under Canadian law, the rest of its 1,100 contributors should be kept confidential unless they agree to be identified.

Those named include Giustra, a major Clinton Foundation benefactor who has forged a globetrotting philanthropic partnership with former President Bill Clinton, Giustra's estranged wife, Alison Lawton, and his family foundation.

The partnership's secrecy has triggered controversy because the contributors' money ultimately benefited the U.S.-based foundation that Clinton built into a global force to fight poverty and disease, posing possible undisclosed conflicts of interest for his wife, Hillary Clinton, during her tenure as secretary of state between 2009 and 2013.

Disclosures about these entanglements - and questions about whether some are being concealed - are now dogging Hillary Clinton as she seeks the Democratic presidential nomination.
But what do you think? Let me know in the comments section below, or over on Twitter.
Related
Popular in the Community