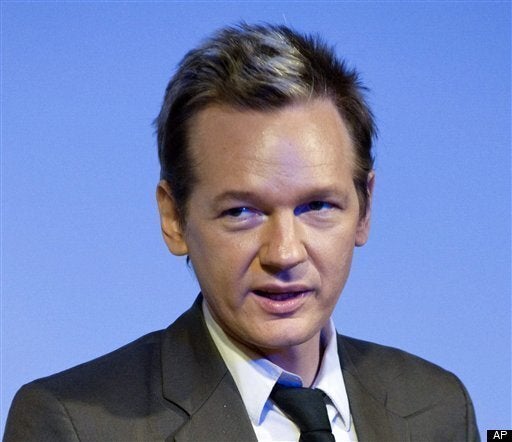 The swift withdrawal of rape charges against Wikileaks founder Julian Assange raises more questions than it answers.
Assange's claim of making an offer to allow the U.S. Defense Department to vet documents still unreleased raises even more questions.
The spokeswoman for the Swedish prosecutor's office has defended the release of information about the claim to a tabloid newspaper. However, when Karin Rosander was asked if it might have been a setup she said, "I have no idea."
Rape investigations normally are kept confidential and not released to the media to protect the alleged victim(s) and to prevent the alleged rapist from learning of it. On Monday a statement on the prosecutor's website confirmed that when a newspaper called about the case the duty officer confirmed Assange was the suspect.
One of the two women Assange allegedly attacked told the Swedish newspaper Aftonbladet that neither was afraid of him because he was not violent. Rape by definition involves violence or the threat of violence.
Read the novels of Swedish writer Stieg Larsson, which have captured the imagination of his homeland and many other nations.
The two women apparently were in communication, raising the question of why one didn't warn the other after the first incident occurred.
Prosecutor Eva Finne, in a statement on her office Website on Monday, said an allegation of molestation was still being investigated. The statement admitted police had confirmed the rape charge to a tabloid newspaper.
The woman who spoke with Aftonbladet denied that the Pentagon enlisted her to set up Assange to detract from his credibility.
A Swedish group that monitors government actions called for an investigation of the original prosecutor, identified on Twitter as Maria Haljebo Jkellstrand. "We can see that, time after time, prosecutors don't follow the Swedish objectivity laws," Johann Binninge, founder of Organization for Safe Legal Proceedings, told CNN.
For anyone who might think this whole idea is too stupid to have ever taken place, think of Watergate. A group of professionals was caught by a night watchman.
Washington has asked its allies to help them stop further leaks. It was unclear whether his arrest in Sweden, or another European nation on the Swedish warrant, could have resulted in him being taken to the U.S.
Assange denied ever having sex with anyone, anywhere, that was not consenual.
He didn't accuse the Pentagon of being involved. "But we were warned that, for example, the Pentagon, might play dirty tricks to destroy us," Le Monde reported. It translated an article in Swedish in Aftonbladet.
"In addition, I was warned against sexual traps." He told Al Jazeera in a video interview that he had warned by Australian intelligence. He is an Australian national.
He also said he was still in Sweden, vacationing in the north in an undisclosed location. Assange said his lawyer would contact Swedish police about claims that he still is under investigation of harassing a second woman.
A statement posted Sunday on the Swedish prosecutor's English page said: "At the moment it is not possible to estimate when more information can be given or which decisions will be made. Information will be published as soon as possible."
The Website can be found here
Assange has claimed that he offered through an intermediary, the New York Times, to allow the Pentagon to look at documents still to be released and warn if it might threaten specific persons.
Obama's government has denied receiving any such offer.
A New York Times reporter said he did deliver it, but did not take it seriously.
Related
Popular in the Community