Stone's arrest and indictment is one of the biggest developments in months for the Mueller investigation, which has zeroed in on connections between Trump's associates and WikiLeaks ― the organization that published a trove of emails Russian hackers stole from Hillary Clinton's campaign manager ahead of the 2016 election.
The special counsel alleges in the seven-count indictment that Stone lied to lawmakers about his dealings with WikiLeaks and spoke "to senior Trump Campaign officials" about the organization during the presidential campaign.
Months earlier, Mueller's team reportedly questioned witnesses around potential links between Trump's allies and WikiLeaks. Draft court documents emerged in November detailing email exchanges that potentially show Trump's allies had advance knowledge of WikiLeaks' plans to publish the hacked emails. The Guardian also reported that month that former Trump campaign chairman Paul Manafort met multiple times with WikiLeaks founder Julian Assange prior to the election.
Here is what we know so far about the potential links between Trump's campaign and WikiLeaks:
Mueller Charges Roger Stone With Lying About WikiLeaks
Mueller's investigation has long been circling around Stone ― who was a political consultant on the Trump campaign ― and his associates. A central focus of the probe is whether anyone in the campaign knew ahead of time that WikiLeaks had Clinton campaign chair John Podesta's internal emails and planned to publish them.
Muller's indictment accuses Stone of repeatedly talking with Trump campaign officials about WikiLeaks and its email releases. After WikiLeaks published its first set of stolen Podesta emails on Oct. 7, 2016, the indictment says, a high-ranking Trump official texted Stone to say "well done."
The indictment also alleges Stone attempted to intimidate a witness in the investigation ― radio host Randy Credico, who had connections with WikiLeaks. Stone allegedly told Credico to lie in his testimony to a grand jury, and threatened Credico's therapy dog, Bianca.
The indictment suggests that after WikiLeaks initial release of stolen emails, senior Trump campaign officials were eager to know if Stone could find out about any additional document dumps.
Stone "was contacted by senior Trump Campaign officials to inquire about future releases by Organization 1," meaning WikiLeaks, according to the indictment.
Stone's attorney, Grant Smith, disputed the charges. He said in a statement following Stone's arrest that there "was no Russian collusion" and that the indictment was an attempt at silencing Stone.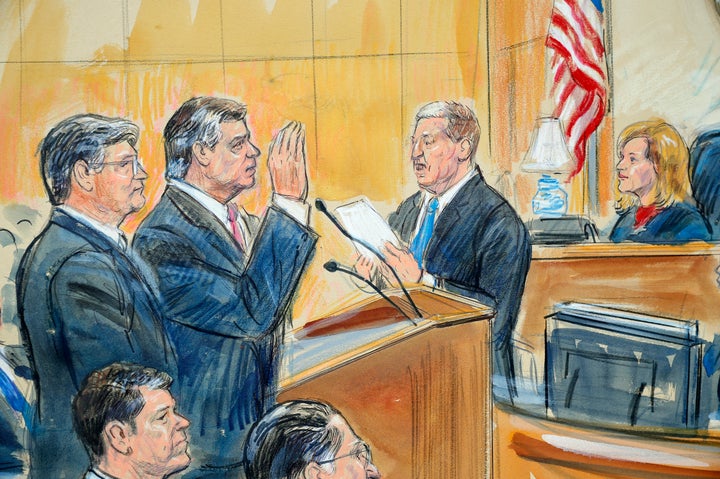 In addition to Credico, a key figure in this aspect of the investigation is conspiracy theorist Jerome Corsi, a prominent birther and former Washington bureau chief for InfoWars.
Mueller's team began questioning Corsi in early September, as it looked into his role as a possible middleman between Stone and WikiLeaks. But Corsi claimed in a YouTube livestream on Nov. 12 that his cooperation with Mueller had broken down and he expected to be indicted.
The focus on Stone and Corsi intensified after multiple outlets reported in late November that draft court documents from Mueller's team alleged Corsi sent Stone an email alerting him that WikiLeaks planned to release damaging material about Clinton.
"Word is friend in embassy plans 2 more dumps. One shortly after I'm back. 2nd in Oct. Impact planned to be very damaging," Corsi emailed Stone in August, according to the draft document, accurately predicting that WikiLeaks would release Podesta's emails in October.
Another exchange in the draft document involved Stone emailing Corsi to tell him to obtain the WikiLeaks emails from Assange, who has been holed up for years in the Ecuadorian embassy in London avoiding extradition charges. Corsi then forwarded Stone's email to London-based conservative author Ted Malloch, the document alleges. Corsi and Stone both deny having advance knowledge of the emails.
This episode increased scrutiny on Stone, who repeatedly claimed during the campaign that he was in contact with Assange and who tweeted in August 2016 that Podesta would soon be facing "time in the barrel." WikiLeaks denied ever meeting Stone, both publicly and in internal messages obtained by The Intercept.
Unconfirmed Reports Of Manafort Meeting Assange
Another ongoing plotline in the Mueller investigation concerns former Trump campaign chairman Paul Manafort. The Guardian reported in November that Manafort visited Assange in the Ecuadorian embassy in London three times. The meetings, said to have taken place in 2013, 2015 and 2016, would add an additional link between Trump's campaign and WikiLeaks.
The meeting in 2016 is reported to have taken place around March, when Manafort was part of the Trump campaign. Both Manafort and WikiLeaks have denied that the meeting took place, but The Guardian is standing behind its reporting.
"This story relied on a number of sources. We put these allegations to both Paul Manafort and Julian Assange's representatives prior to publication. Neither responded to deny the visits taking place," a spokesperson from The Guardian told HuffPost.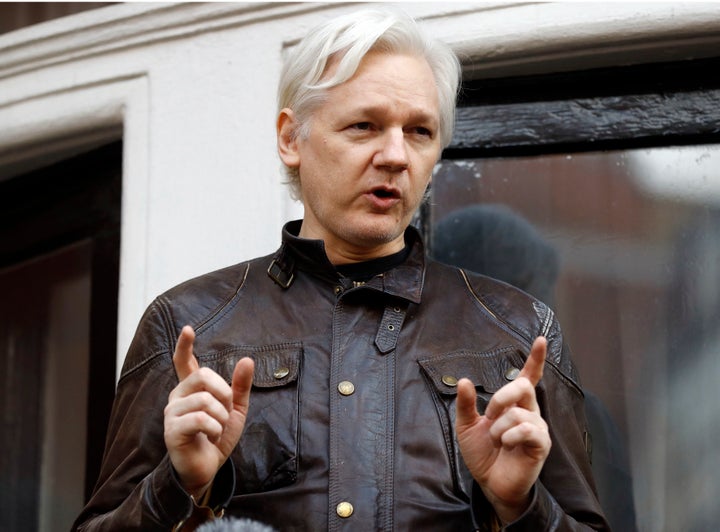 The Guardian's report was published one day after Mueller filed a complaint against Manafort, accusing him of breaching a plea deal by lying to investigators. It's unclear exactly what Manafort, who pleaded guilty in September to two criminal charges that covered a wide range of illegal activity, is accused of misleading prosecutors about. Trump said Wednesday that giving his former campaign chairman a presidential pardon was "not off the table."
Trump's lawyer, Rudy Giuliani, told HuffPost that the president has no knowledge of Manafort ever meeting the WikiLeaks founder.
WikiLeaks Slides Into Trump Jr.'s DMs
In one of the more bizarre connections between the Trump campaign and WikiLeaks, the organization sent Donald Trump Jr. a series of direct messages on Twitter in late September 2016. WikiLeaks told Trump Jr. that an anti-Trump political action committee was set to launch, and that WikiLeaks had "guessed the password" for the site. It told the president's son to read the PAC's "About" section see who was running it. Trump Jr. responded to WikiLeaks hours later, thanking it for the information and saying, "Off the record I don't know who that is, but I'll ask around."
Trump Jr. and WikiLeaks would talk several times in the future, including when WikiLeaks asked the president's son to push out or comment on an October 2016 story about Clinton saying she wanted to "just drone" Assange. Trump Jr. responded that the campaign had already done that earlier in the day, then followed up by asking what was behind talk of a forthcoming leak.
The correspondence between Trump Jr. and WikiLeaks continued for months, although it mostly involved WikiLeaks sending comments and requests without receiving replies.
This article has been updated to include Roger Stone's arrest.
Popular in the Community