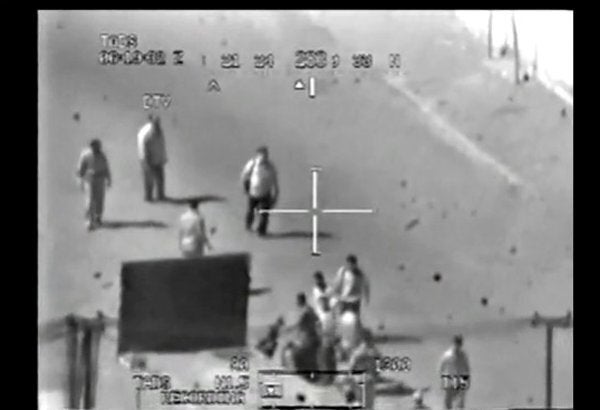 WikiLeaks, the whistle-blower website that made headlines in April when it released a classified video of a US army helicopter firing on civilians in Iraq, is preparing to release a new video, this time showing a deadly US airstrike in Afghanistan in 2009, the Guardian reports.
According to the Daily Beast's Philip Shenon, WikiLeaks founder Julian Assange disclosed his plan to release the video in an email sent to the site's supporters this week. Word of the existence of the video also surfaced earlier this month after a U.S. army intelligence analyst who was arrested in connection with the Iraq WikiLeaks video claimed he had also leaked the Afghanistan video to the website. WikiLeaks' intention to release the video was mentioned as early as April in an article in the London Times.
The classified Pentagon video from Afghanistan is alleged to show the notorious U.S. airstrike on the village of Garani in May 2009 that killed roughly 140 civilians. While the U.S. has disputed the Afghan government's casualty figure -- it put the number at only 20 to 30 civilians, and said that twice as many militants had been killed in the strike -- a military investigation concluded that US personnel made significant errors during the attacks. The Garani airstrike is believed to be one of the deadliest attacks in terms of civilian casualties since the U.S. invasion, according to Shenon.
As for the question of whether or not the Garani video actually is in WikiLeaks' possession, Shenon noted on NPR recently that "we only have at this point Assange's claims that he has it, and we also have these Internet chat logs in which the young soldier in Iraq boasts of having stolen that video."
The Guardian's Chris McGreal speculates on the possible fallout for the U.S. military were such a video released:
The video could prove to be extremely embarrassing to the US military and risks weakening Afghan support. The US said it was targeting Taliban positions when it used weapons that create casualties over a wide area, including one-tonne bombs and others that burst in the air. But two US military officials told a newspaper last year that no one checked to see whether there were women and children in the buildings.

The US commander, General David Petraeus, said a year ago that the military's video of the attack would be made public as evidence that the US assault on Garani was justified. But it was not released.
As reported last Friday, Pentagon investigators are currently pursuing Assange over concerns that he may be planning to release classified State Department documents.
Calling all HuffPost superfans!
Sign up for membership to become a founding member and help shape HuffPost's next chapter