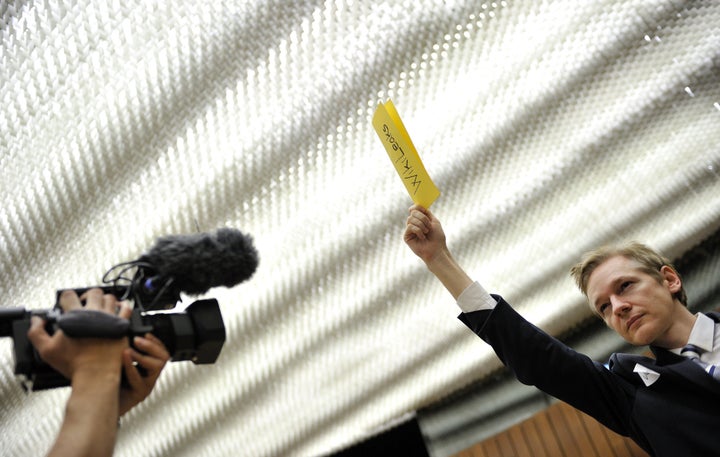 This article is being updated.
WASHINGTON -- WikiLeaks published the first set of more than 250,000 secret State Department documents Sunday, in one of the largest leaks of classified information in history. Earlier in the day, The New York Times and The Guardian published a selection of the documents. The WikiLeaks website was inaccessible for part of the day, and WikiLeaks said in its Twitter feed that it was experiencing a denial of service attack. WikiLeaks also provided the documents to Spain's El Pais, France's Le Monde, and Germany's Der Spiegel. The website says it will publish the full set of 250,000 documents in stages over the next few months.
According to The New York Times, the cables reveal how foreign leaders, including Israel's defense minister Ehud Barak and Saudi Arabia's King Abdullah, urged the U.S. to confront Iran over its nuclear program.
"The cables also contain a fresh American intelligence assessment of Iran's missile program," The Times reports. "They reveal for the first time that the United States believes that Iran has obtained advanced missiles from North Korea that could let it strike at Western European capitals and Moscow and help it develop more formidable long-range ballistic missiles."
Haaretz reports that Israeli Prime Minister Benjamin Netanyahu attempted to pressure the U.S. into military action against Iran by exaggerating its nuclear capabilities:
Meanwhile, another cable shows that a 2009 claim by Prime Minister Benjamin Netanyahu that Iran was months away from achieving military nuclear capability was dismissed by the Americans as a ploy.

According to German weekly Der Spiegel, which also received advance information from WIkiLeaks, a State Department official says in a classified cable that Netanyahu informed the United States of Iran's nuclear advancement in November 2009, but that the prime minister's estimate was likely unfounded and intended to pressure Washington into action against the Islamic Republic.
A classified directive which appears to blur the line between diplomacy and spying was issued to US diplomats under Hillary Clinton's name in July 2009, demanding forensic technical details about the communications systems used by top UN officials, including passwords and personal encryption keys used in private and commercial networks for official communications.

It called for detailed biometric information "on key UN officials, to include undersecretaries, heads of specialised agencies and their chief advisers, top SYG [secretary general] aides, heads of peace operations and political field missions, including force commanders" as well as intelligence on Ban's "management and decision-making style and his influence on the secretariat".
Russia's president Dmitry Medvedev "plays Robin to Putin's Batman."
French president Nicholas Sarkozy displayed a "thin-skinned and authoritarian personal style."
Italian prime minister Silvio Berlusconi is described as "feckless, vain, and ineffective as a modern European leader."
Hamid Karzai, is "an extremely weak man who did not listen to facts but was instead easily swayed by anyone who came to report even the most bizarre stories or plots against him."
"Thank God for bringing Obama to the presidency," Saudi Arabia's King Abdulluh told White House counterterrorism adviser John Brennan in March 2009. Obama's victory has created "great hope" in the Muslim world, he continued. "May God grant him strength and patience. May God protect him. I'm concerned about his personal safety. America and the world need such a president."
The king also shared an idea about how to track detainees once Guantanamo is closed:
"I've just thought of something," the King added, and proposed implanting detainees with an electronic chip containing information about them and allowing their movements to be tracked with Bluetooth. This was done with horses and falcons, the King said. Brennan replied, "horses don't have good lawyers."
According to The Times, the documents also reveal numerous other diplomatic issues, including corruption within the Afghan government, America's failure to stop Syria from supplying weapons to Hezbollah, and its difficulty convincing allies like Saudi Arabia, Qatar and Pakistan to aid in the fight against Al Qaeda.
In one shocking cable, Yemeni president Ali Abdullah Saleh agrees to cover up U.S. missile strikes against Al Qaeda. "We'll continue saying the bombs are ours, not yours," Saleh tells Gen. David Petraeus.
The White House released a statement in response to the cables' release on Sunday:
We anticipate the release of what are claimed to be several hundred thousand classified State department cables on Sunday night that detail private diplomatic discussions with foreign governments. By its very nature, field reporting to Washington is candid and often incomplete information. It is not an expression of policy, nor does it always shape final policy decisions.

Nevertheless, these cables could compromise private discussions with foreign governments and opposition leaders, and when the substance of private conversations is printed on the front pages of newspapers across the world, it can deeply impact not only US foreign policy interests, but those of our allies and friends around the world.

To be clear -- such disclosures put at risk our diplomats, intelligence professionals, and people around the world who come to the United States for assistance in promoting democracy and open government. These documents also may include named individuals who in many cases live and work under oppressive regimes and who are trying to create more open and free societies.

President Obama supports responsible, accountable, and open government at home and around the world, but this reckless and dangerous action runs counter to that goal. By releasing stolen and classified documents, Wikileaks has put at risk not only the cause of human rights but also the lives and work of these individuals. We condemn in the strongest terms the unauthorized disclosure of classified documents and sensitive national security information.
The Pentagon also condemned the leaks in a statement Sunday, and outlined steps it is taking to secure its computer network, including disabling removable media (such as flash or thumb drives) and changing the way in which information is moved between classified and unclassified computers.
"The 9/11 attacks and their aftermath revealed gaps in intra-governmental information sharing. Departments and agencies have taken significant steps to reduce those obstacles, and the work that has been done to date has resulted in considerable improvement in information-sharing and increased cooperation across government operations," spokesman Bryan Whitman said.
"However, as we have now seen with the theft of huge amounts of classified data and the Wikileaks compromises, these efforts to give diplomatic, military, law enforcement and intelligence specialists quicker and easier access to greater amounts of data have had unintended consequences -- making our sensitive data more vulnerable to compromise."
The Guardian says that the diplomatic cables were deliverd to the paper on a flash drive and that it was "childishly easy" for an intelligence analyst to download the files. "I would come in with music on a CD-RW labelled with something like 'Lady Gaga' ... erase the music ... then write a compressed split file. No one suspected a thing," Bradley Manning reportedly told a fellow hacker.
The State Department's top lawyer warned WikiLeak's founder, Julian Assange, late Saturday that lives and military operations would be put at risk if the cables were released. Legal adviser Harold Koh said WikiLeaks would be breaking the law if it went ahead and he also rejected a request from Assange to cooperate in removing sensitive details from the documents.
Assange, in a response released Sunday by his London lawyer, said he had no intention of halting the release. He claimed the administration was trying to cover up alleged evidence of serious "human rights abuse and other criminal behavior" by the U.S. government.
The letter to the U.S. ambassador, Louis Sussman, also said WikiLeaks had no desire to harm either "individual persons" or "the national security of the United States." But he said the administration's refusal to cooperate showed that the risks were "fanciful."
"I understand that the United States government would prefer not to have the information that will be published in the public domain and is not in favor of openness," Assange wrote. "That said, either there is a risk or there is not."
"You have chosen to respond in a manner which leads me to conclude that the supposed risks are entirely fanciful and you are instead concerned to suppress evidence of human rights abuse and other criminal behavior," he said.
"We will now proceed to release the material subject to our checks and the checks of our media partners unless you get back to me," Assange wrote.
Guardian columnist Simon Jenkins defended the paper's decision to publish the documents. "The job of the media is not to protect power from embarrassment," he wrote. Furthermore, he says, the paper informed the US government in advance about what they planned to publish and redacted certain information that might put individuals' lives at risk or compromise ongoing military operations. "The State Department knew of the leak several months ago and had ample time to alert staff in sensitive locations," Jenkins says. "Its pre-emptive scaremongering over the weekend stupidly contrived to hint at material not in fact being published. "
The question of dealing with classified information is rarely easy, and never to be taken lightly. Editors try to balance the value of the material to public understanding against potential dangers to the national interest. As a general rule we withhold secret information that would expose confidential sources to reprisals or that would reveal operational intelligence that might be useful to adversaries in war. We excise material that might lead terrorists to unsecured weapons material, compromise intelligence-gathering programs aimed at hostile countries, or disclose information about the capabilities of American weapons that could be helpful to an enemy.
Related
Popular in the Community