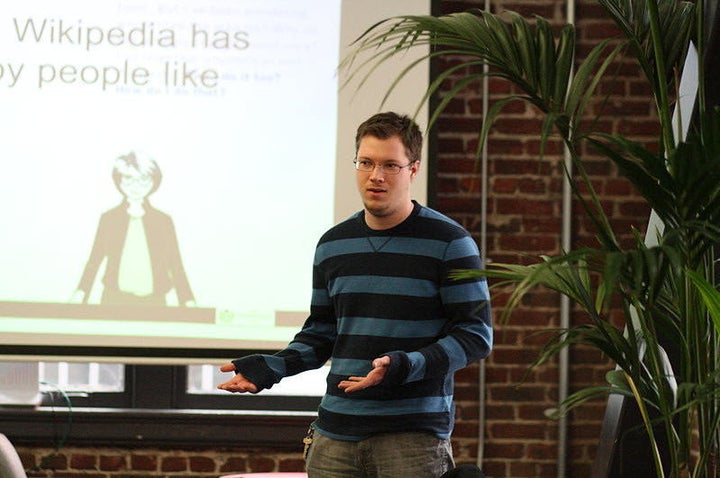 WASHINGTON -- The National Archives, the hallowed repository of the Declaration of Independence, the U.S. Constitution and America's most treasured records, now has a resident Wikipedian.
In the latest example of the growing influence of Wikipedia, the Archives announced Wednesday that it had selected Dominic McDevitt-Parks as its first liaison to the community-editable encyclopedia.
McDevitt-Parks, a dual history and archives management masters degree student at Simmons College in Boston, called himself a "history buff, a word nerd, a news junkie, and an occasional pedant" in an Archives blog post.
McDevitt-Parks said his goal is to "foster collaboration between the Wikipedia community and the National Archives for their mutual benefit--or, in reality, the benefit of the public, which both projects serve."
Archivist of the United States David Ferriero has made digitization and electronic record-keeping a priority since President Barack Obama plucked him from his spot as head of the New York Public Libraries. "By having the permanent records of the federal government available through Wikipedia," he said in a statement, "the National Archives will reach children, genealogists, educators, researchers, and members of the public who may never have come to the National Archives or seen our website to view our holdings."
McDevitt-Parks has been a Wikipedia contributor since 2004 when he was still in high school and has worked as an administrator on the crowd-sourced Internet encyclopedia.
He said he hopes to help improve the "quality of coverage" of topics related to the Archives massive historical holdings, which cover all of American history and include historic documents, military records, census records and the contents of a dozen presidential libraries.
"Archives preserve our cultural history; Wikipedia brings it to the people," McDevitt-Parks wrote. "We preserve documents so that they can be known and used in the future, not just so they can continue their existence inside a folder in a box on a shelf. Digitizing documents makes them more accessible, generates interest for a collection, and helps preserve the originals. Doing so while working with Wikipedia means we will take this practice one step further and also directly help create new works that incorporate such materials."
Wikipedia, he said, "is the ultimate public history project."
Related
Popular in the Community