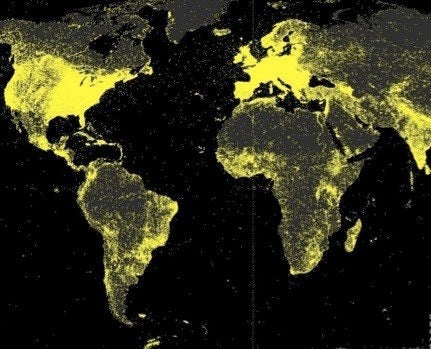 Wikipedia, the world's largest online encyclopedia, ranks near the top of the Internet's most-visited websites. According to web data-tracking company Alexia, Wikipedia currently sits fifth from the top of the 500 most popular sites in the world; at the time of this writing, only Yahoo, YouTube, Facebook and Google enjoyed more traffic. But despite its global reach, Wikipedia's users tend to favor certain languages above others.
Perhaps unsurprisingly, the most geotagged entries had been written for Wikipedia's English-language edition. Geotagging data collected by Graham's team shows that the United States and Europe are the two most popular regions written about in English.
Graham's team also looked at and mapped geotagged articles written in less commonly used languages, such as Arabic, Persian, Hebrew and Swahili.
If you look closely at the Arabic or Persian maps you might see some interesting patterns (for instance look closely at the patterns in the US). You see a similar sort of unexpected spatial distribution of articles in the map of Swahili Wikipedia [...] (i.e. why are there so many articles in Turkey?). The answer is simply a few dedicated editors creating stub articles about relatively structured topics such as cities in Turkey (in the Swahili Wikipedia) or every county in the US state of Georgia (in the Arabic Wikipedia).
"Wikipedia's vision statement is to provide a free encyclopedia for every single person on the planet in their own language, so it's core to our mission that we focus a lot on the developing world where Wikipedia is behind where it could be," Wales told The Huffington Post. "We already have a free encyclopedia in English, and we want to improve it, but really, I'm more and more focused on growth in the developing world."
Take a look at the slideshow (below) to see some of the languages that Graham and his team mapped. You can view more of Mark Graham's work at his website, Zero Geography. You can also follow him on Twitter (@geoplace).
PHOTO GALLERY
Wikipedia's Languages Mapped

Calling all HuffPost superfans!
Sign up for membership to become a founding member and help shape HuffPost's next chapter