When the National Geographic Society channel, NatGeo, announced that the American Genius series would include Wright vs. Curtiss (the original title), it created a buzz amongst the aeronautically-minded.
With NatGeo's credibility and reputation for high-quality programming, it seemed a near-certainty that Wright vs. Curtiss would be a sensational program.
When the trailer and episode clips became available, that initial enthusiasm became dismay and concern. There were so many obvious glaring errors, untruths and exaggerations it seemed the program might be a total disaster... it was apparent that drama was what this production was after, and to hell with truth and history.
Then, on June 1, Wright vs Curtiss aired and the worst of the concerns held by people who value truth and history above drama were confirmed... the storyline was exploitative, false in several central and critical areas and as one aviation historian said, "The level of historical filth it presented was enough to make me want to clean my TV afterward."
A two-part review was posted here and here on the Huffington Post soon after the program aired, detailing the distortions and false narratives the NatGeo production pushed in its "docudrama."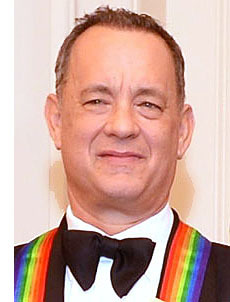 In the aftermath gloom of Wright vs. Curtiss it was remembered that Playtone Entertainment (Tom Hanks and Gary Goetzman) had optioned author and historian David McCullough's book "The Wright Brothers" and had signed a deal with HBO to produce a mini-series based on that book (first reported on deadline.com).
Given the superb quality of other Hanks and Goetzman collaborations with McCullough productions (Truman and John Adams), there is every reason to believe this production will capture and portray all the true and factual drama of the story of Wilbur and Orville's invention of the aeroplane, in a manner in which NatGeo's attempt failed so terribly.
Tom Hanks has a unique place in this project, he currently serves as co-chair, with Wilbur and Orville Wright's Grandniece Amanda Wright Lane, of an ambitious $150 million dollar fundraising campaign at Wright State University (to date over $110 million has been raised), to increase student scholarships and student services, and to enhance faculty recruitment.
So, NatGeo, watch as the Playtone Entertainment production team puts together a superb presentation of the true story of how Wilbur and Orville Wright gave birth to human flight. NatGeo has a thing or two to learn about how to present historical material, and who better to teach them than Tom Hanks, Gary Goetzman and David McCullough ?
Calling all HuffPost superfans!
Sign up for membership to become a founding member and help shape HuffPost's next chapter