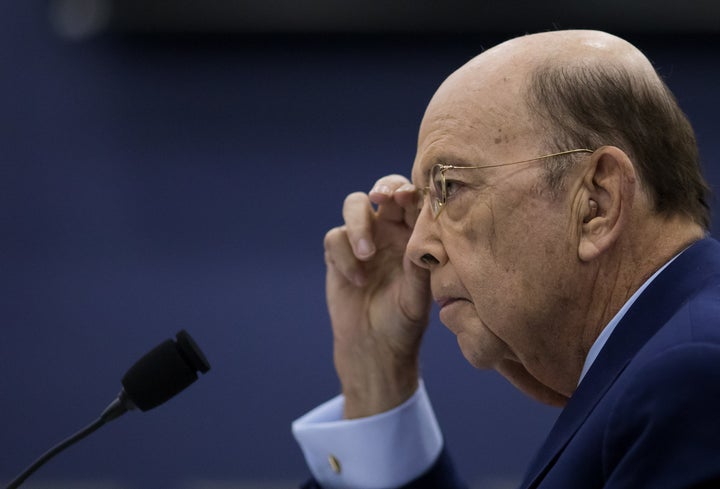 When private equity magnate Wilbur Ross agreed to become President Donald Trump's commerce secretary in January 2017, he promised to divest himself of investments all over the world ― with a few exceptions. In particular, Ross said he'd maintain a "passive" stake in Diamond S Shipping, an international shipping operation that sails under the Chinese flag.
Ross' decision to hold onto Diamond S raised more than a few eyebrows. In March 2017, a report by the Center for Public Integrity highlighted controversial Diamond S operations in Iran and Russia, and questioned whether Ross' continued ownership stake in the shipping enterprise was a conflict of interest for an American public official tasked with overseeing much of U.S. trade policy.
Ross' investment in Diamond S flew largely under the radar, however, in an administration plagued by chronic scandal. In November, after further questioning from the Center for Public Integrity, Commerce Department spokesman James Rockas declared that Ross "has fully divested of his interest in Diamond S. Shipping."
Yet more than four months after Rockas' announcement, there is still no public record indicating that Ross has actually divested from the company. None of the 27 filings he has made with the Office of Government Ethics since joining the administration have mentioned Diamond S or any of the financial intermediaries through which Ross owns his stake in the shipping firm ― including WLR Recovery Associates IV DSS AIV LP, WLR Recovery Associates V DSS AIV LP, and DSS Holdings LP. In December, Rockas said that Ross had already made the filings, which would be released "in due course."
Administration officials are legally required to disclose transactions of personal assets valued at more than $1,000, and Ross has detailed the progress of his divestments in other companies ― including Sun Bancorp, BankUnited, Ocwen mortgage servicing, Chevron, Merck and Apple. But there are no filings on the shipping giant.
In 2011, Ross' private equity firm led a consortium of investors taking a $1 billion stake in Diamond S, making him non-executive chairman of the Diamond S board. (The size of his current investment is not entirely clear.) The Greenwich, Connecticut-headquartered company operates 45 oil tankers, of which 32 are officially registered in Hong Kong. That means they sail under the Chinese flag rather than the American flag, a distinction that allows them to avoid key U.S. regulations and pay workers lower wages. Diamond S vessels have made more than 100 stops in China since 2012, according to data compiled by the Center for Public Integrity.
Since he became commerce secretary, Ross has been closely involved in U.S. trade policy with China, meeting with the head of that country's largest sovereign wealth fund in July. In November, Ross and Trump announced a series of agreements with Chinese government firms to develop natural gas resources in Alaska, although it's unclear which, if any, will come to fruition.
As it happens, Navigator Holdings, a separate shipping business in which Ross owns a major stake, specializes in transoceanic shipment of natural gas. Rockas insisted in December that Ross had also divested his interest in Navigator, but public government filings show only one sale of up to $50,000 in Navigator stock.
As of Dec. 31, 2016, a Ross-controlled private equity group owned 39.4 percent of Navigator. He was the company's chairman, although Navigator said in 2017 that he would not participate in company decisions as a member of the Trump Cabinet.
After this story was first published Thursday, Rockas told HuffPost, "The Secretary's interest in these companies was divested through a transfer to an irrevocable trust, and because such transfers are not considered transactions under federal regulations, they are not reported through the public financial disclosure report system."
The Commerce Department would not initially identify the beneficiary of this trust other than to say it was not Ross himself. The Department declined to explain why Ross has never disclosed or detailed the arrangement. The Office of Government Ethics requires public officials to disclose irrevocable trusts that benefit an official's spouse or dependent child on an official's initial public disclosure form. Several hours after this story was updated, the Department told HuffPost that Ross had not designated his wife as the beneficiary, but would not answer further questions. Ross has two children.
Irrevocable trusts are used in estate planning by wealthy people to shield assets from personal creditors by passing them on to their heirs. A deeply indebted rich man who owns a lot of stock can put the stock in an irrevocable trust for his children, preventing the rich man's creditors from seizing the stock as payment for his debts.
The discrepancy between the Commerce Department's public statements about Ross and the official financial history of the commerce secretary was the most troubling item in a new report from the consumer watchdog group Public Citizen that details connections between Trump administration officials and Chinese businesses, including failed talks between presidential adviser Jared Kushner and a Chinese government-linked investment group involving his disastrous real estate investment at 666 Fifth Avenue, New York.
Trump has talked tough on trade policy throughout his administration. Earlier this month, he alarmed free trade enthusiasts by declaring new tariffs on steel and aluminum. But the ultimate impact of those tariffs is likely to be small, and other Trump efforts to reduce the trade deficit have had almost no effect. The U.S. trade deficit has, in fact, steadily increased during his time in office, including the deficit with China.
This article has been updated to include comment from the Commerce Department, which initially did not respond to a HuffPost inquiry.
Popular in the Community