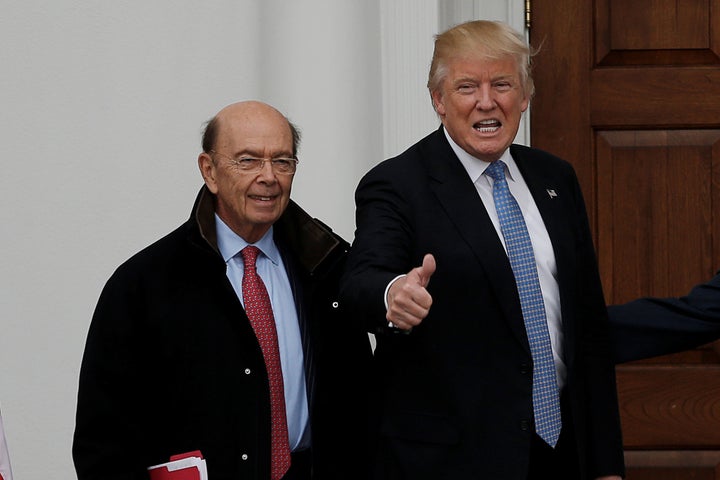 WASHINGTON, D.C. ― President-elect Donald Trump's pick for commerce secretary admitted at his Senate confirmation hearing Wednesday that he recently fired a household employee who could not provide proof that they could legally work in the country.
Having undocumented household help has sunk at least two previous cabinet secretary nominees.
Billionaire private equity executive Wilbur Ross told the Senate Commerce Committee that when he hired the worker in 2009, the person provided what looked like a valid driver's license and Social Security card. After Ross was nominated by Trump, he asked all his household staff to provide such documentation again.
"When I was getting ready for this hearing I wanted to recheck all our present and former employees," Ross said, adding that all but one of about a dozen workers provided the right documentation.
"This one employee was unable to and therefore was terminated," Ross said. The entire process happened in the last month.
Ross sorted out the matter in advance of the hearing with committee Chairman Sen. John Thune (R-S.D.) and the committee's top Democrat, Sen. Bill Nelson (Fla.). Both men thanked Ross for being forthcoming about the matter.
Ross stressed that all his employees paid the required withholding taxes and that he paid the required employer taxes. He said many of his staff members had become American citizens since 2009. It's not clear what job the fired employee had in the Ross household.
Trump won the presidency with a promise to round up and deport the millions of undocumented immigrants in the U.S. and to build a giant wall along the Mexican border. He called immigrants rapists and drug dealers. So Ross' employee of seven years faces not only unemployment, but deportation as well.
Ross is far from the first nominee who ran into political trouble for having an undocumented worker on the household payroll.
Linda Chavez withdrew as President George W. Bush's nominee for labor secretary in 2001 after a controversy about her sheltering an undocumented immigrant from Guatemala in the 1990s. She said the woman had been in an abusive relationship and in trouble and she wanted to help her.
In 1993, Clinton's choice for attorney general, Zoe Baird, withdrew after senators objected to the fact that she had hired a Peruvian couple for domestic services, even though they were not legally authorized to work in the United States. She also failed to pay Social Security taxes on their wages.
Popular in the Community