When one couple's rescue kitty, Wilbur, decided to randomly sit with his furry hind legs tucked in front of him, they snapped a picture of his silly squat and posted it on Facebook.
Wilbur did it again, and so they posted another.
Not long after, a side-by-side picture of both of the above images was posted to the content sharing and social media site, 9gag. The picture acquired a little over 100 comments. Last week, the picture made its way onto 9gag's Instagram page and has received over 700,000 likes -- making it an official viral hit.
"Wilbur actually doesn't sit like that all the time, but he does sometimes," one of his humans, Sara (who wanted her last name to remain anonymous), told The Huffington Post. "His torso is either too long or his legs are too short, so he always sits in odd positions."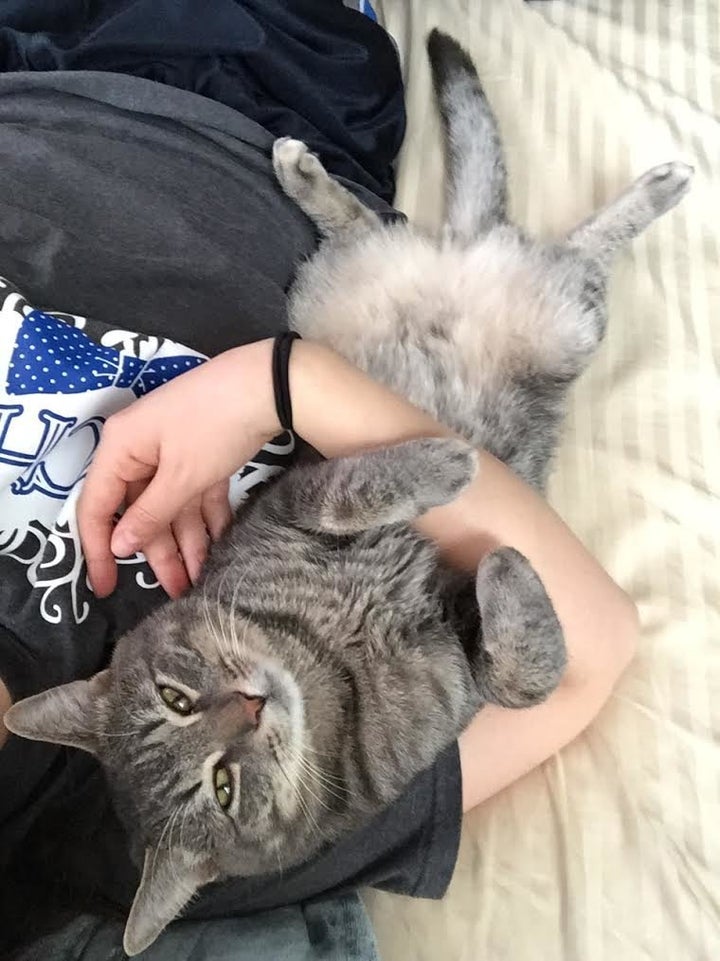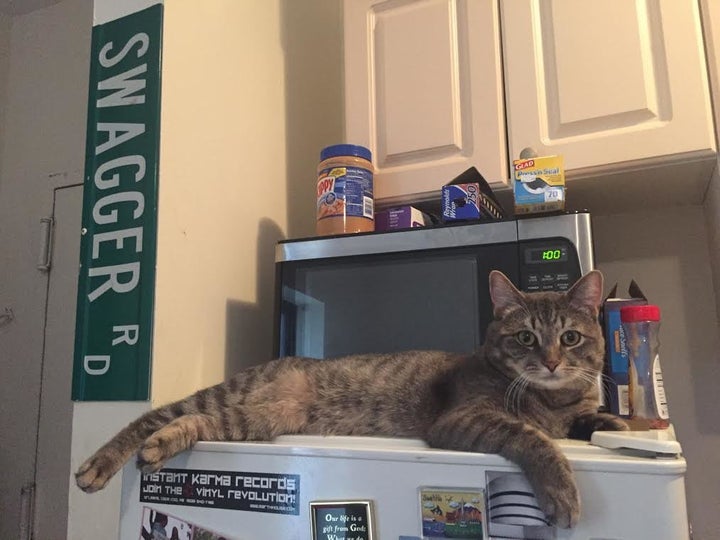 This isn't Wilbur's sole quirk. He also likes to play fetch -- like a dog.
"He loves wine corks, it's all he'll play with them all day," Sara, who posted a video of the kitty chasing a cork on Instagram, said.
"He brings it back and everything."
The goofy tabby, who loves snuggles and nose bumps, was discovered by Emma Roth, a 24-year-old Barnard College grad who runs Bradford TNR, an independent organization that betters the lives of cats living on the streets of New York City. In October, Roth found Wilbur in her backyard in Brooklyn. He was cornered by her dog, Oscar, a German shepherd mix, and seemed distressed.
Roth whisked Wilbur to the vet. He had no physical damage, but was shaken up by the encounter. After a few days of recovery at her home, Roth discovered the cat was friendly and may possibly have belonged to someone. She decided to put the word out and see if anyone was looking for him. She posted Wilbur's picture on a New York City Subreddit with the comment "Does this cat belong to anyone?"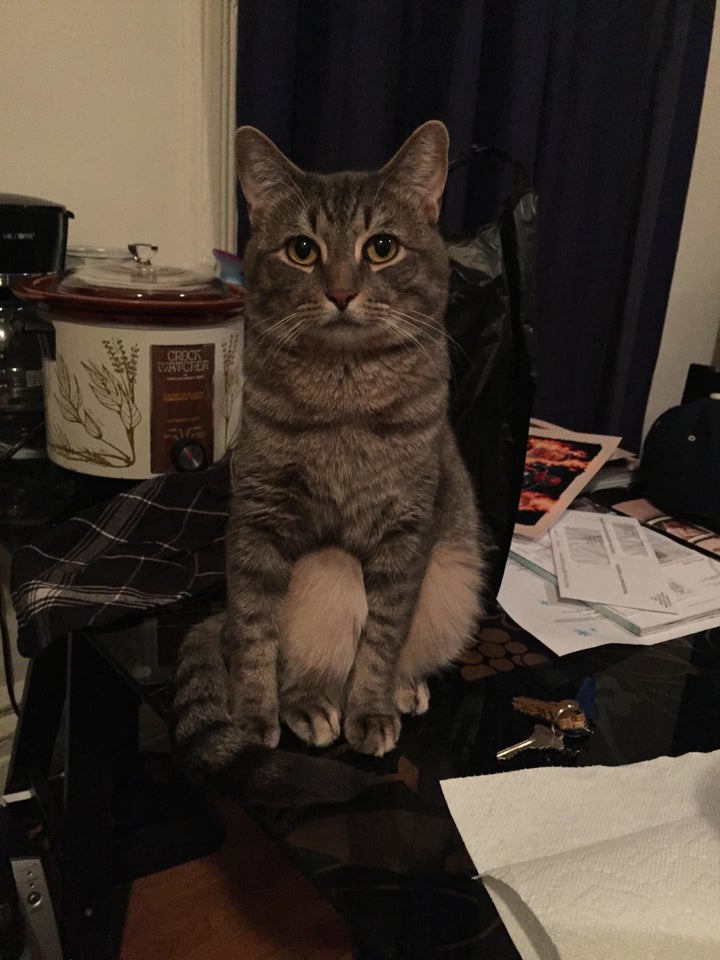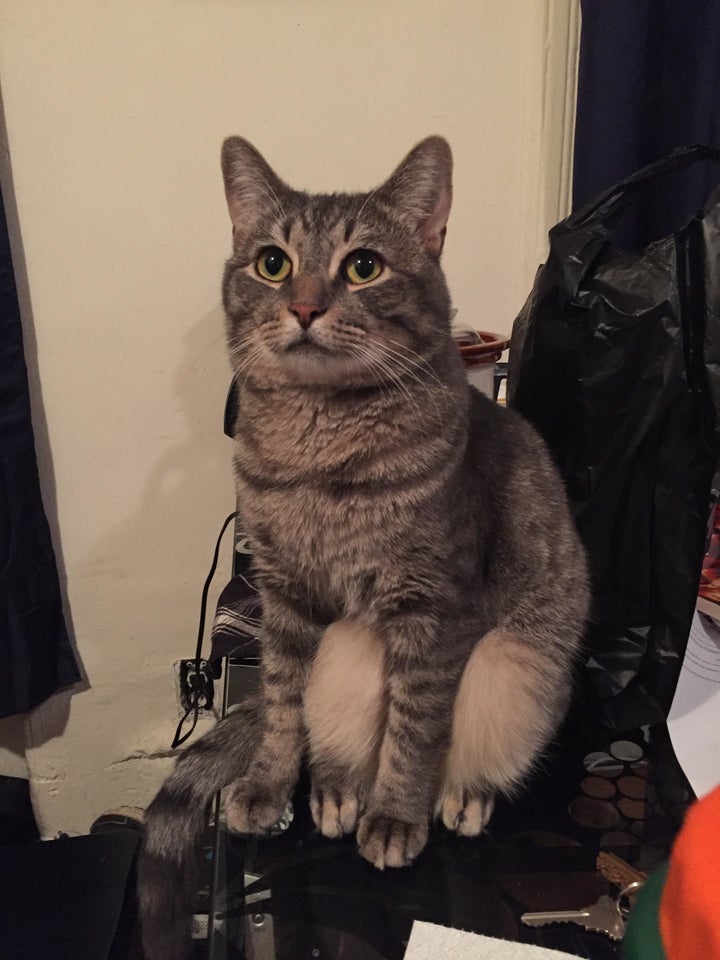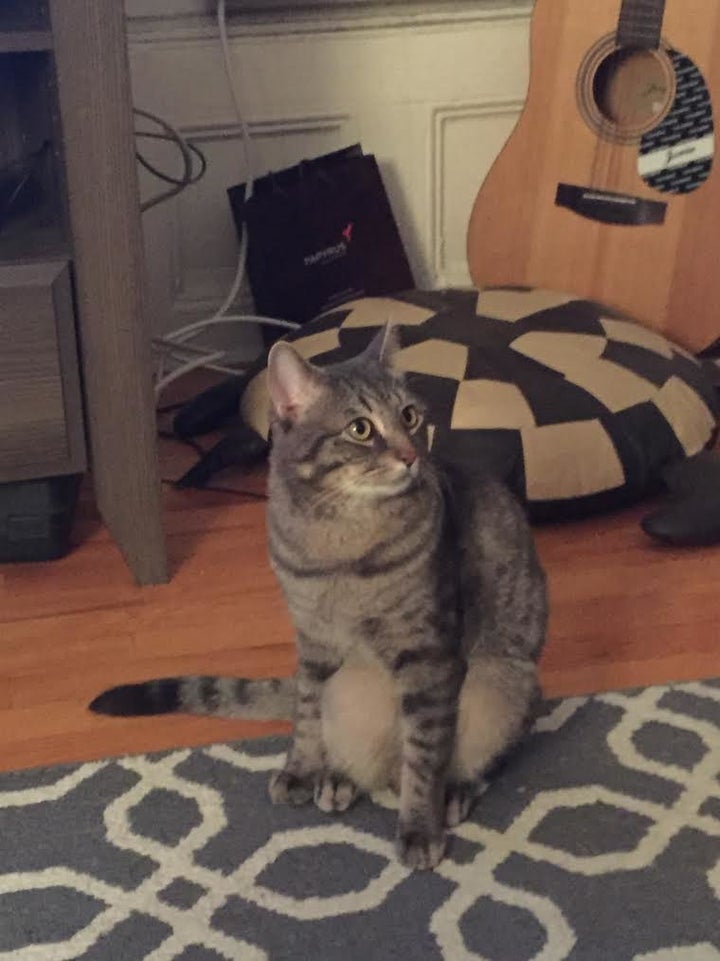 That's where Sara's boyfriend, Grant, first saw Wilbur's picture.
"Grant and I have always wanted a cat," Sara said. "One day, we found a little mouse scurrying about our apartment. That's when Grant put his foot down and said, 'Babe, we're getting a cat!'"
When Grant laid eyes on Wilbur online he half-jokingly commented: "Hey, if you can't find the owner, I might be willing to take him."
Two days later, Roth contacted Grant saying Wilbur wasn't neutered or micro-chipped so he might be a stray. After a trip to the vet in which Wilbur was neutered, vaccinated and received a check up, the couple decided to adopt him.
Roth was sad to see Wilbur go, but it's part of the job at Bradford TNR.
The organization utilizes the "trap-neuter-return" program in which feral and stray cats are humanely trapped, neutered at a clinic and then returned to their outdoor homes to live out their lives. Bradford TNR, also tries to find homes for some of their rescues, and takes the cats they capture to the ASPCA for medical care.
"People are always saying, 'I wish somebody would help that poor animal' when they see them living on the streets or in need of rescue," Roth, who became TNR-certified at age 22 told HuffPost. "I want to show people my age that they can be that somebody."
According to Roth, in order to become TNR certified, one has to sign up for a three-hour workshop class, where you learn the basics of TNR and gain access to an incredible wealth of resources.
"If there were more people active in TNR in every community, we could dramatically reduce the number of animals born on the streets," she said.
To keep up with Wilbur, follow him on Instagram.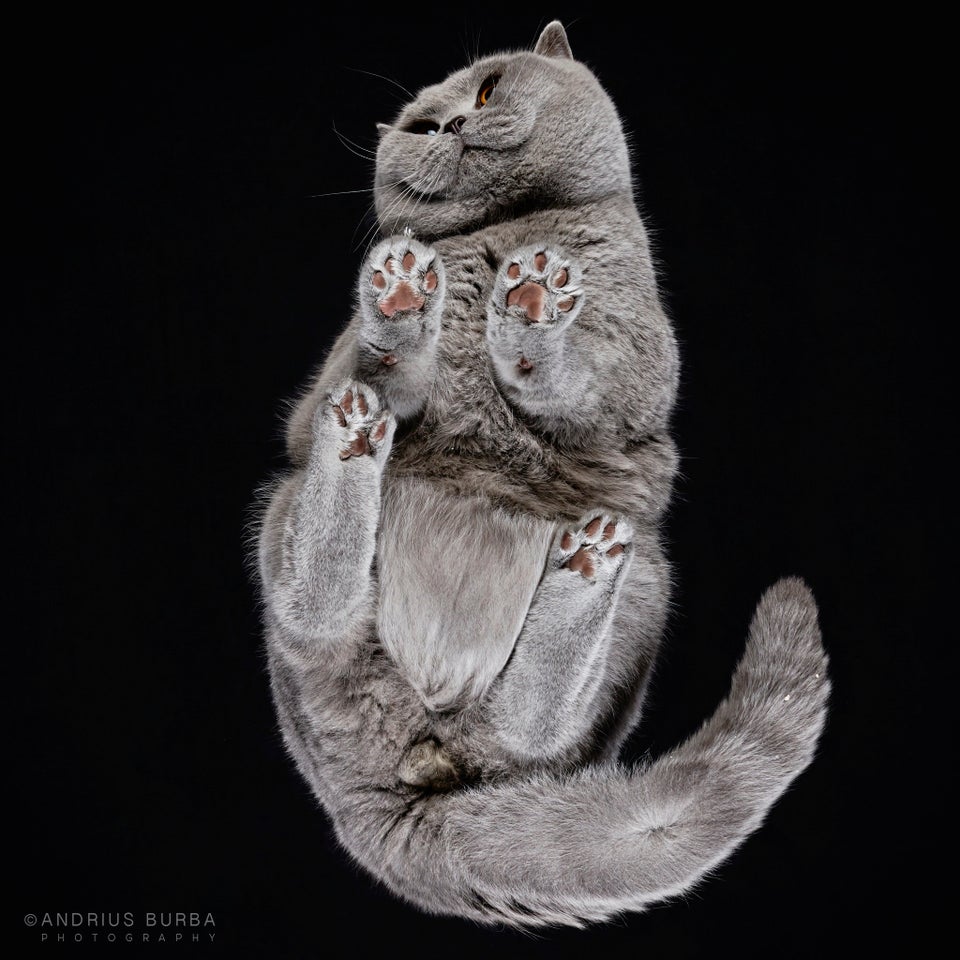 Undercats
Popular in the Community