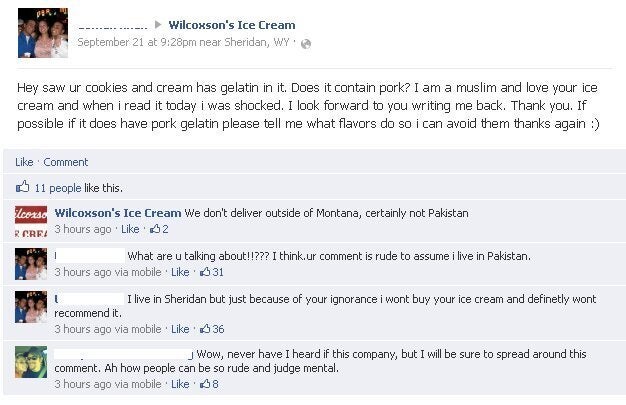 An innocent inquiry into the cookies-and-cream turned into a total social media meltdown for one small Montana company on Thursday.
Wilcoxson's Ice Cream in Livingston, Mont., was blazed with Internet flames after its CEO posted a Facebook response to a customer interpreted as racist.
The trouble started on September 21 when a customer of Wilcoxson's Ice Cream posted on the company's Facebook page that he "loved" the ice cream but wanted to know whether it contained pork gelatin since he was a Muslim. CEO Matt Schaeffer's response: "We don't deliver outside of Montana, certainly not Pakistan."
The customer immediately replied, "What are u talking about!!???" said he lived in Sheridan, Wyo., and vowed not to buy Wilcoxson's ice cream anymore.
Schaeffer explained to the Bozeman Daily Chronicle that his response was not "a racist comment ... it was just an honest mistake." He stated that he responded at 7 a.m. during a break, at a time when he was "overwhelmed with work." Schaeffer claimed that the Facebook customer had an icon next to his name identifying him as being from Pakistan, so he thought the customer was posting literally from Pakistan.
"I apologize if he took it wrong, that's not what I meant by it. I guess I didn't read the whole thing," Schaeffer told the Chronicle.
According to a study by Social Media Examiner, about two-thirds of small business owners surveyed said they strongly agreed that social media is important to their business, and 88 percent of all marketers found social media helped them get increased exposure.
Schaeffer did not immediately respond to requests for comment.
Even back then, Schaeffer revealed signs of being overworked. "Break? I started at 3 o'clock this morning and I haven't sat down all day," he said.
"The company is super low-key," Jason Bacaj, the Chronicle writer who reported the story, told The Huffington Post via email. "A story I did on their 100 year anniversary a few months ago was the first factory tour they'd ever given and one of the only interviews granted in their history. Quite frankly, I was amazed when I got through to Schaeffer no problem yesterday morning. I mean, they operate out of a plain white cinder block facility without any signage -- except for a small 'Wilcoxson's' sign facing a small back alley. Great ice cream though."
Though the answer to the original question may not go down quite as smoothly for angered customers, Schaeffer did confirm to the Chronicle that all of Wilcoxson's ice cream contains kosher, not pork, gelatin.
UPDATE: Friday, 4:15 p.m. -- Schaeffer told NBC News that he has offered to resign over the controversy. "I was wrong," he told NBC News. "I should have just answered the question ... I don't want to be the one who took down a 100-year-old company because I made a stupid comment. If necessary, I will resign."
CORRECTION: An earlier version of this story said Wilcoxson's Ice Cream was a company in Billings, Mont. The company has a center in Billings but is headquartered in Livingston.
Related
Before You Go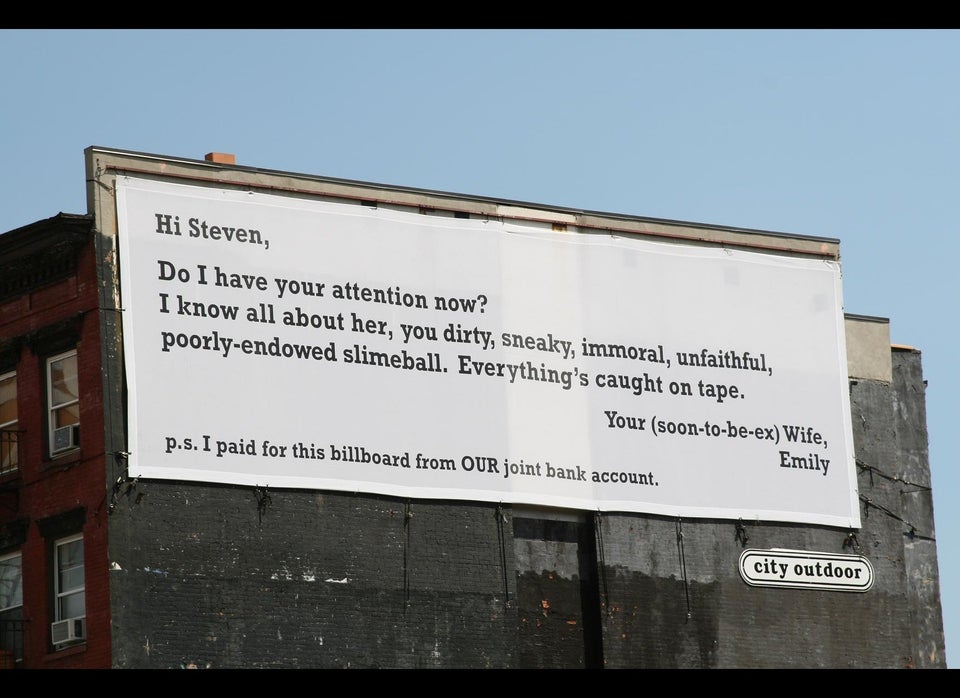 Weird Billboards
Popular in the Community