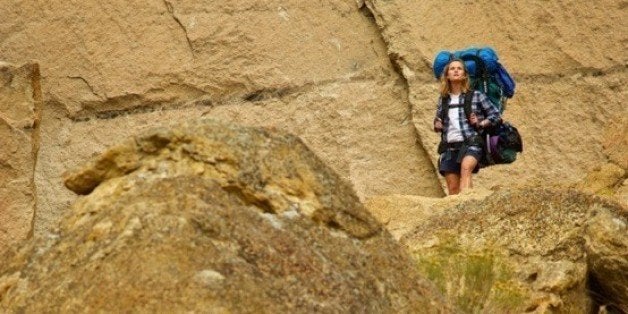 Can a radical immersion in nature heal our deep emotional wounds? That it can is the premise of Wild, the movie version of Cheryl Strayed's memoir about her thousand-mile trek along the Pacific Coast Trail.
In a memorable performance, Reese Witherspoon portrays Cheryl, two parts grit, two parts wounded woman, and three parts vulnerability, both to her own weaknesses and to the healing power of nature. The sequence of events that brought a young woman to seek solace in the solitude of nature is conveyed in a series of flashbacks revolving around her recent divorce and the death of her mother. These events had propelled Cheryl into a downward spiral of heroin and promiscuity, culminating in a pregnancy whose father was only a matter of her conjecture.
Cheryl seizes upon the idea of self-discovery and self-renewal in nature in a manner as unplanned and impulsive as everything else she has done, but this time she hits upon a winning formula. Utterly unprepared for a project of this magnitude, devoid of hiking or camping skills or experience, she nevertheless shoulders a pack as big as she is and maneuvers it for 95 days through the mountainous terrain of the Sierra Nevada. Along the way, she encounters every kind of predictable danger: a rattler poised to strike; almost unclimable rocky passages of the trail; dangerous snowpacks followed by desert-like conditions and unslakeable thirst; and menacing men tempted by an attractive young woman out by herself in the wilderness. Every obstacle she overcomes.
Among the most beautiful and haunting features of her odyssey is a wolf she encounters occasionally over a period of several weeks. The wolf itself is slightly lame or wounded in some fashion, but it gazes at her directly and shadows her along her journey. The wolf is at once unreal and larger than life, an image of the wild thing Cheryl herself has become, and a kind of beacon to continue to pursue her dream.
At one of her rare stops along the way, someone asks Cheryl if she ever considered giving up her goal of hiking a thousand miles along the trail. "Oh, only every couple of minutes," she replies. That she does not give up is the take-away message that makes her story alive and relevant to everyone, everywhere, on whatever path they may be.
If there is a flaw in this film, it is that the director, Jean-Marc Vallee, neglected to take entire advantage of the spectacular visual panoramas offered by the Pacific Coast Trail. The immersion in nature is so crucial to the logic of the film, and the opportunity for extraordinary cinematography so abundant, something precious was lost here -- albeit not entirely. Sufficient glimpses of the glory of the Sierra Nevada were provided to us to leave us aching for more.
As a parable of the healing power of nature, especially as experienced by a woman, Wild earns a rightful place alongside Robin Easton's Into Eden, as well as beside Untamed, the story of Carol Ruckdeschel and Cumberland Island. It's the kind of film that merits more than a single viewing -- once for the story, once for the technique (including acting and editing), and once for the raw courage and beauty with which it was conceived.
Popular in the Community