If you've never seen an animal, what does it look like?
Bodmer brings artistic flair to natural history. Many of his animals are literal still-lifes--studies of animals that have been killed. The ones in the liveliest poses are those most easily captured or observed--turtles, salamanders, frogs, toads. But he also manages a majestic watercolor of "Buffalo and Elk on the Upper Missouri" featuring a bull elk on a promontory above herds approaching the water's edge--a vision much in the tradition of portrayals of heroic European stags.
Sendak's creatures are variously lifelike, animated, anthropomorphous, and imaginary, a welter of visions to suit the storyteller's needs. The final drawings for many of his books speak to multiple attempts to rightly characterize the mood, the instant, the expression of the moment in the narrative, to leave the viewer with a satisfied comprehension of the creatures depicted.
What might these images mean to their viewers? Bodmer's images, made first to satisfy the demands of his employer, the Prince Maximilian zu Wied, are first of all anatomically precise, skillfully drawn and colored. When Europeans saw these images in 1843, they might have heard about the animals, but never seen them. The creatures were exotic, rare, and distant from their experience--almost imaginary.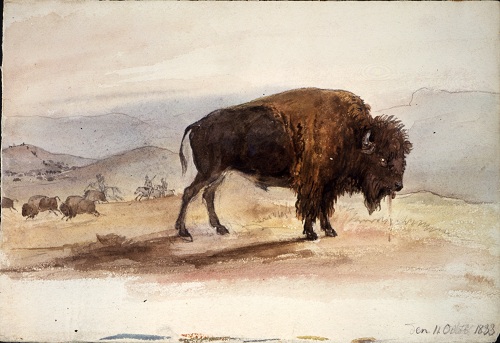 Karl Bodmer (Switzerland, 1809-1893), Bison Wounded in a Hunt, 1832 - 1834. Watercolor on Paper. 5 7/8 x 8 5/8 inches. Collection of Joslyn Art Museum, Omaha, Gift of Enron Art Foundation, 1986.
Sendak creates creatures that look civilized, but act wild; or vice versa. Dragons read books, toads converse; bears play musical instruments, then try to eat people. Generations of children first encountered animals both real and imaginary through Sendak's drawings. They speak to the nature of "wildness," and the fine line between the tame and wild tendencies in all living things.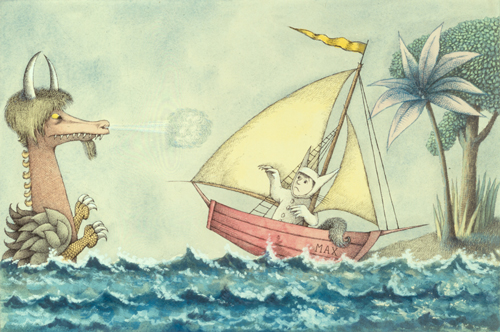 Final drawing for Where the Wild Things Are. Pen and ink, watercolor. © 1963, 1991 by Maurice Sendak
Some people have regarded Sendak's portrayals of wildness as "too scary." Think for a moment, however, about the impressions of 19th-century Europeans seeing their first accurate portrayals of bison, pronghorn, and lynx, compared to a child's first encounter with Sendak's wild things.
Is the imagination the work of the artist or the viewer?

REAL LIFE. REAL NEWS. REAL VOICES.
Help us tell more of the stories that matter from voices that too often remain unheard.