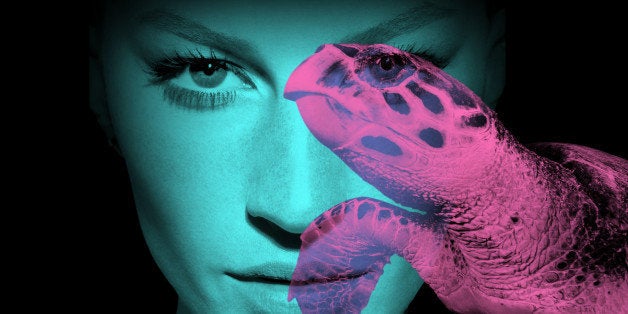 Recently, I was made aware of the numerous challenges facing so many of our most beloved species because of the illegal trade in wildlife. This shameful trade is pushing species to the edge of extinction. One story that touched my heart is the plight of the Pangolin, a little known creature that is the most illegally trafficked mammal in the world. As a result of greed they may sadly be gone before most of us have ever even learned their name or seen one. This is the unfortunate reality that makes it hard to be hopeful for their future.
Nonetheless, there is hope. We need to prompt a radical, global shift in thinking about the illegal trade in wildlife. This is why I am supporting the United Nation's Wild for Life campaign, which begins today. You may know that I have led an activity every year for the last five years for World Environment Day to challenge everyone to take action on a topic. People over the years have inspired me by their passion of for accepting the UNEP challenges to help make a difference. This year, six UNEP Goodwill Ambassadors and many others will lead a global charge through the campaign to encourage everyone, everywhere to use their own powerful spheres of influence to spark involvement and pledges for no killing, buying, gift giving, trafficking, weak governance or turning a blind eye. Let's all join together to be part of shepherding the change and help stop unnecessary extinctions of our wildlife for greed. My goal is to share my knowledge and inspire you to help me take action by creating awareness and ultimately bringing an end to this global wildlife crisis.
So why do I care so much?
Animals are part of all our worlds and most people who care deeply about animals, the environment, and the planet have had a transformative moment in nature during childhood. My own experiences of connecting with nature and animals have shaped the person I am today. Nature never ceases to inspire me, and it is where I escape to recharge. It has both intrinsic power and the ability to move us beyond selfish pursuits to see the interconnection and interdependence in life. Nature is our teacher.
Many cultures of the past encouraged a respect and love for nature. They understood that it provides sustenance and well-being for the population. Our current society has slowly moved away from understanding the role nature plays in supporting the Earth's populations. Nature should be valued for its inherent ability to sustain us and inspire us to be our best selves. We see the benefits of nature's inspiration in the world around us and I see its positive influence in my own children. I love that they have a fascination with butterflies, worms, and the colors of the seasons. They are genuinely happiest at play in our yard or by the sea, discovering all nature has to offer.
When we carelessly harm the planet and all of the precious species of plants and animals, we damage ourselves. We are all part of nature and all life is connected. If you hurt one species, you hurt them all and we humans are not exempt. We have the ability to explain this interconnectedness with science, but we also simply feel it in our souls.
Let's embark on a new journey together for a better future. We should no longer separate our own well being from that of wildlife and the precious ecosystems. We are the custodians of our own families and of our planet earth. These responsibilities must be taken more seriously.
It saddens me that in the 21st century, with all our knowledge and power, we are hearing more and more stories of possible extinctions due to people's choice. We are responsible for our choices and the only ones capable of changing our future. Poaching is escalating throughout the world. It is a senseless activity fueled by greed. The illegal trade supports the poachers' activities. As a result of these crimes, not only are the animals in peril, but indigenous people also suffer from the imbalance created in the environment.
Many factors contribute to enabling the illegal trade -- greed, ignorance, indifference, corruption, investment, power, medicinal use, status, religion, cultural belief to name a few. The common factor they all share is that humans making different choices through knowledge could help stop this. Let's face it; no choice that we make for any of these reasons should result in threats to a species, great or small. We are the most successful and adaptable species the planet has ever known; this gives us both power and privilege. There is really nothing we can't do if we set our minds to it. Now is the time to set our minds to ending this illegal trade before the choice is no longer in our hands.
That's why I would like to invite everyone to take part in our UN Global Coalition campaign to end the illegal trade in wildlife. Starting May 25 you can join me to bring awareness. I have chosen the sea turtle as my animal.
This is ongoing work that requires us to be persistent and vigilant. We create our own reality through the choices we make, and we are the only ones capable of changing the reality we live in. Let's put wildlife in our hearts and its future in our hands. Together we can make a difference.
Gisele Bündchen is a United Nations Environment Program Goodwill Ambassador. You can get involved in the 'Wild for Life' campaign at www.wildfor.life, and in World Environment Day 2016 at www.unep.org/wed."
Related
Popular in the Community