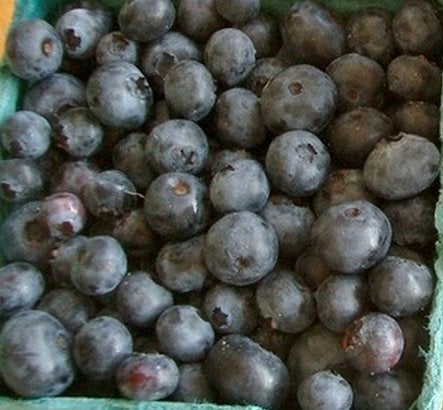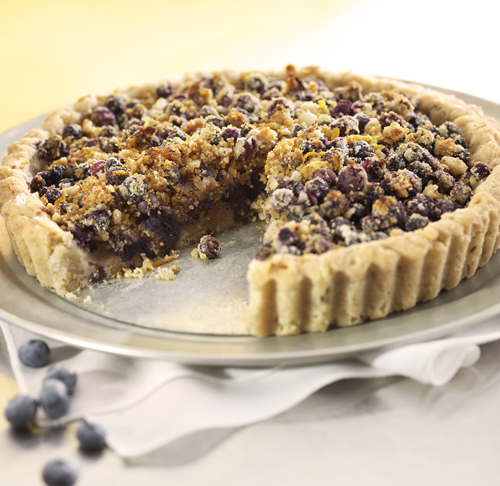 Photos by David Bishop
On the end edge of wild Maine blueberry season, August, I saw the last pint in a grocery store. I bought them on a whim, knowing how super delightful they are on so many levels of humanity. I knew that these gem-like lovelies could not endure long in my refrigerator, so I envisioned something special for them immediately.
I contemplated my mother's pie crust recipe, which I always found to be the best in the world. I went to the freezer, where I keep my butter for freshness, and found that I had none. I often use coconut oil as a healthful alternative to butter. I had never seen a pie crust recipe using it. In my mind I saw the creation more as crumble than a pie and used a Linzer tart pan for both beauty and ease of removal from the pan. If you are not familiar with them they have fluted edges and a loose bottom that you can easily pop the pie or tart out with.
I wanted to make a crumble to rival all crumbles. I decided to replace some of the flour with coconut flour for its low glycemic index and all of the sugar with coconut sugar for the same reason. I used crushed sliced almonds in the pastry for added texture and flavor plus a dash of lemon juice and zest in both the pastry and the filling. I like Meyer's lemons, but you can use regular lemons, limes or oranges if you prefer.
One of the greatest things about wild Maine blueberries, besides their flavor, texture and beauty is that they have twice the antioxidants than regular cultivated blueberries. They also contain high concentrations of anthocyanins, flavonoids and other phytochemicals, all of which are good for almost every health issue. You can buy them frozen all year round from several suppliers.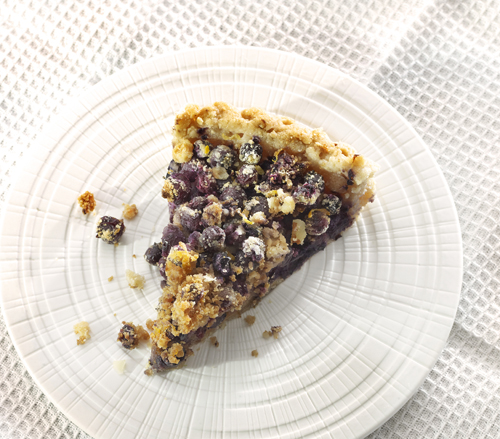 So here is my recipe for Wild Maine Blueberry Crumble. You will need a 7-8 inch Linzer tart pan. Preheat oven to 400°F. Makes 8 pieces @ 249 calories/piece.
Filling Ingredients: 366 cal
1 pint (2 cups) wild Maine blueberries, washed & sorted for stems 225cal
¼ cup coconut sugar 120 cal
1 Tablespoon Meyer's lemon zest 3 cal
1 Tablespoon Meyer's lemon juice 3 cal
1 teaspoon coconut flour 15 cal
½ teaspoon sea salt 0 cal
Mix all of the ingredients together in a bowl with a large spoon.
Pastry Ingredients: 1627 cal
¾ cup organic pastry flour 247 cal
¼ cup coconut flour 124 cal
¼ cup coconut sugar 120 cal
¼ cup crushed sliced almonds, unblanched 172 cal
1 teaspoon Meyer's lemon zest 1 cal
1 teaspoon flake or coarse sea salt 0 cal

Whisk together dry ingredients in a bowl.
4 oz. coconut oil, semi solid at 70°F 960 cal
Using a pastry cutter, cut the coconut oil into the dry ingredients until there are no pieces bigger than a pea.

4 tablespoons ice water 0 cal
1 tablespoon Meyer's lemon juice 3 cal
Mix the cold liquids together and cut it into the pastry a bit at a time. Reserve a ¼ to ½ cup of the pastry mixture for the crumble topping.
1. Gently and evenly press the remaining pastry dough into the Linzer pan using your fingers, then the bottom of a dry, not a liquid, ½ cup measuring cup to even it up.
2. Fill the pastry with the blueberry mixture.
3. Crumble the remaining pastry over the top of the blue berries.
4. Place it in a pre-heated 400°F oven and reduce heat to 375°F
5. Bake for 30 to 40 minutes.
6. Let it cool thoroughly before removing it from the pan.
Hint: leave it in the pan to transport it.