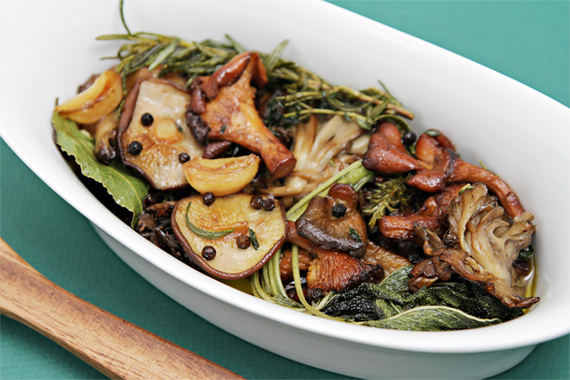 Wild mushrooms, poached in olive oil until supremely tender -- so delicious, deep and aromatic, you might want to eat the whole batch in one go. Plus you can make this recipe with your favorite mushrooms! Choose a single variety or a mix of different mushrooms... but always pick medium-sized specimens, so that they're easier to eat in one bite. Whole mushrooms also make for a better presentation.
For a gourmet spread, serve this confit alongside these braised artichokes and these marinated olives with fennel. But the poached mushrooms are also wonderful as a condiment or side. Indeed, a spoonful of the flavorful morsels can brighten any main course, salad or soup!
Although the oil they're cooked in is not consumed with the mushrooms, you can use it for other recipes -- see Viviane's tip below. Bon appétit!
Wild Mushroom Confit with Garlic and Fresh Herbs
makes 2 cups
active time: 30 min
1 lb (455 g) assorted wild mushrooms (shiitake, oyster, Chanterelles, morels, black trumpet...) -- medium in size
2 cups extra virgin olive oil
8 large garlic cloves -- peeled and halved
12 large sage leaves
4 rosemary sprigs
6 thyme sprigs
8 winter savory sprigs
2 fresh bay leaves
2 teaspoons whole black Tellicherry peppercorns
1 teaspoon sea salt
1 1/2 tablespoons aged sherry wine vinegar
Brush the mushrooms clean and trim the stems, but keep the mushrooms whole. Set aside. Heat a large non-stick skillet over medium-high heat (I recommend a 12" skillet). Add 1/3 cup of the oil and the mushrooms, toss carefully, and sauté undisturbed for 2 minutes until the mushrooms begin to brown. Toss again and continue to sauté until the mushrooms are golden-brown, about 4 to 5 minutes, tossing only from time to time. Add the garlic pieces and sauté for 1 minute until the garlic is golden, but not brown. Reduce heat to medium, add the balance of the oil and the herbs and peppercorns, and gently heat until the oil reaches 170F (80C) (use a thermometer). Once the oil has reached the desired temperature, continue poaching the mushrooms for 6 to 7 minutes, maintaining the temperature at 170F (80C), until the herbs are crisp and have turned a shade darker. Transfer the mushrooms, herbs and oil into a large bowl. Stir in the salt and vinegar and allow to cool to room temperature. To serve, scoop out the mushrooms with a slotted spoon and place in a serving bowl.
Cook's note: Once cooled, the mushrooms can be refrigerated in their cooking oil for up to 1 week (make sure they are covered with the oil). Bring to room temperature before serving. To serve as a side dish, gently heat the mushrooms in their oil, drain, remove the herbs and peppercorns, and serve warm.
Once you've consumed all these amazingly delicious mushrooms, don't throw the oil away. Strain it through a fine sieve and use it to make vinaigrettes, to drizzle over roasted or grilled vegetables, to sauté vegetables or to make sauces. It'll bring beautiful aromas and flavors to anything you cook with it. Refrigerate the strained oil for up to 1 month.