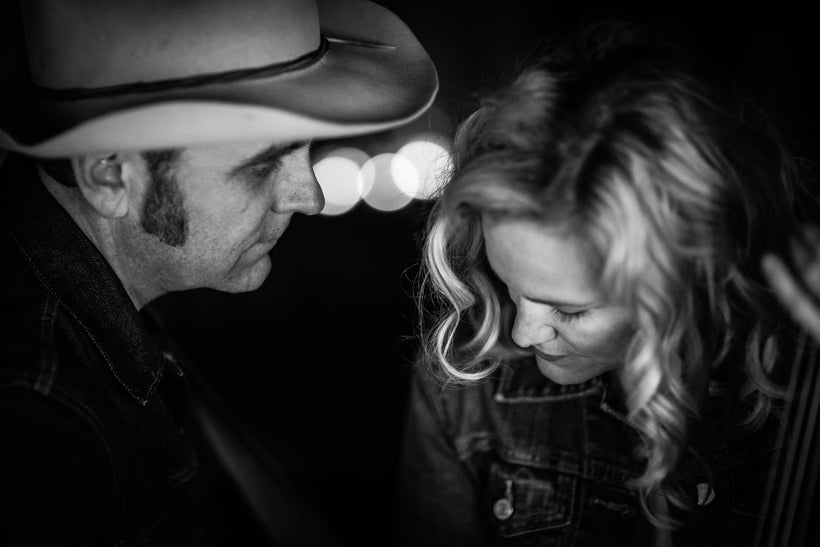 What happens when you throw a group of Nashville and Galax, Virginia, musicians who have never played together in a barn behind a farmhouse nestled in the Blue Ridge Mountains? Musical magic.
That's exactly what happened a year ago this month when the Wild Ponies – otherwise known as Doug and Telisha Williams – decided to get back to their musical and geographic roots.
"I had spent a lot time playing on my grandfather's farm and it's just a beautiful place to spend some time," Doug said in a recent phone interview. "We wanted to play with people who played with my grandfather and then get some people from Nashville to play as well. It just felt like something we needed to do."
Nashville-based musicians Fats Kaplin, Will Kimbrough, Neilson Hubbard and Audrey Spillman and local musical legends Snake Smith, Kyle Dean Smith and Kilby Spencer along with close family members joined Doug and Telisha in the barn – the same barn just steps from where the couple was wed – to record. No cell service. No Internet. No distractions. Just raw, genuine music.
It had been a longtime dream to bring these two separate worlds with a lot of musical backgrounds together, Doug explained.
"It was so much fun to watch them work things out," he added. "They were so respectful of each other. Even though we were a part of it, it was so fun to watch everyone collaborate on a lot of stuff, amazing things, that didn't even make it on the record."
But don't take our word for it. You can take a listen for yourself right here:
Telisha said one of their favorite things about touring and playing music is the sense of community – a community that springs up through the shared love of the music.
"Galax" epitomizes that sense of community. It emerged through Kaplin getting the opportunity to play with Snake Smith in that barn and later in Snake Smith's home at an impromptu mash-up.
"Fats had wanted to go to Galax his whole life," Telisha explained. "He went to the New York Library when he was a kid to hear the music. There is no way he would have ever met Snake Smith, who lives and plays in Galax."
Doug added, "It was interesting to see them meet the first day. Fats is stick thin and a rock 'n roller but as soon as he started playing, Snake was like you're all right, you're speaking the same language. From there it was all good and they got to be buddies."
In another nod to community, Wild Ponies used Kickstarter to fund this project. "The whole record is about community, it's another spoke in the wheel of this community," Doug said. "The money is the reason Kickstarter happens because people want to connect and be part of the project. We couldn't do it without them. Having people we love be part of the album is the most important part."
Despite earlier attempts to pull away from their musical roots, Doug and Telisha say they have always been there, just below the surface.
"We realized we didn't want to pull away," Telisha said. "I love that place, those people and everything about the whole area. I have so much appreciation for Papa, Doug's grandfather, and so much appreciation for him encouraging us to play."
The first song on the record, "Sally Anne," plays tribute to the traditional mountain songs Doug and Telisha grew up listening to.
"These songs have traveled from here, there and everywhere, been passed down from grandmother to grandson and through some cousins. We picked the version that felt closest to what we remembered playing with Papa," Telisha explained.
It was Papa Perry Frye who introduced the couple to MerleFest, the annual festival founded by the late, great Doc Watson. "We discovered we were writing old-time music and didn't realize it," Doug said.
Telisha added, "It's in you, just like your DNA."
On "Galax," Doug said they had two goals: get back to their roots but bounce into where they are now musically.
Telisha said, "We wanted to put a spotlight on those roots that still exist in our music. Each record has a little bit of different songs and our sound qualities have shifted. This was a chance to highlight that original sound we had. Doug has been playing banjo at the farm since he was a kid and I bought my first bass in Galax and played my first notes by the barn we recorded in."
Wild Ponies will have a CD release show at the historic Rives Theatre in uptown Martinsville on Friday, Oct. 13, that hopefully will also feature Snake and Kyle Dean Smith as well as Spencer. The Smiths may also join Wild Ponies that same weekend at the Richmond Folk Festival. "I love those guys, they are my musical heroes," Doug said. "We're hoping to have Snake and Kyle Dean and Kilby with us that weekend."
"We didn't want to go home to Virginia and simply make an old-time record. We wanted to make a record that still sounded like Wild Ponies. An album that can exist in today's world. We asked everybody to stretch themselves and reach towards something new, something different. We wanted to not only reconnect with our roots, but learn how those roots play a role in our current world."
Telisha added, "We'll always be the pinball that bounces between folk, rock and roll and country and this old-time style will always weave its way through everything we do. It's been there from the start, even on the loudest songs we've made. It's the album we've always been making. We just needed the right people and the right songs to finish it."
This post was published on the now-closed HuffPost Contributor platform. Contributors control their own work and posted freely to our site. If you need to flag this entry as abusive,
send us an email
.