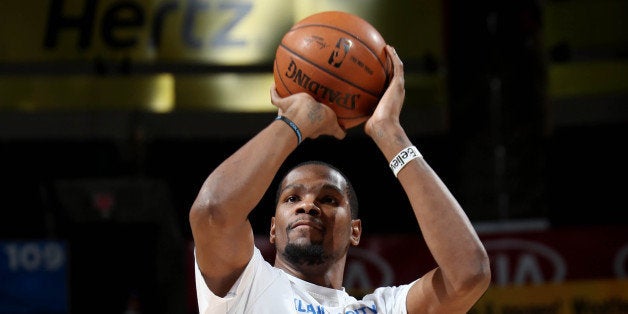 (Win Shares calculate how many wins a player has been responsible for over his career. WS/48 is a measure of how many wins a player contributes for every 48 minutes he is on the floor. All numbers courtesy of Basketball Reference)
The Book of Basketball by Bill Simmons should be considered the bible for basketball fans everywhere, and its crown jewel is The Pyramid, Simmons's idea for a new basketball Hall of Fame and his ranking of the 96 best players in basketball history. The only problem: the last edition of the book came out in 2010 and clearly a lot has changed since. When the book was published: LeBron had only just signed in Miami, Chris Paul was a member of a long forgotten team called the New Orleans Hornets, and Kevin Durant had only made his first All-Star Game. Let's take a look at how our contemporary players rankings should change if we could update the list today.
Kevin Durant (Career Win Shares: 89.9, WS/48: .206):
Kevin had understandably not made it onto the Pyramid in 2010, but leaving him off at this point would be insane. Despite only having played eight seasons in the NBA, Durant has more career win shares than 34 players already ranked on the Pyramid. Two players already on the list he compares closely with are George Gervin at #34 and Bernard King at #58. Large small forwards who could score at will, and all without a single ring. In fact, Gervin and King both never made an appearance in the Finals, at least Durant can claim he did that in 2012. Even though Durant hasn't played for very ling, there is no justification to rank him below Bernard King. However, I'm also not quite ready to have him jump George Gervin. Until Durant claims a championship of his own, I'm going to slide him in just behind Paul Pierce at #47.
Dirk Nowitzki (Career Win Shares: 187.2, WS/48: .208)
Nowitzki was placed at #39 in the 2010 edition, the season before the Mavericks stunned the Big Three Miami Heat team to give a lot of veterans their first rings. With his ring, and the 15th best WS/48 of anyone on the list, Nowitzki should vault ringless players like Allen Iverson, Steve Nash, and George Gervin into the 29th spot, bumping David Robinson (who despite winning two rings, was not the best player on either team). And who is at #28? Dwyane Wade. These two are forever linked by the epic 2006 and 2011 Finals, and it is fitting to see them so close together.
LeBron James (Career Win Shares: 171.2, WS/48: .242)
James's ranking among the all time greats still remains almost impossible to fairly assess. Since the last ranking, James has won two Finals and two MVP's, but also lost two Finals in spectacular fashion to the Mavericks and Spurs respectively. It's hard to know whether to give credence to the LeBron is a choker argument, how do you balance his disappearance in the 2011 Finals with his evisceration of the Celtics in Games 6 and 7 of the 2012 ECF? And what do we make of the fact that he would have a career record of 1-4 in the Finals if it wasn't for Ray Allen hitting the most clutch shot in the history of the NBA?
Ultimately, I think it's too hard to answer these questions about legacy for a player only turning 30 this week (How is that possible?). We also can't penalize a player with the sixth-best WS/48 and the fifteenth-best career Win Shares on the Pyramid this early in his career. For earning another two MVP's, I'm moving LeBron from #20 to #16, Doctor J's old spot. With that said, it will be a disappointment if LeBron doesn't move into the top 10 by the time he retires, and if LeBron plays another 6 or so seasons at something resembling how he's played to this point, he can pass Kareem for the most Win Shares in league history.
Chris Paul (Career Win Shares: 119.6, WS/48: .249)
No, that is not a mistake. According to Basketball Reference, Chris Paul has a higher WS/48 than LeBron James, and the fourth highest in NBA history. Now Win Shares isn't the gospel, if that was the case David Robertson would be the second best player of all time. Advanced stats have always loved Chris Paul for his blend of Isiah Thomas like passing with effortless scoring and a proclivity for steals on the defensive side of the floor. But not only has Chris Paul not won a ring, he hasn't advanced past the second round of the playoffs. It is really hard to overlook that. After playing out of his mind in a very memorable first round matchup against the Warriors last years, Paul was largely responsible for the Clippers late-game meltdowns against the Thunder in the second round.
Of course, the Clippers were dealing with the Donald Sterling fallout last year during the playoffs, so we can't put too much value into that one series. But it is a microcosm for Paul's playoffs failures throughout his career. Paul's WS/48 in the playoffs takes a HUGE drop off, falling all the way to .189. That's not a bad number, but it is legitimate evidence to backup Paul's post-season struggles. Paul simply has to make a deep run into the playoffs this year to take some of the pressure off himself.
Despite the poor postseason performances, after four more years of being the best point guard in the game, Paul deserves a bump up from #90. For now, I'm placing Paul with another consistent highlight-making, but ringless, guard in Pete Maravich, at #68. Winning a ring or coming close will push him into the 50's, and possibly even the 40's.
Tim Duncan (Career Win Shares: 193.8, WS/48: .211)
Duncan was already ranked #7 in the 2010 edition of the book so there is not a lot of room him to shoot up in on the list. The debate with Duncan is if he should pass Wilt Chamberlain at #6. Duncan can't compete with Chamberlain's completely ridiculous WS/48 of .248. But Duncan's late career run to two straight Finals appearances and his fifth ring might compel some to make the case for Duncan over Chamberlain. However, under any real analysis, if Duncan wasn't better than Chamberlain in 2010, the past four years haven't moved the needle. Over the past four years, Duncan has averaged about .178 WS/48. Over the last four years of his career, Chamberlain averaged .214 WS/48, and added three Finals appearances and a ring. Everybody loves Duncan, and he's clearly a first-ballot Hall Of Famer, but I can't buy the argument of putting him over Chamberlain despite his recent postseason heroics.
To cap it off, I have a plea for a non-active player to make the Pyramid:
Yao Ming (Career Win Shares: 65.9, WS/48: .200)
Who is the only starter who played post-merger with a top 50 WS/48 that didn't make Simmon's Pyramid? Yao Ming. In Bill Simmons entry on Bill Walton, he says he would always take a few years of utter brilliance over 15 years of decent play. If that's how we're ranking players, Yao deserves a place in the Pyramid. Ming was not a flash in the pan, he played 7 years of incredibly high-level basketball. His defensive reputation sometimes takes a beating when he is discussed now, but his Defensive Win Shares compare favorably with any mortal big man. Ming wasn't the complete rebounding, defending, and passing savant Walton was, but he could do a bit of everything and was just an unstoppable scorer. For his contributions as a player and an ambassador of the game, Yao deserves a spot somewhere on the Pyramid.
Calling all HuffPost superfans!
Sign up for membership to become a founding member and help shape HuffPost's next chapter