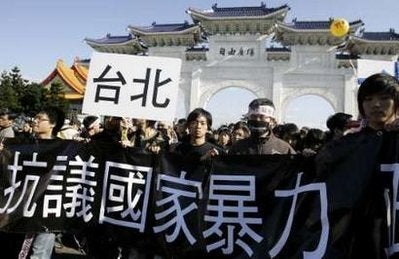 Taipei, Taiwan - A defiant, peaceful march by 5,000 protesters to the grounds of the Presidential Palace yesterday marked the first month's anniversary of a renewed and re-invigorated national pro-democracy student movement.
The protesters, some wearing mocking costumes of former emperors and current mainland Chinese Communist officials, demanded that the current Taiwanese government of President Ma Ying-jeou abolish a law that requires protesters to see and obtain prior permission for all public protests. They made their point by merely notifying local officials of the march but not waiting for approval.
Along the route they were briefly warned and stopped by Taiwanese security officials but without incident. The march was punctuated with a mock funeral for human rights, just two days before celebration of International Human Rights Day.
The new Taiwanese student movement, known as Wild Strawberries, which has been making headlines, quickly mushroomed after a November 6 visit to Taiwan by a high-ranking envoy of the mainland People's Republic of China. When protesters came out to greet the Communist official, they were met with fierce police repression. Since then the capital of Taipei has been the scene of several low-level but mounting student actions, often supported by the opposition Democratic Progressive Party.
The student protesters worry that President Ma's administration is moving too close to the Beijing government and compromising what is Taiwan's de facto independence. The conflict was further stirred this week when President Ma told an interviewer that this was not the right time for the Tibetan leader, the Dalai Lama, to visit Taiwan. The Beijing regime has been openly pressuring foreign governments, including France, to shun the Tibetan leader.
President Ma is facing increasing criticism of his human rights record. Only four months into office his popularity had plummeted from 58 percent to a record low of 25 percent. Ma represents the National Party (KMT) which ruled Taiwan through martial law from the arrival of Chiang-Kai-Sheik on the island in the mid 1940's and for another three decades. After a slow, gradual democratization process, the KMT ceded power to the opposition DPP in free elections. But corruptions charges deflated opposition rule, and the KMT was democratically re-elected to power earlier this year.
President Ma's administration has moved to amend the controversial and restrictive anti-protest law. But student leaders have denounced the move as cosmetic and vow more protests.
Calling all HuffPost superfans!
Sign up for membership to become a founding member and help shape HuffPost's next chapter