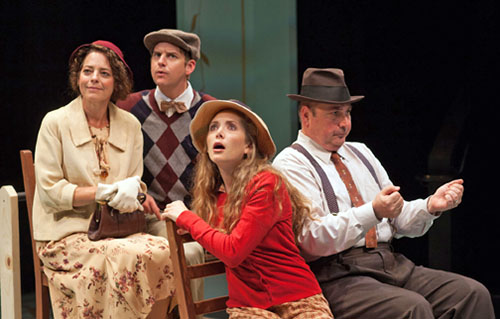 Ma (Stacy Ross) and the kids (Patrick Russell and Heather Gordon) read billboards while Søren Oliver drives in Happy Journey to Trenton and Camden. Photo by Jessica Palopoli
In the late 1950s Thornton Wilder started a project that was to become a series of short plays depicting the fabled Seven Ages of Man. He stopped after the first two, Infancy and Childhood. The decision was probably wise, even though both of those works sparkle with wit and lively theatricality on Aurora Theatre's intimate stage in Berkeley.
The two are among four Wilder one-acts that director Barbara Oliver has assembled and mounted with great skill under the title Wilder Times. But her directorial expertise, and the wonderfully versatile performances that she has drawn from all six of her actors can't build substance into scripts that often seem like animated versions of Norman Rockwell portraits of Americana.
Paired with those plays are The Happy Journey to Trenton and Camden and The Long Christmas Dinner, which date from 1931 and remain the most popular of Wilder's short writings. Infancy and Childhood are rarely staged, which makes them intriguing as craftsmanlike curiosities, if not as displays of the playwright's insights into human nature.
The earlier pieces offer hints of the direction Wilder would take later in the '30s, with the enduring Our Town. As in Our Town, they gaze with affection and whimsy at life as it passes, and at the inevitability of death.
In Happy Journey, the link to Our Town is especially apparent in the use of a character that he called the Stage Manager, who shifts between roles that find him dryly reading from a script book and roles that integrate him into the domestic comedy-drama.
Despite the title, the mood is not perpetually cheerful in the auto carrying the Kirby family from their Newark home to visit a daughter in Camden. Kids Arthur and Caroline squabble and pout and gawk, Ma seethes and flirts and offers comfort, and Pa does his stoic best to endure the tiny travails, which don't seem tiny to the participants at any given moment. Wilder rendered the events with playfulness and sympathy, especially in the closing moments that reveal the tragic reason for the trip, and Aurora's players bring them to appealing life.
Wilder's fascination with the passage of time and its effect on people gets its most substantial ride in The Long Christmas Dinner, which spans most of a century with a single family. Starting with the first holiday feast in a new home, somewhere in the Midwest, generation after generation reflects on the family's evolution, on inspirational sermons, on births and deaths, and occasionally pause for a nibble of turkey or a sip of red wine.
Babies enter in a nurse's arms through a portal decorated with flowers; the dying depart through an adjacent portal, draped in somber hues. There are a few joyful moments, many more tinged with melancholia and the inevitable sadness -- and even small shocks -- that accompanies death. But no character is more than a thinly drawn sketch, set against a repetitious background. The arc of life may be predictable, but a viewer's concern for individuals living and dying requires more than Wilder offers at this table.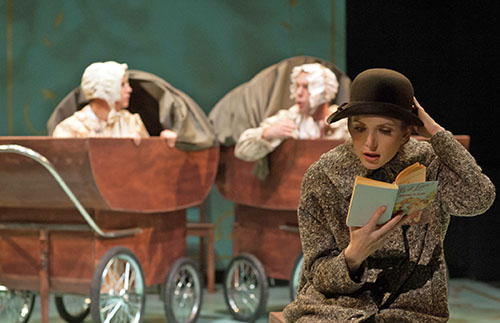 Literary romance absorbs nanny Heather Gordon while infants Patrick Russell and Brian Trybom muse about the oddities of adult behavior. Photo by Jessica Palopoli
Perhaps because they were written much later in Wilder's career, Infancy and Childhood are less ambitious and much more fun.
It's easy to laugh at grown men decked out as babies who are perplexed by the antics of adults: in one case by a nanny who munches marshmallows while swooning over a romance novel; in the other case, by a mother obsessed by turning her diaper-aged son into tomorrow's Einstein. That's the essence of Infancy.
Childhood takes juvenile frustration with parents to another level, through a dream-fantasy that transforms the kids into resourceful orphans before bringing them back to the warm light of home.
Every one of the six principals -- Heather Gordon, Marcia Pizzo, Søren Oliver, Stacy Ross, Patrick Russell and Brian Trybom -- plays at least three roles, widely varying in age and demeanor, and every one of them is a marvel to see and hear. If only as a vehicle for the actor's art, this Wilder Times is a lovely brightener for the holiday season.
Wilder Times runs through Dec. 9 at Aurora Theatre, 2081 Addison St., Berkeley. Tickets are $32-$50, from 510-843-4822 or www.auroratheatre.org.
Related
Popular in the Community