Cara DeAngelis has curated a show devoted to a network of linked themes: domestication, wildness, people, animals and environmental disorders. Like most such curatorial mission statements, this proposal serves better as a loose organizing principle than as an analytic key. To my eye, the pieces Ms. DeAngelis has selected align with two main themes:
Neo-surrealist rearrangement of animals and animal parts, as in Wade Schuman's drawings, Kate Puxley's sculpture "Take Out," and Ms. DeAngelis's own oil painting "Woman with Roadkill III."
The expression of anxiety by means of dislocated space, as in MaDora Frey's "Crash," Dina Brodsky's post-apocalyptic "Albuquerque," and Emily Adams's "Untitled," in which a beam of light on a cornfield somehow glimmers with menace.
These themes serve as resonators for the perversities and discomforts of the artists in the show. The work is conceived and crafted beautifully, and has been selected with a sensitive eye. The theme invites idiosyncrasy; it rewards a visit, if you have a chance to drop in.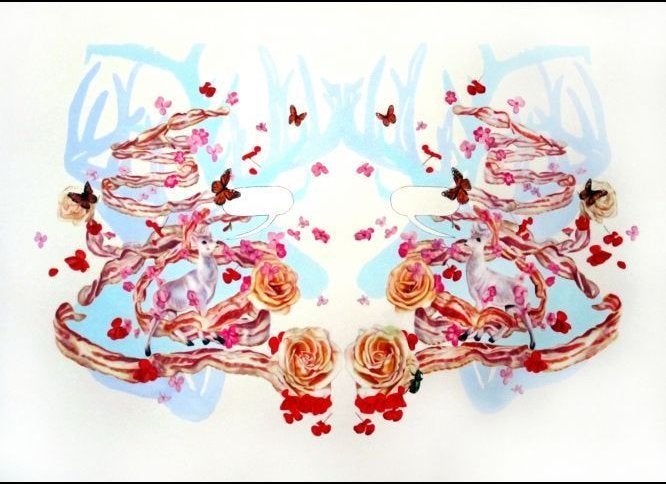 Wildlife in the Post-Natural Age
September 7-October 14, 2012
WAH Center
135 Broadway
Brooklyn, NY, 11211
wahcenter.net
Wed-Fri 1-5 p.m.
Sat, Sun 1-6 p.m.
Popular in the Community