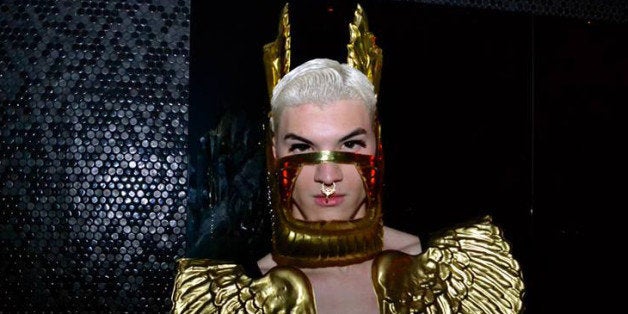 This is the tenth installment in HuffPost Gay Voices Associate Editor JamesMichael Nichols' 30-part series "After Dark: NYC Nightlife Today And Days Past" that examines the state of New York nightlife in the modern day, as well as the development and production of nightlife over the past several decades. Each featured individual in this series currently serves as a prominent person in the New York nightlife community or has made important contributions in the past that have sustained long-lasting impacts.
HuffPost Gay Voices believes that it is important and valuable to elevate the work, both today and in the past, of those engaged in the New York nightlife community, especially in an age where queer history seems to be increasingly forgotten. Nightlife not only creates spaces for queers and other marginalized groups to be artistically and authentically celebrated, but the work of those involved in nightlife creates and shapes the future of our culture as a whole. Visit Gay Voices regularly to learn not only about individuals currently making an impact in nightlife, but those whose legacy has previously contributed to the ways we understand queerness, art, identity and human experience today.
The Huffington Post: What did your journey to becoming a fixture in the New York nightlife scene entail?
William Noguchi: To start off, I lived in New York City for about three years before I experienced real NYC nightlife. I moved to the city for school to study theatre and was too busy with studio work to really go out. At that point, going out for me consisted of v-necks and skinny jeans.

Through school, I was exposed to artists like Lypsinka, Leigh Bowery and Nelson Sullivan. I became fascinated with old New York nightlife culture. I obsessed over any visual archive I could find that documented the beautiful people who have passed through nightlife. I realized that nightlife was a much more suiting arena for me to express myself and create my form of theatre.

My first night out I went to Vandam at Greenhouse, wearing all black with an aurora borealis rhinestone necklace and a simple pair of lashes. Somehow, throughout the course of the night, I managed to get into the VIP section and found myself sitting next to Amanda Lepore and Kenny Kenny. From that moment on I was hooked. There was an excitement being in the middle of all these fabulous people that I had never experienced before. Studying theatre I was always watching the stage; here I was able to be part of the entertainment and be exactly who I wanted to be -- whatever that looked like that night.

How does your work as Visual Manager at Patricia Field intersect with your identity as a nightlife personality?
Working as Visual Manager, and at Pat's in general, was one of the most amazing and eye-opening experiences I've had. I really feel like I discovered who I was while working at the store. I finally found a store I wanted to shop at and really got invested with styling. That self-understanding helped me be successful both at Pat's and in nightlife.

In terms of how the two jobs intersect -- I would say from nightlife to being visual manager, all of the tips and tricks I learned from one allowed me to push forward with the other. As I learned more from styling my own personal looks I was also learning to work with garments at the store that I had never encountered before. I was able to create more interesting looks for mannequins based off the tricks I had learned from going out the night before. I was constantly studying queens' looks and trying to figure out what their look was actually made of. Seeing how creative people got allowed me to break the boundaries I had about style.
Nightlife taught me that whoever you are is a beautiful thing and you should let that shine. If that means wearing twenty-five straw hats stapled together as a dress then so be it -- whatever makes you feel good is what you should wear.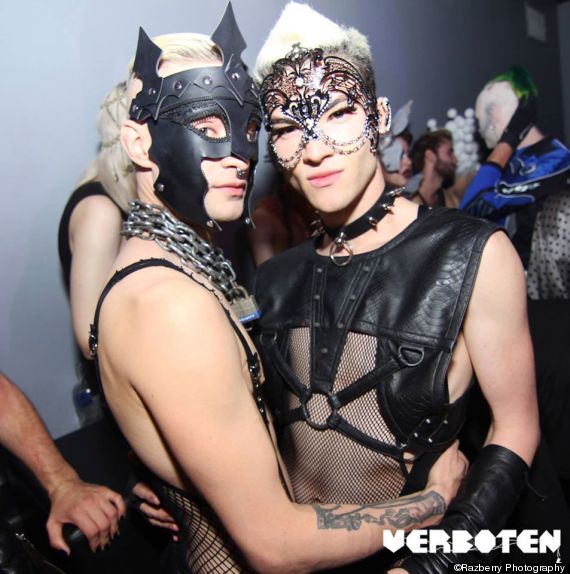 Why do you think so many prominent people in nightlife either are or have been involved with Patricia Field?
To put it in so many words Pat, and the House of Field, have a reputation for being a safe house for young creative people. Pat is always searching for new talented and passionate people to turn a look at her store. I think she really loves seeing how the younger kids bring new energy to New York and shake things up a bit.

Creative minds are drawn to the store and when they take a bite from the forbidden fruit they feel the House of Field fantasy. That's why so many people get their start at Pat's. It is a place where you can dress how you want and sell what you wear. What more can a creative style junkie ask for? So when you think about the fact that she has be cultivating creativity for over fifty years there is no doubt so many people have been involved with her.
How do you conceptualize your ideas and aesthetics for both your looks and window displays? Do you ever feel like you're wearing your windows?
My windows and looks both start from some single point of inspiration. It might be a necklace, a designer, a painting, an editorial or whatever I'm interested in that week. There is always something visual in my life that inspires me to replicate it somehow into a look. Often that one dot of inspiration connects to another dot of inspiration from last week and so on and so on until all I have to do is connect the dots and my outfit is a complete cross-referenced dream!

For my personal looks I tend to base my outfits off an accessory. I might be walking through Chinatown, see a boat that really grabs my attention, glue it to a headband and I've got a headpiece. From there I find an outfit that compliments the headpiece and tells a story.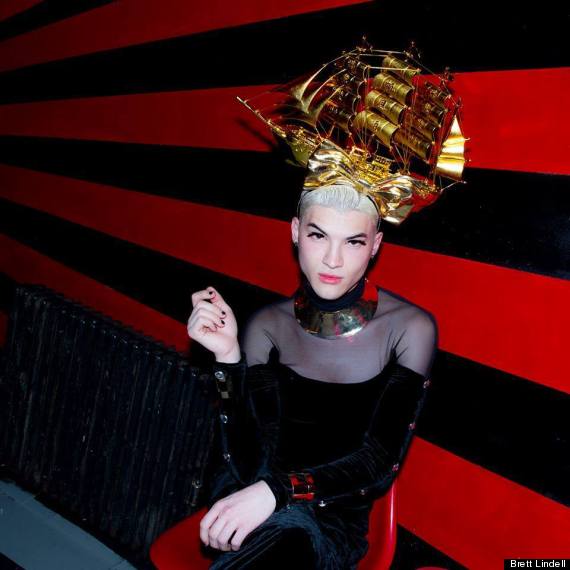 The same idea is how I style a window but on a much grander level. In a window everything needs to have ten times more impact than a typical look so that it will catch a person's eye on the street and draw them into the store. I take a great amount of inspiration from the windows at Bergdorf Goodman. I love how they create a shadow box filled to the brim with utter fantasy. I like to think that I am able to achieve that same thing on a smaller scale at the store.

I've never put a full look I've worn in a window or on a mannequin, however I do test things out to see how people react to a new styling of something. In that sense I don't wear my windows, but I do wish that I could be in them -- killing it with a perfectly styled look 24/7! That's the turn up, as they say [laughs]. For now I'll just leave it to my mannequin girls to carry out my fantasy.

How do you see what is happening now in New York nightlife today as building on a historical legacy of artists, performers, musicians and personalities over the past decades?
I have a theory that there are always certain types of people in nightlife. If you look at nightlife now, nightlife ten years ago and nightlife twenty years ago you always see these categories of people. For example, butch queen, camp queen, fem queen, glam queen, andro queen, body queens etc.
I like to think that whomever had the first party in New York invited all the people that were the pure raw forms of these different styles of people and everyone has been trying to recreate that fabulous party since then.

Because of this set up there is somewhat of an apprenticeship in nightlife. As new people come into nightlife they learn from the old, and as the older ones start to go out less the new kids fill that place. The beauty is looking at how the "glam queen" was glam in the '80s and what it means to be a glam queen now.
The various genres of queens all find a way to relate to the current culture they live in and respond to that in some way.
PHOTO GALLERY
William Noguchi
Leo GuGu talked in his feature about nightlife spaces as art galleries/community centers/wreck rooms. How have you seen this play out in your own nightlife experiences? Why are these kinds of spaces important?
I totally agree with GuGu. Nightlife is just the P.M. version of all those places bundled together. One of the coolest things about nightlife is, depending on who comes to the party, the venue can change from being an art gallery to a community center to a wreck room -- or all three at once. For example, there are people like Muffinhead who give you living art realness with their looks and make the club their gallery. I love that about nightlife.
Do you consider yourself to be a creative team with Danielle Mahoney in any capacity? How do your looks and work inform one another?
Oh totally, we are sort of like Sunny and Cher mixed with Ken and Barbie mixed with Thelma and Louise. Danielle was the first person I really became friends with after I moved to New York and we have basically been inseparable ever since. We have seen it all together. Because of this we sort of have a third sense about each other. Even if were getting ready to go out in separate rooms, we always seem to go together.
There have definitely been nights when we coordinated looks and shopped in the wholesale district together though. Lord knows we like to plan a look [laughs].
Usually we end up looking like sisters or mother and daughter. Who plays who always changes from night to night, but one way or another we always seem to match. I think it's because so many of our inspirations come from fabulous women. Often both of us might have the same inspiration but just might go different directions with it. Like I might go for a Oscars Cher moment and Danielle might go for "Half Breed" Cher.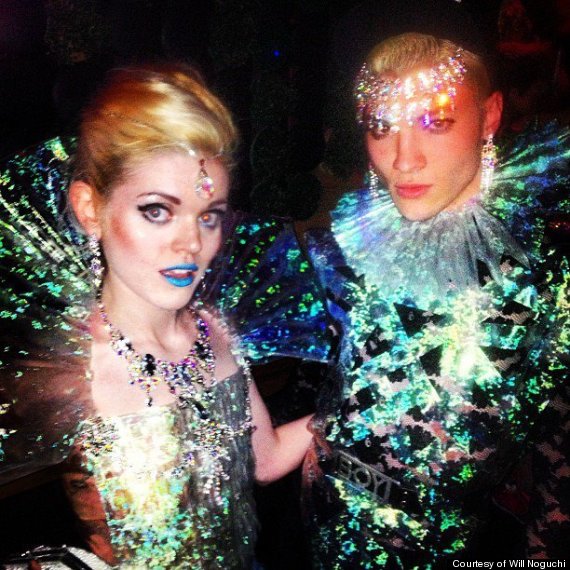 What do you want your legacy within the consciousness of New York nightlife to be?
I think I would love to leave behind the idea of glamour at the club. That might sound stupid but I feel like the art of glamour is slowly drowning in a cyber wave. I have nothing against that look at all, I'm just more drawn to glamor.
I'd like to think that my small contribution to nightlife has been the rebirth of the rhinestone. I'm not trying to say I started wearing rhinestones out, but my girls and I definitely brought them back. When I first started going out the most rhinestones people would wear were just a necklace -- maybe the full set if you were a drag queen.
We would wear rhinestone harnesses, multiple tiaras and a small village of necklaces in one look just to give you that added sparkle. Afterwards people started picking up on this and the rhinestone hit the scene again! I love it. I want everyone to have some rhinestones [laughs].
What do you see as the future of nightlife in New York City?
I think there is a cycle New Yorkers go through where they make nightlife all-inclusive and then shift to more sectioned off and back and forth. After nightlife died down in New York for a second I feel like people stayed in their own corners and didn't mix. Now people are tired of the same old bitches turning the same looks every week.
As more and more promoters host parties together, the crowds change and the parties become more interesting. People are always looking for something new and mixing crowds is always going to give you something new.
Missed the previous installments in this series? Check out the slideshow below.
Calling all HuffPost superfans!
Sign up for membership to become a founding member and help shape HuffPost's next chapter