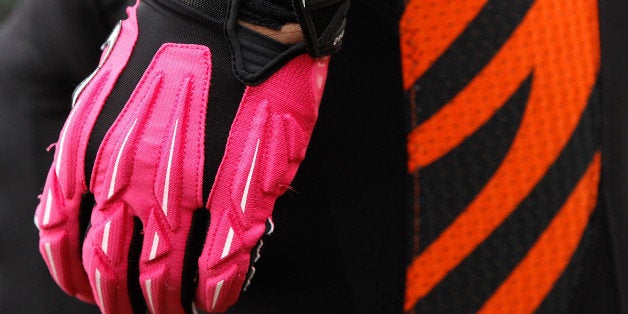 In a 1991 episode of The Simpsons, Homer shows up to work dressed in pink after Bart tosses a red hat into the laundry; his boss assumes he's gone crazy and later gets him committed to a mental institution. The episode is ridiculous, but it underscores an entrenched yet fairly recent cultural belief in the U.S. that pink is a feminine color and thus inappropriate for men to embrace. At best, a (straight) man who wears pink is seen as "daring," "brave," and "strong," the implication being that he is secure enough in his sexuality. Regardless of individual feelings about the color, pink products are still marketed heavily to women and girls (just look at the gender breakdown of any major toy store).
In recent years, exhaustive breast-cancer-awareness campaigns have led the charge to widely destigmatize the color pink among men, with mixed results. As October draws to a close, so too does the most visible of these efforts: Pinktober, a pervasive campaign of pinkification that has gripped major sports teams within the last 15 years. Declared National Breast Cancer Awareness month nearly 30 years ago, October is perhaps the best time to spot teams in major professional sports leagues wearing pink.
REAL LIFE. REAL NEWS. REAL VOICES.
Help us tell more of the stories that matter from voices that too often remain unheard.