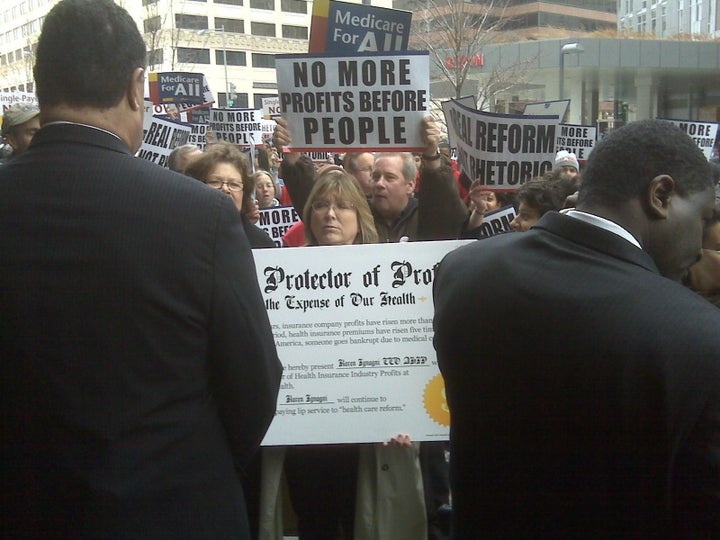 Across Massachusetts, senior citizens are writing letters to newspapers demanding that their representatives in Congress protect a form of health insurance called Medicare Advantage.

At least that's what newspaper editors are supposed to think.

Some of those seniors are unaware that they have sent any such letters to newspapers. Some of them hadn't even heard of Medicare Advantage.

"I did not write a letter to the editor. It's not from me," said Gloria Gosselin, 75, of Lawrence.

Gosselin's name was on one of three strikingly similar letters touting the Medicare Advantage program that were sent to The Eagle-Tribune
The Dewey Square Group has been using some extremely deceptive practices to get AHIP's message out:
A tip-off to the true origin of the letters came when The Eagle-Tribune received a call from a man who turned out to be an intern at the Boston office of the Dewey Square Group, a national political marketing and consulting firm.

The man, who identified himself as Noah, wanted to know if Gloria Gosselin's letter had been published. Asked what interest he had in the letter, Noah replied that he was Gosselin's grandson.

Gosselin does not have a grandson named Noah working in Boston. Her only grandson is a student at Central Catholic.
If the people sending these letters have never heard of the issue or the paper "their" letter was sent to, and if hired consultants are impersonating these people's relatives, it's clear these Americans are being used by AHIP to promote their fake grassroots campaign.
Since AHIP paid the Dewey Square Group to run this campaign, and since a responsible signer of checks would have some idea of what their money is being used for, I think it's safe to assume AHIP had some idea of the tactics the Dewey Square Group is using here. I say it's safe to assume because at least up until now, AHIP has had no comment.
So, the question should be asked: Does the insurance industry, as represented by America's Health Insurance Plans, endorse using unsuspecting Americans in a fake grassroots campaign to combat a government giveaway that is in danger of being repealed? Are these the kind of tactics we can expect when the insurance industry tries to manufacture "grassroots" opposition to health care reform later this year?
The silence on the part of AHIP says all you and I need to know.
REAL LIFE. REAL NEWS. REAL VOICES.
Help us tell more of the stories that matter from voices that too often remain unheard.