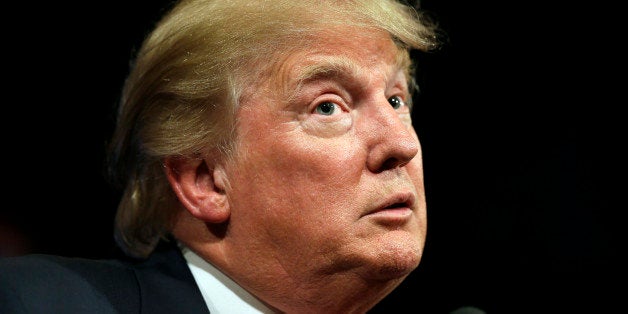 As America Ferrera said in her brilliant open letter to Donald Trump, "Thank you for reminding us that there remains an antiquated and endangered species of bigots in this country that we must continue to combat."
In the last couple of weeks, we have seen Latinos and their allies come together to take down Trump's empire piece by piece. For a businessman who literally puts his name on everything he sells or builds, reputation is everything. Moreover, his business is everything. If we take that away from him, he's just another orange bigot yelling about "the good ol' days" where racism was encouraged. That's why I started a petition on Change.org calling on Amazon and its CEO, Jeff Bezos, to be the next domino in cutting ties with Donald Trump. When The New York Times reported on the petition it had 700 signatures, but has since risen to over 4,000 strong, including many longtime Amazon Prime members saying they're ending their subscriptions until Amazon removes Donald Trump from their marketplace.
As a DREAMer and Latino American who recently graduated with a Bachelor's degree from American University, I am disgusted by the words of Donald Trump regarding immigrants, and particularly those from Mexico, which he called "rapists" and accused of generally being criminals. It's not lost on me that for him "Mexican" probably means any Latino, particularly undocumented immigrants. There was a time when Trump represented the American dream in the mid-1980s, when he published his book The Art of the Deal. I may not be considered an American by law, but Donald Trump and his words are not how I define American.
We have come to this country to seek a better life, for some of us, like myself, it was our parents who brought us here to the "land of opportunity." Trump has been able to have his own success in this country, much of it which probably would have been impossible without the Latino community and many of the Mexican immigrants he wants to deport. They work in his hotels, they build and renovate his hotels, work on his golf courses, and make the clothes in the Trump Collection. He reaps the benefits of their hard work, and then publicly, says these horrible things while seeking the presidency of this country. And while he may not be an immigrant, I don't think Mr. Trump has forgotten that the richest man in the world is a Mexican. For a man who prides himself on making good business deals, who wrote the book The Art of the Deal, he sure doesn't know how to deal with an America that has evolved to no longer accept vitriol like that spoken at his campaign announcement.
Amazon has recently responded to the racist terror attack in Charleston that sparked a conversation about our nation's history with race and particularly with the Confederate flag by ceasing to sell Confederate flags on their site. Now I am calling on them to do the same with Donald Trump and cease to sell his many books and other products on their site. Trump no longer represents a sound business judgement, he represents societal regression and is a symbol for losing business by being held responsible for spreading hate. NBCUniversal, Univision, Macy's, and other organizations and people have already recognized this by ending their deals with Trump. Trump's website currently links to Amazon to purchase his merchandise recently removed from Macy's. I call on Amazon and its CEO, Jeff Bezos, whose own father immigrated to America as a young man, to also cease business with this man, and stop supporting his hate.