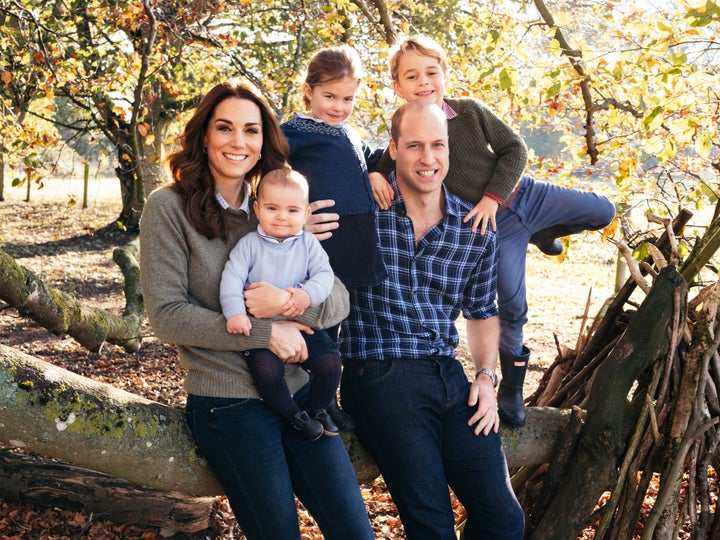 The Duke and Duchess of Cambridge's royal titles and duties set them apart from most people, but with three kids under the age of 8, they do share quite a few things with fellow parents of the world.
Prince William and the former Kate Middleton are parents to Prince George, Princess Charlotte, and Prince Louis. The typically private couple have been open about their hopes and dreams for their children, touching on important topics like masculinity and mental health. They've also mentioned the challenges of parenthood, with Kate sharing her views on how isolating motherhood can be and how difficult it is for many moms to ask for help.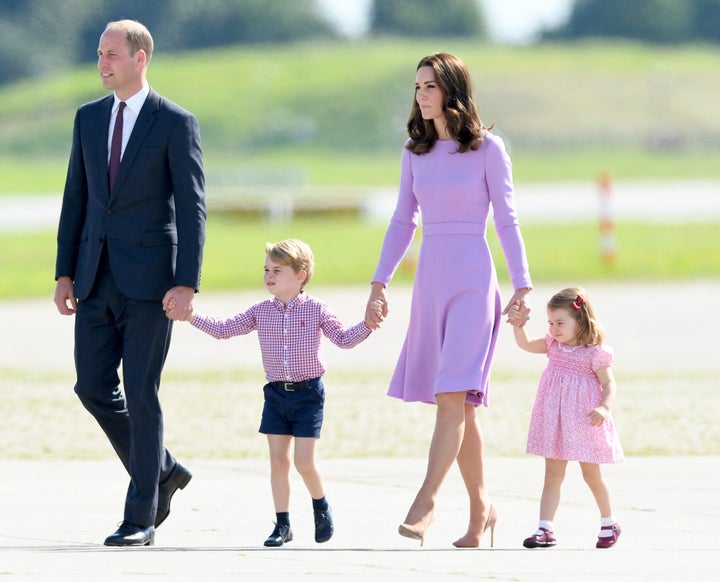 Here are their best takes on parenting, both the serious and the fun parts. Check them out below.
1. When Kate got real about taking mental health as seriously as physical well-being:
"Like most parents today, William and I would not hesitate to seek help for our children if they needed it," Kate wrote in a 2016 blog for HuffPost UK. "We hope to encourage George and Charlotte to speak about their feelings, and to give them the tools and sensitivity to be supportive peers to their friends as they get older. We know there is no shame in a young child struggling with their emotions or suffering from a mental illness."
Not ignoring her status as a royal, she added: "Of course, for some parents and carers seeking help is not so easy. When families are short of time or money it is not always easy to know where to look for help or advice. That is why we need schools and communities to play their full role to help children who are struggling in ways that are not always easy to see."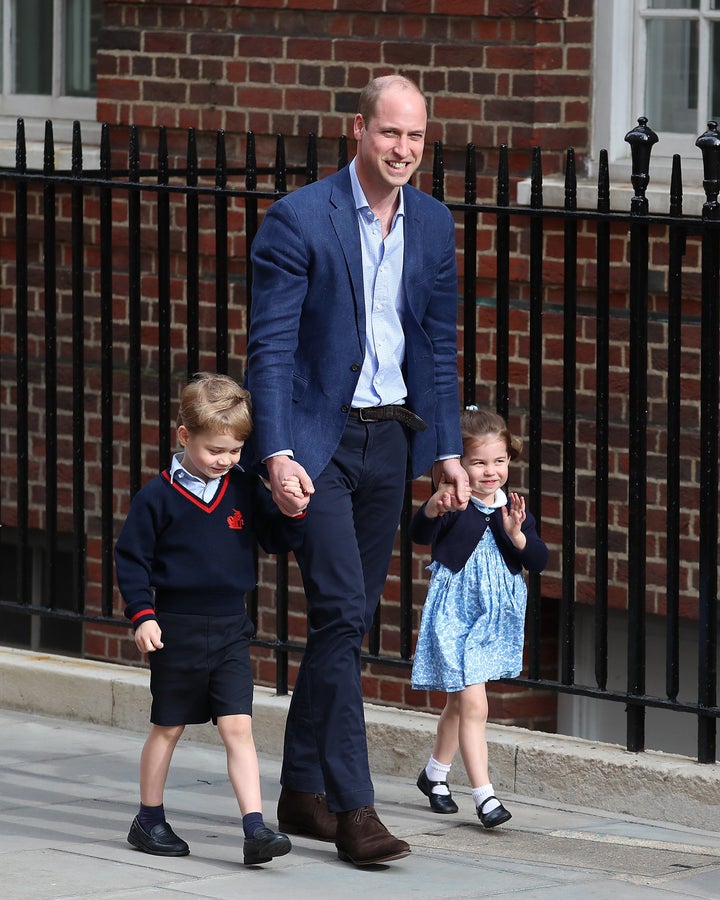 2. When Will echoed Kate's sentiments and added that there's a particular stigma attached for men when it comes to mental health:
"It is often said that fathers can often find it hard to talk about their own feelings so there's no wonder they struggle to speak to their son or daughter about the topic," William wrote in a blog post for Heads Together, a mental health campaign launched by Will, Kate and Prince Harry. "But we don't really have a choice. I really believe that a child's mental health is just as important as his or her physical health."
3. When Kate described what it felt like to become a mother:
"Personally becoming a mother has been such a rewarding and wonderful experience," Kate said during a 2017 event showcasing "Out of the Blue," a film series from the charity Best Beginnings that highlights mental health during and after pregnancy. "However, at times it's also been a huge challenge, even for me who has support at home that most mothers do not."
"Nothing can really prepare you for you the sheer overwhelming experience of what it means to become a mother," she added later. "It is full of complex emotions of joy, exhaustion, love and worry all mixed together. Your fundamental identity changes overnight. You go from thinking of yourself as primarily an individual to suddenly being a mother, first and foremost."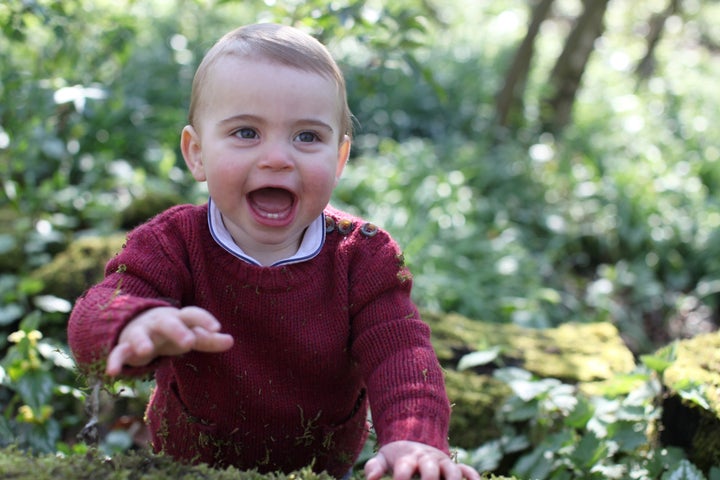 4. When Will talked about his fatherhood experience ― the good and the bad:
"There's wonderful highs and there's wonderful lows," William said in 2016 during an appearance on "Talk Vietnam." "It's been quite a change for me personally. I'm very lucky in the support I have from Catherine. She's an amazing mother and a fantastic wife. But I've struggled at times. The alteration from being a single, independent man to going into marriage and then having children is life-changing. I adore my children very much, and I've learned a lot about myself and about family just from having my own children. It's amazing how much you pick up from just in those moments."
5. When Kate mentioned how isolating motherhood can be:
"It is lonely at times and you do feel quite isolated, but actually so many other mothers are going through exactly what you are going through," the duchess said during a 2017 visit to the Global Academy in west London.
6. When Will said he hopes his kids will be "a little bit more simple in... their outlook," considering their place in the British royal family:
"I would like [my kids] to grow up with more simple aspirations," William said on "Talk Vietnam." "I think there's a lot of huge aspirations and people living with an enormous amount of stuff that they don't necessarily need. The materialism of the world, I find quite tricky sometimes. I would like George and Charlotte to grow up being a little bit more simple in their approach and their outlook, and just looking after those around them and treating others as they would like to be treated themselves."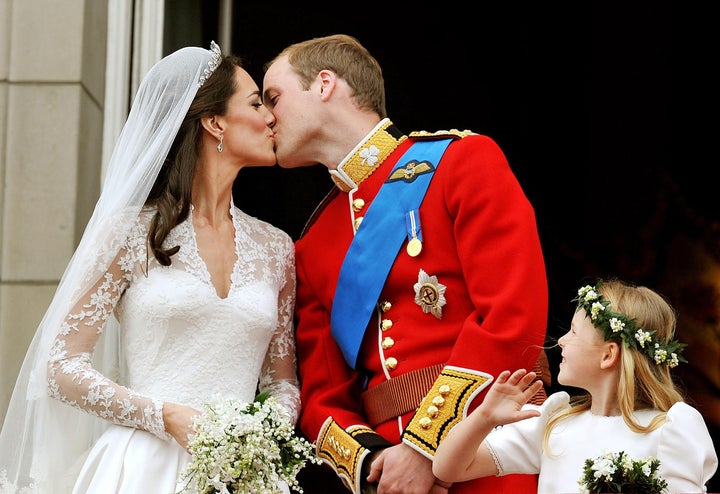 7. When Kate reminded other moms it's OK not to have it all together:
"Some of this fear is about the pressure to be a perfect parent ― pretending we're all coping perfectly and loving every minute of it," Kate said at the "Out of the Blue" event. "It is right to talk about motherhood as a wonderful thing, but we also need to talk about its stresses and strains. It's OK not to find it easy, and asking for help should not be seen as a sign of weakness."
8. When Will made it clear he wants Charlotte and George to feel comfortable being outwardly emotional:
"Catherine and I are clear that we want both George and Charlotte to grow up feeling able to talk about their emotions and feelings," William told CALMzine magazine in 2017, before Louis was born. "Over the past year we have visited a number of schools together where we have been amazed listening to children talk about some quite difficult subjects in a really clear and emotionally articulate way ― something most adults would struggle with. Seeing this has really given me hope that things are changing and that there is a generation coming up who find it normal to talk openly about their emotions. Emotional intelligence is key for us all to deal with the complexities of life and relationships."
9. When Kate said she and Will rank values like kindness just as highly as intelligence:
"My parents taught me about the importance of qualities like kindness, respect and honesty. I realize how central values like these have been to me throughout my life," Kate said in 2017 during a London school visit recognizing Children's Mental Health Week in the U.K.
"That is why William and I want to teach our little children, George and Charlotte, just how important these things are as they grow up," she went on. "In my view, it is just as important as excelling at maths or sport."
This story has been updated to include new information about the Duke and Duchess of Cambridge's family as well as new images.