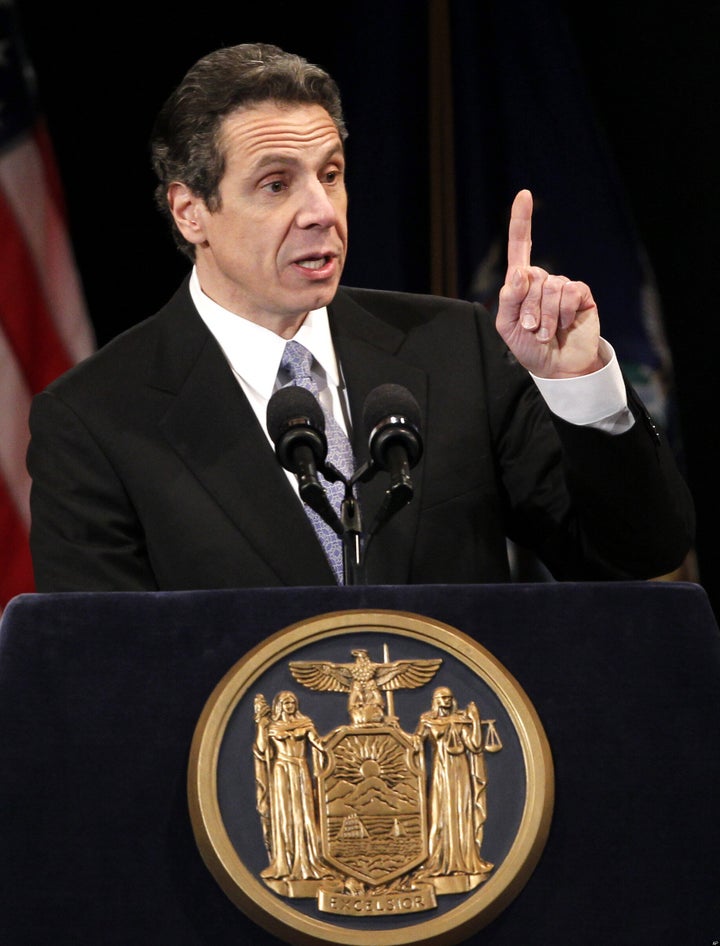 While the Supreme Being will make the final call on this one, it's not looking good for the New York governor (and perhaps his girlfriend) if a conservative professor at a Catholic seminary in Detroit is correct. Edward Peters, an authority on canon law and a consultant to the Vatican's highest court, says that Cuomo committed a "sacrilege" and promoted "grave scandal" by receiving Holy Communion at a mass in Albany last month.
The governor's sins, according to Peters, include support for abortion rights and gay marriage. These transgressions are familiar enough to Catholic politicians who have run afoul of Church teaching - including Andrew's father, former governor Mario Cuomo, who made national news in 1984 when he gave a speech at Notre Dame University defending his pro-choice stance.
But Peters went further by denouncing the relationship between the current governor and his live-in girlfriend, Food Network star Sandra Lee.
"Andrew Cuomo, governor of New York, and Sandra Lee, a television celebrity, live in what is known technically as public concubinage. The fact that both Cuomo and Lee are divorced renders the concubinage adulterous on both sides as well," Peters thundered in his blog.
His bleak views on the living-in-sin governor were picked up by a conservative Web site and soon spread to the mainstream media. (Cuomo has declined to comment on the matter apart from saying his religious beliefs are private.)
Dragging Lee in the debate -- as an adulterer no less -- seemed a breathtaking leap for Peters, a man who hadn't even bothered to find out if she was a Catholic. (Lee, the host of Food Network's Semi-Home Cooking with Sandra Lee, says she was raised a Jehova's Witness and converted to Judaism for time before divorcing from her Jewish husband.) And she doesn't seem to have led a life of sin and depravity.
"Nothing beats my Grandma Dicie's fried chicken and mashed potatoes. I could have that or tacos -- I love Mexican food -- every single night of the week. Whenever I eat them, I look around me and say to whomever is there, 'Please forgive me for what I'm about to do.' It's true!" Lee told Redbook magazine in a remark that seems more or less typical of her public utterances.
Peters isn't the first person who's made an issue out of the governor's sex life. We all remember that during the gubernatorial campaign, GOP wing nut Carl Paladino accused Cuomo of cheating on his ex-wife, Kerry Kennedy. And it's no secret in Albany that in the Cuomo administration, this is a sensitive subject.
Given that Cuomo is the father of three teenage daughters, that's hardly a wonder. But what's actually been surprising is how little the voters of the state seem to care about the whole subject. New York is a heavily Catholic state, yet its two best-known elected officials -- Cuomo and New York City Mayor Michael Bloomberg -- both are divorced men with long-time live-in girlfriends. (Bloomberg's companion, investment banker Diane Taylor, is sometimes referred to as the city's "unofficial first lady.")
Maybe they have Rudy Giuliani to thank for the fact that nobody -- except Edward Peters -- seems to care about their love lives. Giuliani's, with the wife and kids in Gracie Mansion and the girlfriend practically banging at the door demanding to be let in, was such a messy drama that a nice, quiet, out-of-wedlock relationship looks positively decorous.
It's certain that ever since, the public has seemed easy to please. And aside from the lack of wedding rings, New York's unmarried chief executives seem to be model householders. Bloomberg and Taylor never hash out their differences in the tabloids -- for all we know, they might never fight at all. We have been assured repeatedly that Lee she gets along great with Cuomo's children, and they've obviously got access to all the tacos they can eat.
Go in peace, unwed political couples. We've been through way worse.