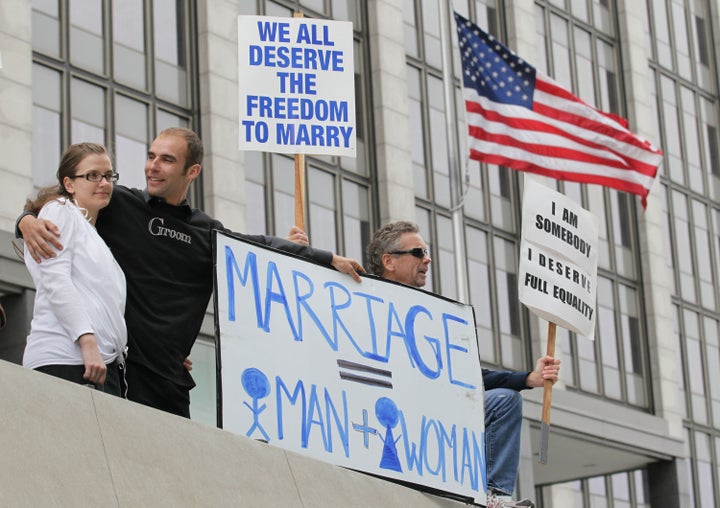 Amidst the important announcement two weeks ago that the Obama administration is backing off of its defense of DOMA, the news that the administration is recognizing same sex partners of U.S. diplomats entering the country got lost. Now the question is whether the Obama administration will step up and endorse same-sex marriages for general immigration purposes.
Last month, the State Department sent a cable to personnel worldwide informing U.S. citizen employees that if they get posted to the United States, their foreign same-sex partners can get a special visa to live and work here legally. The program quietly went into effect February 9, providing a temporary visa that commonly goes to visiting scholars or au pairs. Last August, the State Department had broadened the rules for foreign diplomats and international civil servants. This made it possible for partners of foreign diplomats to work legally in the United States by extending legal work privileges beyond the "family" of the diplomat to that person's "household".
Unfortunately, for other same-sex couples -- even those who have married in jurisdictions that recognize such marriages, a U.S. citizen partner cannot petition for a green card for their foreign-born spouse the way heterosexual couples can.
The history of the treatment of gays and lesbians under U.S. immigration laws is sordid. Beginning in 1917 with language directed at persons who of "psychopathic inferiority" or "afflicted with psychopathic personality," Congress targeted gays and lesbians for immigration exclusion. Legislators reaffirmed their malevolence in 1965 with language excluding those with "sexual deviation." After lenghty administrative battles within the Immigration and Naturalization Service and the Public Health Service as well as judicial challenges, the exclusion ground finally was removed in 1990. One of the immediate effects was apparent in an INS determination that a visitor's visa would be available for a nonspouse, same-sex life partner of a nonimmigrant intracompany transferee coming to work in the U.S. for a multinational company for a number of years.
However, immigrant visas (green cards) for spouses U.S. citizens or lawful permanent residents continue to be limited to spouses of the opposite sex. In Adams v. Howerton, a 1981 Ninth Circuit Federal Court of Appeals decision, the court ruled that the term "spouse" as used in the Immigration and Nationality Act was limited to marriages involving heterosexual relations. The court found that Congress had a rational basis for that limitation because "homosexual marriages never produce offspring, because they are not recognized in most, if in any, states, or because they violate traditional and often prevailing social mores."
As a result, U.S. citizens and lawful residents with same-sex partners who have overstayed nonimmigrant visas or who are otherwise undocumented immigrants live in constant fear that their partner may be deported.
The way out of this inequity is the Uniting American Families Act (UAFA). UAFA would allow U.S. citizens and lawful permanent residents to sponsor their same-sex partners for immigration to the United States. In the last Congress, UAFA was introduced in the House by Rep. Jerrold Nadler (D-NY) and Mike Honda (D-CA) and in the Senate by Senator Patrick Leahy (D-VT). Over 120 co-sponsors signed on in House and more than 20 co-sponsors in the Senate.
UAFA would amend the immigration laws by simply adding the term "permanent partner" in sections where "spouse" appears, thus ensuring that a non-citizen permanent partner may receive the same immigration benefits that a non-citizen spouse now receives.
In the lame-duck session of Congress this past December, the DREAM Act that would have legalized undocumented youngsters who have graduated from high school in the United States went down in a disappointing defeat. The Obama Administration's late, but strong, support for the measure proved insufficient. With little hope for comprehensive immigration reform on the horizon, will the administration at the very least step forward to announce support for UAFA and get the ball rolling on this important effort? Let's hope so.
Popular in the Community