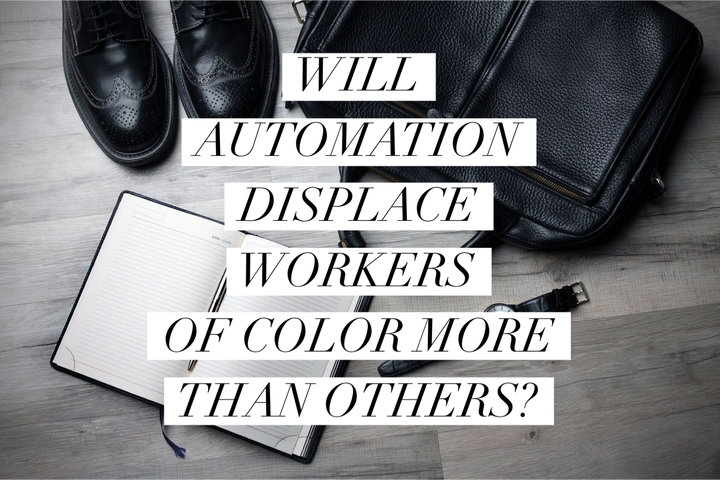 The fast paced adoption of automation and artificial intelligence technologies in the workplace continues to create disruption in the worldwide economy. Workers are being displaced in favor of lower cost automated systems everywhere from telephone companies to banks to grocery stores. The impact this transition will have on the workforce of color was the topic at a standing-room only panel at the 47th annual Congressional Black Caucus Foundation's (CBCF) Annual Legislative Conference (ALC) on Saturday, September 23rd.
"The Future of Work: How New Technologies Will Impact the Workforce of Color" panel was hosted by Congresswoman Lisa Blunt Rochester (D-DE) who has deep understanding and knowledge of workforce issues due to her role as a former Secretary of Labor in Delaware. As a congresswoman she serves on the House Committee on Education and Workforce as well as the House Committee on Agriculture. Representative Blunt Rochester advised that her goal for the panel was to explore what is happening now as a result of the adoption of technology on the American workforce of color, what is coming in the future and then finally, how to take advantage of these changes by leveraging them for our communities. Dr. Maya Rockeymoore, CEO of the Center for Global Policy Solutions, Spencer Overton, President of the Joint Center for Political and Economic Studies, Lt. Colonel (Ret.) David Ocelander, Director of the Starbucks Opportunity Youth Program and Alastair Fitzpayne, Executive Director of the Future of Work Initiative at the Aspen Institute, expertly informed the overflow crowd. There was lively discussion of both challenges and opportunities facing workers of color as a result of increased automation across the industry spectrum.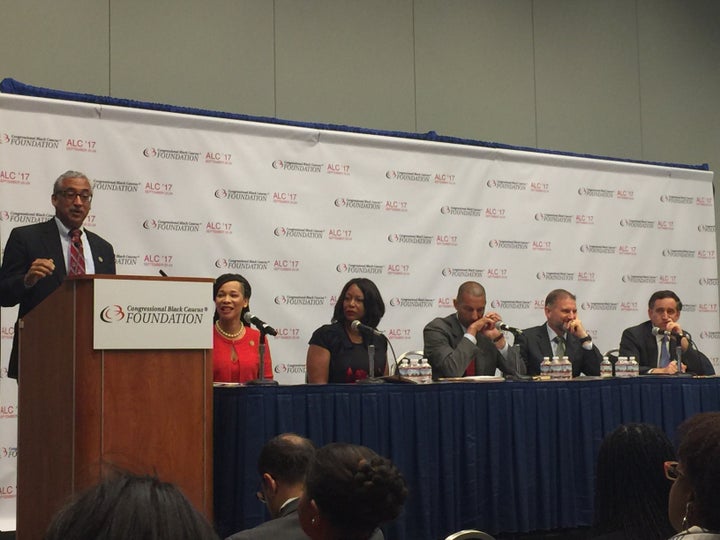 Congressman Bobby Scott (D-VA) left his front row seat at the invitation of Rep. Blunt Rochester as she opened the session to confirm his concern about the changes technology could have on the workforce of color if we are not preparing our communities with both education and skilled training. Then Dr. Rockeymoore kicked things off with the results of a fascinating study, Stick Shift: Autonomous Vehicles, Driving Jobs, and the Future of Work. She discussed the impact on 4.1 million professional drivers and the trucking industry in particular with 93 percent of this group having no college degree. African American, Latino and Native American truckers disproportionately rely on these jobs because they earn more as truck drivers than they would in non-driving jobs. Although this technology offers benefits of improved safety and environmental impact, Dr. Rockeymoore raised the question, "What if the adoption of autonomous vehicles undermines the ability of the human workforce to earn money to support their families?" She stressed that we need to address and prepare for this impact through making changes in our K-12 education system but that our legislative leadership is not focused on supporting the things that lead to substantive change in this area.
Mr. Overton released new research on the impact of automation on black jobs and his vision for being at the forefront of technology. He used the example of Dorothy Vaughan, the computer whiz in the groundbreaking movie, Hidden Figures played by award-winning actress, Octavia Spencer. In the movie as Ms. Vaughan sees the IBM mainframe computer project being implemented, she studies FORTRAN on her own, then shares the information with her colleagues so when the installation is complete she and her team are already prepared to program and manage the operation. Mr. Overton challenged the crowd asking, "How can we do the same thing today?" His suggestions are that we focus on lifetime learning to reduce the skills gap and entrepreneurship by people who are in the front lines and understand the job functions, to use that knowledge to leverage automation.
It is clear that many of our youth graduate from high school lacking the skill to gain good jobs or enter college. In communities of color, the combined weight of injustice and hopelessness added to the burden of being under-educated is a recipe for a difficult life. Lt Colonel (Ret.) Ocelander, a West Point graduate who became an educator in Chicago and Detroit following his retirement from military service, gave us great hope as he detailed the goals and results in his current role at Starbucks. Focusing on hiring young adults ages 16 to 24 who are disconnected from our economy, Starbucks is a leader in the "100,000 Opportunities Initiative Coalition"
In recruiting events across the country job offers are made on the spot to thousands of applicants. In addition, they train and educate the workers to help them gain discipline, job skills and time management strategies to support a successful work experience. The program offers the possibility for college education and mentoring. And for those applicants who do not receive job offers, they are offered training to help them become "job ready." The program has big goals. Starbucks hopes to have 100,000 of these "opportunity youth" flow through their program by 2025.
Closing the presentation period of the panel was Mr. Fitzpayne who dropped actionable knowledge for the crowd. Referencing the Future of Work Initiative study results we learned that "if you are an average worker, you're in a bad place." Those are the jobs that are easliy transitioned to automation. But jobs that require cognitive skills are less susceptible, so Mr. Fitzpayne encouraged average workers to "upgrade your skills so a robot can't do your job."
Mr. Fitzpayne emphasized that workers need to understand that they must make investments in themselves because from a public policy perspective, our country only spends one-tenth of one percent of our GDP on worker training. Worldwide only Mexico and Chile invest less in their workforce. He stressed that we shouldn't count on the private sector to make this investment either, as today's worker training budgets are one-third the level they were 30 years ago.
Congresswoman Blunt Rochester closed the panel following a lively question and answer period with the admonition for people to think of "reimagining" themselves personally and collectively from a job and education perspective. She referenced the phase about whether the glass is "half full or half empty," with a gratitude focus that I simply adored, advising that she's "just glad she has a glass!"
This was definitely one of the best panels I attended at CBCF ALC 2017. The freshman congresswoman from Delaware brought it all together for the audience with groundbreaking research, powerful statistics and striking insight from experts. Following the panel I felt a little better about the prospects for the future of our workforce knowing there are leaders in public policy and private industry focused on solutions. And I am more informed to share this insight with others. I believe many others in the audience shared my opinion as evidenced by the Word Cloud we created at the close of session where the most frequent responses were "reimagine," "exciting," and "hopeful."
Related
Popular in the Community