Amid email panics and Wikileak dumps, impassioned female voters are staging "pussy" protests denouncing Republican presidential nominee Donald Trump's deplorable treatment of women. In response to the GOP candidate's predatory behavior - his graphic banter about sexually assaulting women on the "Access Hollywood" tape and his fat shaming of Miss Universe 1996 Alicia Machado - demonstrators in cities across the country have taken to the streets in front of Trump properties and national monuments. Chanting "Donald thinks he runs this town, pussy came to shut it down!" and brandishing signs proclaiming "This vulva votes," women are speaking up and speaking out against sexism. Pundits are predicting one of the largest gender gaps in U.S. election history. The man who shattered Republican primary records and steamrolled over sixteen opponents can't combat the flood of sexual harassment accusations, many of them from the pageant world. On Tuesday, former Miss Finland (2006) Ninni Laaksonen became the twelfth woman to come forward against the presidential hopeful. Will beauty queens be Trump's kryptonite?
Trump owned the Miss Universe franchise, which includes the Miss USA and Miss Teen USA pageants, from 1996 to 2015, when he was forced to sell. In response to racist comments the nominee made about Mexican immigrants on the campaign trail, the pageant's hosts, judges, sponsors, and broadcasters (Univision and NBC) dropped out. The media mogul added injury to insult by filing a $500 million lawsuit. Controversy has followed Trump since he purchased the Miss Universe family and "made the heels higher and the bathing suits smaller," reversing the trend, since the late 1970s, of putting greater emphasis on brains over beauty. Several contestants, some of them teens, have accused Trump of walking unannounced through their dressing rooms. Others have reported that he forcibly kissed them, joked about having an obligation to sleep with contenders for the crown, and publicly humiliated women who refused his invitations.
Ms. Machado said Trump treated her like "human property" during her reign, taunting her with names, "Miss Piggy" and "Miss Housekeeper," in between fat jokes and ethnic slurs. Cassandra Searles, Miss Washington 2013, recalls similarly degrading experiences. She calls Trump a "misogynist" who "treated us like cattle," and lined up participants "so he could get a closer look at his property."
This month's protests, with militant women lambasting the objectification of beauty queens, are re-enacting a famous, but largely forgotten, scene from history that took place almost fifty years ago this fall. On September 7, 1968, a group calling themselves New York Radical Women disrupted the Miss America pageant in Atlantic City in a brilliant spectacle of political theater. This was the event that introduced the world to the women's liberation movement. Demonstrators paraded around the boardwalk outside the convention center singing parodic songs about pageant promoters: "ain't he sweet; making profits off her meat," while carrying signs that read: "Welcome to the Miss America Cattle Auction" emblazoned above an image of a woman carved up according to cuts of beef.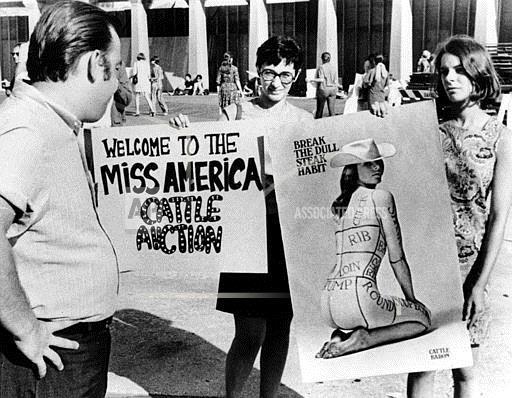 [Members of the National Women's Liberation Party hold protest signs in front of Convention Hall at the 1968 Miss America Pageant. Associated Press]
Comparing the pageant to a livestock competition at a "4-H Club county fair," where animals are judged for their teeth and fleece, and where the best "specimen" gets the blue ribbon, activists crowned a live sheep. Demonstrators complained that pageant culture encouraged women to be docile dimwits. "Miss America represents what women are supposed to be: inoffensive, bland, apolitical," noted organizer Robin Morgan in a 1968 press release. "If you are tall, short, over or under what weight The Man prescribes you should be, forget it." Morgan and her fellow feminists were not attacking the pageant contestants; they were critiquing the system of institutionalized male supremacy that judges women on impossible standards of beauty. In solidarity with the participants, but hoping to win them over to the protest, activists waved posters proclaiming: "Sisterhood is Powerful," "All Women are Beautiful," and "Let's Judge Ourselves as People."
In addition to protesting "the degrading mindless-boob-girlie symbol" of a beauty queen, activists claimed the Miss America competition was racist, noting that since the contest's inception in 1921, there had been no Black finalist, no Puerto Rican, Alaskan, Hawaiian, or Mexican-American winner, nor had there even been "a true Miss America - an American Indian."
One of the most controversial elements of the demonstration was the "Freedom Trash Can," where women were encouraged to throw implements of torture, including bras, girdles, stilettos, curlers, mops, and Playboy magazines. Plans to torch the can were thwarted by police, who refused to issue a fire permit. While newspapers around the country ran stories about "bra-burning women's libbers," these reports were fiction, evidence of how little truth goes into reporting the facts about political protests.
The culmination of the Miss America protest took place inside the convention center where sixteen protesters unfurled a huge sheet emblazoned with "Women's Liberation" from the balcony at the moment the winner was crowned. Camera operators, alerted to the commotion, panned from the stage to the audience, catching the feminists in the act. Knowing that this was a live television broadcast, and one of the highest rated programs of the year, these radicals successfully gained worldwide attention for their cause.
In 1968, feminists called out blatant gender discrimination by asking, "In this reputedly democratic society, where every little boy supposedly can grow up to be President, what can every little girl hope to grow to be?" Come Tuesday, will one answer to that question be leader of the free world? If so, we should thank the pageant whistleblowers and the pussy protestors for helping to elect the first female president of the United States.
(Sara Warner is an Associate Professor at Cornell University and a Public Voices Fellow of The OpEd Project. She is the author of Acts of Gaiety: LGBTQ Performance and the Politics of Pleasure.)
Popular in the Community