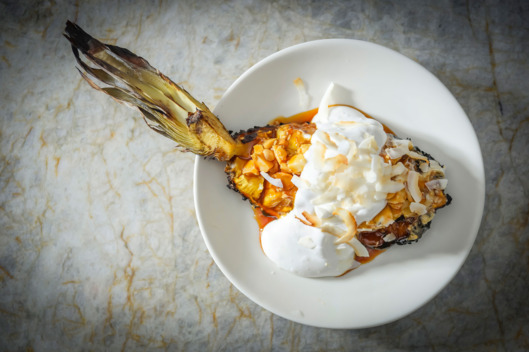 A whipped "cream" topping that's actually made with chickpea water, sugar, and vinegar. (Photo: Noah Fecks)
When chef John Fraser was opening his vegetarian restaurant Nix earlier this year, he gave his pastry chef Italivi Reboreda a very specific task: Create an extravagant vegan pineapple dessert. Sounds simple, but Fraser also wanted the dessert to be dramatic, something that would have the presence of a soufflé when it was brought to the table. What Reboreda came up with is a tandoor-roasted pineapple that's served with coconut, macadamia nuts, and tamarind glaze. To finish, Reboreda wanted something that would approximate meringue, or whipped cream (both no-go's for a vegan dessert). So, she turned to a unique -- and unexpected -- ingredient: chickpea water.
Known in the vegan world as aquafaba, the ingredient -- which is essentially the thick liquid that you pour out when you buy a can of chickpeas or other beans -- is renowned for its uncanny ability to approximate the effects of egg whites. For the pineapple dessert, Reboreda combines the water with sugar and vinegar, which helps aeration, to make a vegan whipped "cream." It's thick and fluffy enough to fool diners into thinking it's the real deal. "It's one of the best things I've learned about in a long time," says Reboreda, who wants to next use aquafaba in a vegan soufflé or hazelnut mousse.
In fact, no ingredient seems to capture current culinary mood quite like aquafaba, a vegan animal substitute that would otherwise be classified as food waste. The innovative new use was first discovered two years ago, through work by American software engineer Goose Wohlt, based on experiments by French tenor Joel Roëssel. Since then, vegan cooks have restlessly explored aquafaba's uses, supplying the internet with recipes for macarons, meringues, cakes, pastas, ice cream, and more. The ingredient has its own website, a social media feed filled with tagged posts of cooking experiments and successes, a primer on the (still fuzzy) science behind its seemingly magical properties, and a donation fund to support research. Aquafaba also got the Food Lab treatment during J. Kenji López-Alt's annual vegan month, when he wrote that "in the world of vegan cuisine, nothing has shaken things up like aquafaba."
"Up until then, that weren't that many good substitutes, not that aquafaba is a complete, perfect egg substitute," López-Alt says. "But the idea of making a stable foam without an animal-based protein, that you can literally just buy at the supermarket for $.79 a can and whip up is pretty attractive."
López-Alt stresses it's not a perfect replacement for egg whites because it lacks their stability and doesn't "set" at as low a temperature. Even still, the effects are nevertheless surprising -- though it remains unclear why, exactly, it works. Analyzing the ingredient, the Norwegian Food Research Institute found that aquafaba is made of starches and proteins. But as López-Alt points out, the food community still has a ways to go before they know exactly what's going on. "There are people who are methodically testing it in specific things, although mostly to figure out how to make one good cake," he says. "Maybe that's where the gap in knowledge is, in how do I take any recipe and translate it into any recipe?"
Other chefs are also hard at work figuring out the best use for aquafaba: During last year's wastED pop-up at Blue Hill, Dan Barber combined it with lemon for the dressing on his so-called "dumpster dive salad," and still uses it as a garnish for other dishes at his restaurants. In the East Village, the bar staff at Mother of Pearl uses it as an egg replacement in cocktails like fizzes and sours. (Bartenders in Berlin and Los Angeles have also been known to do the same thing.) In fact, the bar community is the most excited about chickpea water's uses. Even if it sounds like a strange addition to a pisco sour, the bartenders who use it say it's better than raw eggs because it doesn't impart the "sulfur" flavor that egg whites can.
And this month, aquafaba is going to get its biggest exposure yet. The condiment company Sir Kensington's will roll out its own vegan mayonnaise substitute -- called Fabanaise -- that uses chickpea water instead of eggs. To get their water, the company turned to upstate's Ithaca Hummus, offering to put the water -- which had been ditched -- to good use. (Sir Kensington's director of product Laura Villevieille says she first learned about the ingredient a year ago while researching egg replacements.) The real question now is whether the ingredient has mainstream appeal, and if people will be willing to smear this chickpea spread on their sandwiches. Based on the enthusiastic response to the ingredient, and the general clamoring for animal-protein substitutes, there's a good chance they will, and that the water so many home cooks have been pouring down the drain for years will make further inroads into your grocery store's condiment aisle, and your favorite restaurant's dessert menu.
Before You Go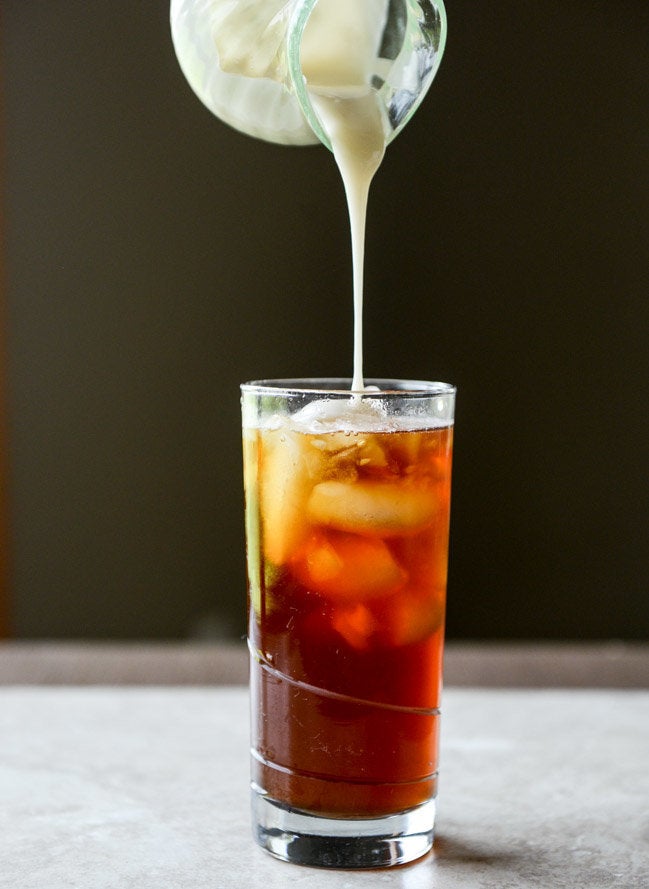 Iced Coffee Upgrades