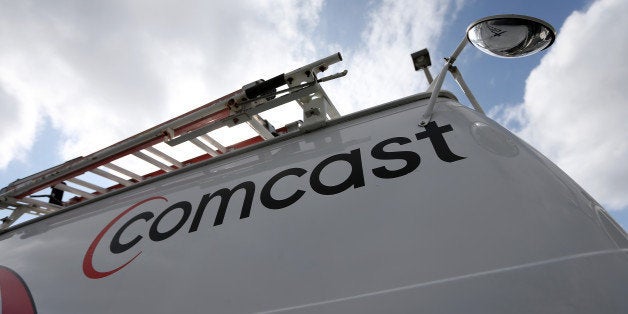 Anyone who has dealt with Comcast customer service knows it's a purgatory of long waiting time, transfers to nobody who can help resolve your issue, and dealing with inexperienced representatives who hang up on you. Customer service at Comcast has been dead for years. The company was declared the "2014 worst company in America," with genetically modified seed giant Monsanto and Time Warner Cable trailing closely behind. Comcast was recently embarrassed by an eight-minute phone recording of a representative taking a condescending and tedious tone with a customer who wanted to cancel his service. The recording has been making Internet rounds and has 1.2 million hits.
Last Thursday, the Federal Communications Commission (FCC) opened its review of the proposed Comcast and Time Warner Cable merger to public comment and petitions seeking to block the deal. Consumers have until Aug. 25 to provide the FCC with comments from Comcast's online forums, Twitter page, Yelp, and other review sites.
Anecdotal evidence that Comcast's shoddy customer service practices disappoint consumers is overwhelming and warrants consumer protection. The most important part of business should be the customers, yet Comcast's customer service is poor because most Americans have no other cable provider in their area, or the other option is just as bad. Local cable service is a monopoly almost everywhere, and most of us receive Internet and cable services from a local cable provider. There's an overall level of discontent among customers, and with a Time Warner-Comcast merger, it could likely get a lot worse.
Comcast executives concede its customer service leaves much to be desired, but they are too far removed from the process to appreciate the oppressive experiences that their customers endure. Executive Vice President David Cohen told the Senate Judiciary Committee in April, "[i]t bothers us that we have so much trouble delivering a really high-quality service level to our customers on a consistent basis... It is not something we are ignoring." But that's hard to believe when you're stuck on hold waiting for an explanation of why your monthly bill suddenly jumped from $99 to $153.
The current debate on whether or not the Comcast-Time Warner Cable merger should go through hinges on whether and how a new giant cable provider would snuff out competition. Current FCC policy relies on an old monopoly system that allows cable companies the exclusive use of the physical telecommunications lines that they own. From an economic perspective, the proposed merger would leave competition among providers in the same area unchanged because Comcast and Time Warner don't physically overlap in service areas, so they don't compete for the same customers. Dish Network and Netflix, however, have recently argued the opposite, that the merger would seriously harm competition.
The consumer benefits perspective should be given fair weight, and the FCC's comment and petition period is the public's time to weigh in. About to take more helpings of business than it can digest, Comcast is trying to convince federal regulators that the merger provides enhanced public interest or "considerable consumer benefits," as Comcast spokeswoman Sena Fitzmaurice said in a statement last week.
Proponents of the deal argue that a larger market share would let Comcast bargain for lower prices from suppliers and cable programmers, passing on savings to customers. But this won't happen if consumers have no real alternatives or the costs of transferring to another provider usually exceed the benefits.
Consumers are skeptical about benefiting from the merger. Their common experience suggests that Comcast will continue to rip off consumers by overcharging or double billing, then insulating itself from addressing consumer complaints with built-in hurdles and dead-ends in a complex customer service scheme.
Customer complaints posted on Comcast's online forums across multiple years narrate the same story. After navigating an automated customer service maze, customers reach an inexperienced representative who lacks the authority to make effective changes to your account to resolve your problem.
Then the "transfer hell" begins. The representative transfers the call to a supervisor or account executive and there are three dead-end outcomes: first, an answering machine; second, the representative says the supervisor is unavailable and will return your call; third, an initially shocking but subsequently understood common practice at Comcast, someone asks how they can help you and hangs up.
Even if federal regulators impose conditions barring discriminatory conduct towards consumers on Comcast as a requirement for approving the merger, which is not likely to occur, Comcast's poor track record suggests it will continue its shoddy practices unless regulators wake up and see the forest through the trees.
Popular in the Community