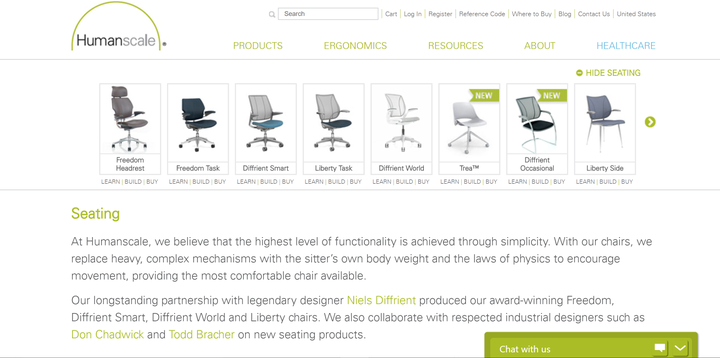 In a recent conversation with a young specifier over coffee, she shared her frustrations with contract furniture manufacturers selling process. "Who invented this pricing model? It doesn't make any sense. I understand that systems furniture is more complicated, but in a furniture world dominated by ancillary today, why can't pricing, quoting and specifying be simpler?" She went on to share her favorite purchase process experiences, most of which were online. This led to a question about why the contract market has not embraced more fully the world of ecommerce?
It's no secret: The contract interiors industry wildly has been focused on innovating around PRODUCT, but has lagged on PROCESS innovation. Now, some may be thinking, "Six Sigma! We process innovate all the time!" Yes, yes you do. But for the most part, the contract furniture SELLING process has remained relatively unchanged for the past several decades. While the rest of the consumer world is gravitating toward an "Amazon mindset" appropriate for a generation of specifiers who never have known a world without internet, our industry largely remains firmly planted in the relationship selling world. But will that change in the future? Herman Miller, Steelcase, Haworth, Knoll, and Humanscale – to name a few – all have varying versions of online stores where contract grade product can be purchased directly by consumers. Many other manufacturers have yet to enter this world, presumably because of distribution disruption concerns.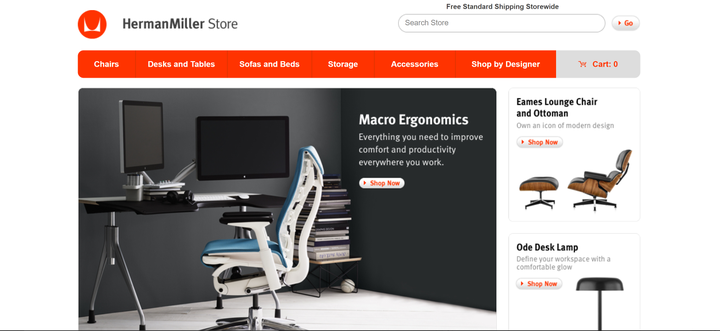 Herman Miller's 2014 purchase of DWR makes it an interesting brand to watch when it comes to the adoption of ecommerce. Although much of its ecommerce activity is through acquisitions and partnerships rather than its flagship Herman Miller brand, its annual reports suggest that it is continuing to pursue new ways to get in front of consumers with an online presence. According to the August 2017 Annual Report, one of four key strategies is to grow the Herman Miller brand from an Industry brand to Industry + Consumer brand: The report discusses "[an] ambition to expand the connection of our powerful brand more directly with the consumers of our products…. We envision a business that harnesses our brand vision to pull consumers to us." The "Consumer" category, which is listed as one of four categories of their business, includes the operations associated with the sale of modern design furnishings and accessories to third party retail distributors, as well as direct to consumer sales through e-commerce, direct mailing catalogs and Design Within Reach (DWR) studios. Essentially, Herman Miller is looking at ecommerce as well as additional traditional direct-to-consumer models. However, most brands see "online stores" as a simple outlet for extremely small orders that "hit a different customer target" than a traditional dealer. All seemed to agree that ecommerce in contract TODAY focuses more on the residential customer.
Maxim Ford, Director of Digital Marketing at Humanscale, says, "Our online customer is fundamentally different from our dealers' customer. The online prices reflect favorably in the dealer's eye, as this direct pricing is aimed at low-volume consumers and rarely competes with the dealer's price. In fact, we believe there is a complementary "ripple effect," and our dealers and authorized online partners only benefit from the increased brand visibility online, which in turn helps drive their sales."
When asked about the company's relative success with ecommerce, Ford added, "Historically, the majority of the company's revenues come from a more traditional contract furniture sales model. However, over the last few years we have experienced a significant increase in online revenue growth and new business leads." Humanscale currently operates direct ecommerce in the U.S. and Canada and has plans to roll out in select European markets in the near future.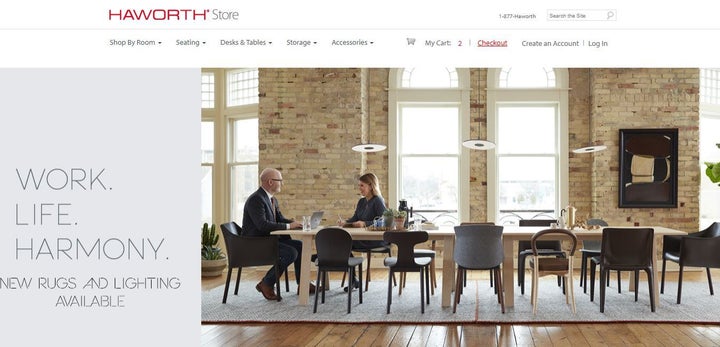 Nick Hobson, Director of Sitting at Haworth, challenges naysayers of a shift to ecommerce by saying, "Any fear that moving online will make the dealer go away is unfounded for a couple of reasons: First, work has changed, primarily driven by technology - workers are more mobile and work can take place anywhere, in the office, at home and in-between, it is a natural step for commercial interiors to branch into residential to support worker's needs as they move. Secondly, from our research 94 percent of projects that purchase offline, begin with research online. Our dealers understand that users are doing online research before talking to them. It's important to have an area where customers can do this research and have the option to try (in a traditional showroom or dealer) and/or buy. Thirdly lets not forget the value dealers bring in installation and post sale service. All this not only strengthens relationships, but also reinforces the dealer and manufacturer relationship by giving them a really positive purchasing experience." In fact, Haworth is continuously refining how to make that experience faster and easier for the customer.
Most would agree with Haworth's assessment that today's generation of specifiers' early product decision making is often, if not always supplemented by online product research. A big part of that research is often looking at pricing online to weigh out feature options and make relative purchasing decisions. And, in fact, according to recent CCG research on client pain points as part of the CBRE Furniture Forum, feeling "in the dark" with the contract furniture pricing model is one of the main sources of frustration to clients today. One confidential interviewee who recently completed a large project in Chicago stated, "Because of the volume of furniture, and the amount of line items that each piece entailed, there's no way I could verify that our pricing was correct! There's simply no way to gauge it unless you have a LOT of experience in the market. I was at the hope and mercy of the dealer." Another stated, "My biggest issue was that I felt I was in the dark on pricing. I had to trust that what they were saying was the right price was the right price." So, could embracing ecommerce as an industry help clients feel more at ease with the furniture purchasing process? We know that complex systems furniture cannot easily be built and compared, but we also know that the market is shifting and that a much larger portion of each project is often "ancillary," which is a much easier "apples to apples" comparison and could help specifiers and purchasers feel more comfortable with the contract furniture process.
Hobson closes us with this thought from Haworth's future vision: "When we look at who is specifying furniture, whether dealer teams or those doing research within A&D firm, they are typically in their early to mid-20s. They are tech and web savvy in ways that previous generations have not been. Their expectations are changing and we as an industry need to respond. There's a lot more transparency on the internet. Amazon has changed not just B2B, but B2C as well. That expectation is making its way into the contract interiors industry. It's up to manufacturers and dealers to provide the same level of service. There is nothing but upside. We as an industry need to look at that very hard or we will get left behind."
This article originally published in the Business of Furniture, a division of Bellow.Press on September 27, 2017. It is republished here with permission.
About the author: Amanda Schneider, LEED AP is a researcher, writer, consultant, and the founder of Contract Consulting Group, a research-led strategy firm focused exclusively on the Contract Interiors market. Do you work in the industry? Are you interested in getting PAID for your opinions? Click here to Join In for PAID market research opportunities!
Popular in the Community