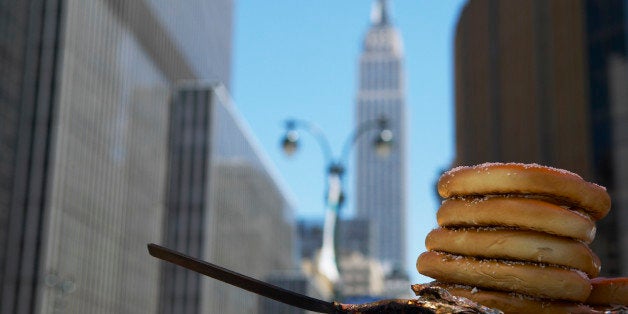 A lot of people have been asking me how soon-to-be Mayor de Blasio will be for our city's 20,000 street vendors and the millions of customers who love them.
For sure, de Blasio will be a big improvement over Bloomberg. While Mayor Mike once did a photo op in front of a hot dog cart, he was no friend of vendors. In fact, our billionaire mayor was famous for his inability to sympathize with any group of people who struggle to get by each day. "Don't like it? Tough!" was Bloomberg's refrain, time and time again.
Not far into his first term, Bloomberg quadrupled maximum fines for minor infractions like vending an inch too close to the crosswalk. For years after, in the face of protests, he refused to budge. When City Council finally passed a bill, earlier this year, rolling back those very same fines, he vetoed it, calling it "one of the stupider things" he'd ever heard. Luckily, the Council disagreed, overriding his veto.
De Blasio, on the other hand, should give vendors reason for hope. Progressives have a tradition of standing up for low-wage immigrant workers -- and support for street vendors is now part of the progressive platform in NYC. De Blasio has taken leadership to reform unjust practices at the NYPD -- an agency that vendors deal with every day . Moreover, he is closely allied with other elected officials, like Melissa Mark-Viverito and Letitia James, who have been champions for vendors and other marginalized groups for years.
My concern? De Blasio may be overly friendly with brick-and-mortar small businesses, who often view vendors as competition. As Public Advocate, he sided with restaurant owners who illegally displaced a halal food vendor in Bay Ridge, calling for greater regulation of sidewalk carts. In fact, vendors already face burdensome regulation on every facet of their business. Then, this May, during a Mayoral debate, he repeated the often-heard myth that brick-and-mortars are "being hurt" by vendors, and that the city should favor them because they (and not vendors, he made clear) advance "neighborhood stability and character."
In fact, every academic study has shown that vendors do not compete with brick-and-mortar small businesses, and hopefully a bit of educating de Blasio about this issue will go a long way. As for vendors detracting from neighborhood stability or character, famed urbanists like Jane Jacobs and William Whyte would strongly disagree. So would most New Yorkers.
Vendors are ready for a new relationship with City Hall. And de Blasio has already shown he is willing to sit down with regular folks and listen to their thoughts and ideas. I know that vendors are eager to share with the Mayor-elect their vision for the city. Perhaps over some chicken and rice.
Calling all HuffPost superfans!
Sign up for membership to become a founding member and help shape HuffPost's next chapter