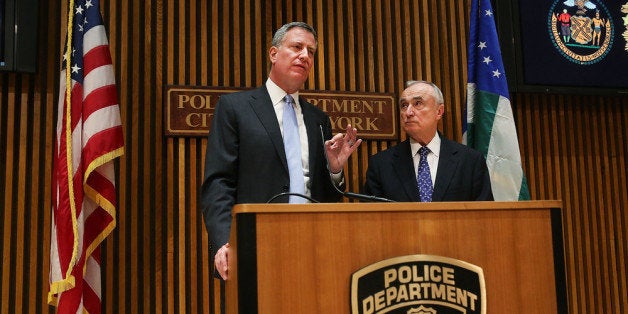 New York's new mayor made clear from the beginning that he would put an end to NYPD's aggressive "stop and frisk" policies. So, what does he do? He turns around and appoints a police commissioner who, under Rudy Giuliani, ushered in that very same stop and frisk mentality.
Bill Bratton would seem to be the worst possible choice for the job.
But, hold everything. While Bill De Blasio is brand spanking new at this mayor thing, he's smart enough to know that his appointment of the city's top cop will be the most critical personnel decision he'll ever make. And you can bet he did some soul-searching and serious vetting of Bratton (as well as the two also-rans within the department) before making his choice. Still it's a gamble, a big one.
Will it pay off? Not according to Harry Levine, a Queens College and CUNY Graduate Center sociology professor who has conducted an exhaustive, damning study of NYPD's hundreds of thousands of low-level marijuana arrests (most stemming from stop and frisk practices). As he told The Huffington Post, "[Bratton] would be terrible.... [He] is Kelly...with charm, charisma, savoir-faire, and unbelievably brilliant PR skills."
There's no disputing Bratton's surface charm, but there's also a good deal of depth to the man. I had an occasion, early in his first rotation on the job, to talk with him at some length about his devotion to CompStat, "broken windows," other NYPD innovations. He spoke in glowing terms of the campaign to transform New York's reputation as a crime- and grime-ridden city into a safe, clean place for tourists and residents alike. It's what I didn't hear that bothered me, namely a concern for the department's relations with people of color, the poor, the homeless. A concern for civil liberties.
But here's where it gets interesting. With Bratton succeeding Kelly for a second time -- after several years in the private sector and seven as LAPD's police chief -- and with a progressive mayor helming the city, conditions for genuine police reform seem ripe.
I've spoken with several friends and colleagues, skeptics all, who after observing Bratton's performance in Los Angeles, changed their minds about him. Connie Rice, a longtime critic of LAPD, wrote a glowing article that seems to sum up what a more grounded, fully-rounded leader Bratton has become.
De Blasio, of course, must make clear to Bratton that his personal commitment to nondiscriminatory policing is both real and non-negotiable. And that he will rigorously monitor NYPD's effort to achieve both safe streets and constitutional law enforcement.
For his part, I would love to see Bill Bratton take a reasoned, principled stand in opposition to the racist, disastrous War on Drugs. He should immediately end the hyper-aggressive stop and frisk practices that target young black and Latino men -- without eliminating the vital tool itself. And he should launch a major cultural shift within the workplace that lets his cops know that zealous enforcement of the Bill of Rights is equally important as fighting crime.