Given that Kenny Ortega made a fortune for the Mouse a decade ago when he directed High School Musical (i.e., that 2006 Disney Channel Original Movie which eventually launched a best-selling album, a sold-out ice show, a super-popular concert tour as well as stage productions around the globe) ... Well, it only makes sense that -- as a reward -- Mickey would offer Kenny the Magic Kingdom's crown jewels.
As is: Give Ortega the opportunity to build a brand-new Disney Channel Original Movie around heritage characters like the Beast & Belle, Maleficent, the Evil Queen from Snow White and the Seven Dwarfs and the Fairy Godmother from Cinderella.
Mind you, Gary Marsh -- the President and Chief Creative Officer of Disney Channels Worldwide -- had to go to the Big Cheese himself (i.e., Bob Iger, Chairman & CEO of The Walt Disney Company) before production could then begin on Descendants.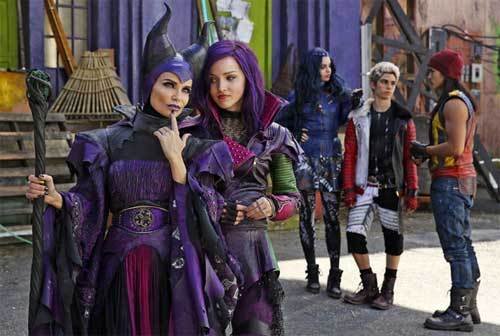 "And the fact that the people at Disney trusted me enough to let me use these iconic characters in my next project for the Channel, that was just thrilling," Kenny admitted during a recent phone interview. "And the best part was that I then got to go out and find fun people to play these classic Disney characters."
And since Disney had put so much trust in this award-winning director / choreographer, when it came time to start shooting Descendants, Ortega wanted to be working with people he knew and trusted as well. Which is why -- when it came time to cast the Mistress of All Evil -- Kenny reached out to Kristin Chenoweth (who Kenny had directed in her 2014 PBS special, Coming Home).
"Now you have to understand that Maleficent with Angelina Jolie had just come out when we started shooting 'Descendants' last May. So all the more reason to go in a new fresh direction with this part," Ortega explained. "But to have Kristin Chenoweth ... I've worked with her before. And I adore her. And she just fully inhabits everything that she does and on so many levels. And Kathy Najimy too. I worked with her on Hocus Pocus. Kathy did a brilliant job with the Evil Queen from Snow White. She and Kristin are both very smart, really funny women."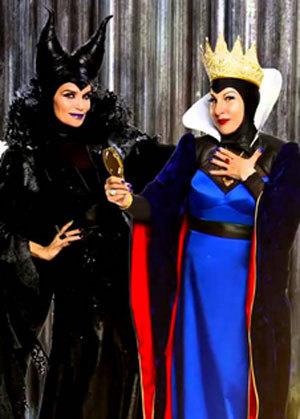 And it wasn't just the people in front of the camera that Kenny knew & trusted. Ortega also made sure that his Descendants production team was loaded with folks that he'd previously worked with on the High School Musical movies.
"Take -- for example -- my production designer Mark Hofeling. He and I did High School Musical together. All three of them. He's like one of my great partners and I adore working with Mark," Kenny enthused. "I mean, wait 'til you see what Mark did with Descendants. He took the real Vancouver & Victoria and then found a way to turn them into believable fantasy settings like Auradon & the Isle of the Lost."
Just to be clear here: Ortega didn't only work with old friends on this Disney Channel Original Movie. In order to make sure that Descendants wasn't a High School Musical rehash, Kenny deliberately added some talented newcomers to his production team. People like costume designer Kara Saun.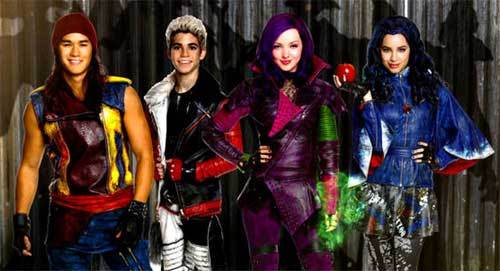 "Kara's a newcomer to film. She actually comes from the world of fashion. But boy, did Kara come up with some great costumes for this TV movie's four main characters. Who are the sons & daughters of Maleficent, Cruella de Vil, Jafar and the Evil Queen," Ortega stated. "For the outfits that these four wear while they're on the Isle of the Lost, Kara came up with the idea of Dirty Candy. Which means that these costumes look dirty and distressed on the outside but still has a little sweetness underneath. Anyway, Kara's Dirty Candy wound up being such a cool design conceit that we wound up incorporating that distinctive look into all aspects of the Isle of the Lost."
And speaking of Descendants production design ... If you're a fan of Walt Disney Animation Studios, you're going to love some of the witty winks & nods to those classic films that you'll see in this Disney Channel Original Movie. These include:
• Evie (i.e., the daughter of the Evil Queen, played by Sofia Carson)'s purse. Which is modeled after the box that the Huntsman was supposed to place Snow White's heart in.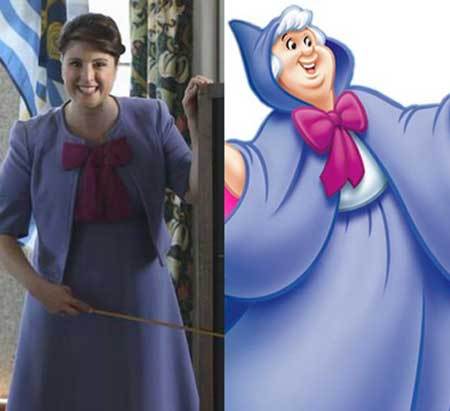 • The Fairy Godmother (who is played by Melanie Paxson)'s dress. Which was clearly inspired by the outfit that this character wore in Disney's 1950 animated feature, Cinderella.
• Or -- for that matter -- the Fairy Godmother's wand. Which -- if you look closely at this magical object -- you'll see that the wand has a miniature version of Cinderella's pumpkin coach carved into its handle.
Ortega also found a fun way for "Descendants" to acknowledge Once Upon a Time, that popular ABC series which also draws inspiration from Disney's animated features. Does the actress playing Queen Belle look familiar? She should. That's Keegan Connor Tracy, who portrays the Blue Fairy / Mother Superior on this Sunday night show.

And speaking of the cast of Descendants, Kenny had nothing but praise for Dove Cameron, Cameron Boyce, Booboo Stewart and Sofia Carson -- the talented newcomers who played the title characters of this Disney Channel Original Movie. Who -- SPOILER ALERT -- are supposed to be the next generation of Disney Villains.
"You have to understand that -- when we began making Descendants -- our goal was to create this TV movie that the entire family could enjoy together. That there was enough kid-friendly material in this movie to entertain the Disney Channel's target audience. But at the same time, that the performances by our four main characters were strong enough & sincere enough to keep in the adults in the audience. And Dove, Sofia, Cameron, & Booboo nailed it," Ortega stated. "I've been to four screenings of Descendants so far. And when the lights come up after those screenings, I can't honestly tell you who has the bigger grins on their faces. The adults or the kids."
Of course, given that High School Musical wound up becoming a billion dollar franchise (More importantly, given that the last thing we hear from Mal -- Maleficent's daughter -- before the credits roll is " You didn't think this was the end of the story, did you?"), is Kenny planning on returning to Auradon & the Isle of the Lost anytime soon?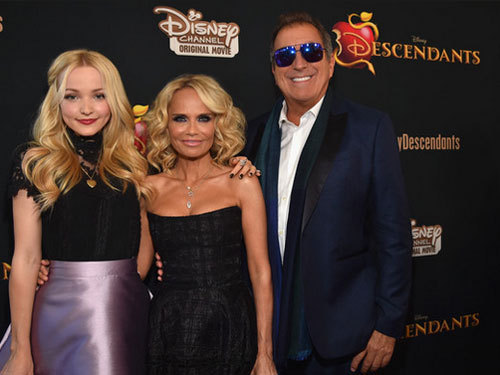 "Look, I've had good feelings about this project from the moment that I read Josann McGibbon & Sara Parriott's script. And working with these kids and Kristin Chenoweth & Kathy Najimy on the movie itself was a dream. I mean, this was the biggest Disney Channel Original Movie I ever worked on. And I loved working with this cast and this crew," Ortega said. "So would I like to do Descendants 2? Sure. I think -- were you to ask the cast and the crew -- they'd agree that we'd all love to come back and play here again. The Descendants world really is a wonderful place to play in. More to the point, there are so many characters from Disney animated films that we could draw upon, pull in. There are so many more stories we could tell."
"I mean, I think that we're going to do well in the ratings. But the big question is will Descendants do well enough that the Disney Channel will then allow us to make another TV movie? I sure hope so," Kenny concluded.
Well, given that -- leading into its television premiere tonight on the Disney Channel (8 p.m. ET/PT) -- Descendants has posted more than 1 million views on the WATCH Disney Channel app in just five days (which set records for engagement and viewing for this app which allows consumers to watch programming anytime and anywhere via their desktop, smartphone, tablet and connected TV devices) ... it's looking like we'll be returning to the Isle of the Lost sooner rather than later.
Calling all HuffPost superfans!
Sign up for membership to become a founding member and help shape HuffPost's next chapter