What to do about the American family? Depending on where you stand, the poor thing needs to be either preserved in its traditional form or extensively modernized. And what about the American family drama? Admittedly a less pressing concern, it too is defended from one side and decried from another. At least one critic I could name feels the family drama was okay for Eugene O'Neill, began to wear out its welcome with Arthur Miller, and was completed, perfected and finished off in Sam Shepard's Buried Child (1978), only to return as a theatrical version of the undead.
The solution, for both the family and the family drama, may be to get rid of them. That's essentially what Will Eno does in an anarchic and deliciously clever play called The Open House, running at the Signature Theatre through March 30. As it begins, we see what looks like a family, embroiled in what seems to be a drama, but those impressions change. The show can be read as a comic reversal of Invasion of the Body Snatchers, in which the pod people come first and are gradually replaced. The five family members we meet at the outset are creatures of habit and genetics, stuck in their ways. The father either dominates by sniping at everyone else or withdraws into silence; his wife tries to be supportive and conciliatory, etc. Dad is literally stuck -- he's confined to a wheelchair -- and the other four remain nearly as frozen in place as he is.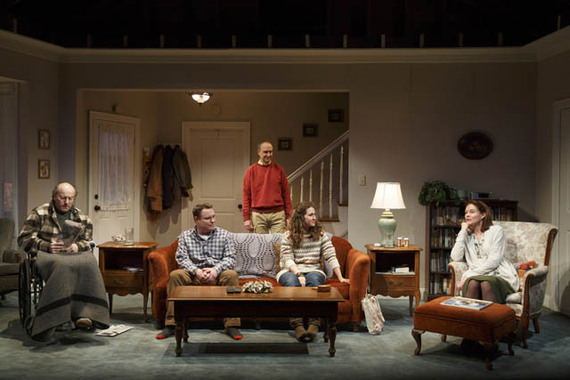 In a way, they're soulless or dehumanized. None of them refer to one another by name; even the pooch who runs off at the beginning is mentioned only as "the dog." Nor is the location identified. Although you might, by the end, see a resemblance to the estate in The Cherry Orchard, it's basically an Everytown USA, as universally American as Grover's Corners in Our Town.
The original quintet also lacks shoes; Dad's in slippers, the kids are in their socks, etc. This may be a nod by Eno or by the show's director, Oliver Butler, to a recent fad in Brooklyn (where Eno lives) but is probably just one of the few signs that these people actually feel at home and at ease.
It's hard to decide how much to say about The Open House. When there's pleasure to be had in any work of art or entertainment, part of it usually comes from discovering how the experience unfolds. That's especially true for this play, which is why I've avoided being very specific. If you think I'm being cryptic, you should see what Signature says about it in the overview on its website.
Here's an example of the show's humor. When Dad's brother declares, "They said I was a fool to study Latin, but where are they now?," he's promptly quashed by Dad's answer -- "Probably at work." That's a snappy comeback, but it carries a little jolt of pain.
In The Open House, Eno is working with the comedy of discomfort, which at any given moment -- and probably from one performance to the next -- can be awful, hilarious, or an uneasy mix of the two. Maintaining a flexible tone and pace that allows for all these responses is the challenge that faces the five players, Hannah Bos, Michael Countryman, Peter Friedman, Danny McCarthy and Carolyn McCormick. Under Butler's guidance, they bring it off masterfully. If the typical family were so smoothly functional, or the typical family drama were this imaginative -- but that's like saying, "If pigs had wings..."
Photograph by Joan Marcus.
Related
Popular in the Community