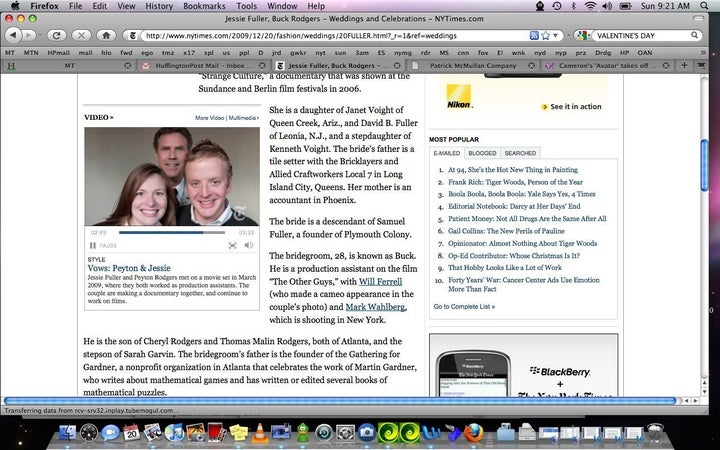 Will Ferrell made a cameo in the New York Times' wedding announcements on Sunday, in a newlywed couple's photo.
Jessie Fuller and Buck Rodgers met as production assistants and one works on an upcoming Ferrell movie.
He is a production assistant on the film "The Other Guys," with Will Ferrell (who made a cameo appearance in the couple's photo) and Mark Wahlberg, which is shooting in New York.
Ferrell also appears for a few seconds in the couple's video for the NYT website.
The third person is not technically against the paper's stringent photo requirements, but the couple's off-eyebrow height may be. The photo rules, posted here, read as follows:
Our policy on photographs has changed. While we continue to include formal portraits of couples and individual brides, we also include full-length images of brides in wedding dresses, as well as informal photographs of individuals or couples at home, outdoors or in other attractive settings. Those posing for pictures should be neatly dressed, and the images should be of professional quality. Five-by-seven or eight-by-ten prints are preferred. They may be either black-and-white or color.

Couples posing for pictures should arrange themselves with their eyebrows on exactly the same level and with their heads fairly close together. Couple pictures should be printed in a horizontal format.
Popular in the Community