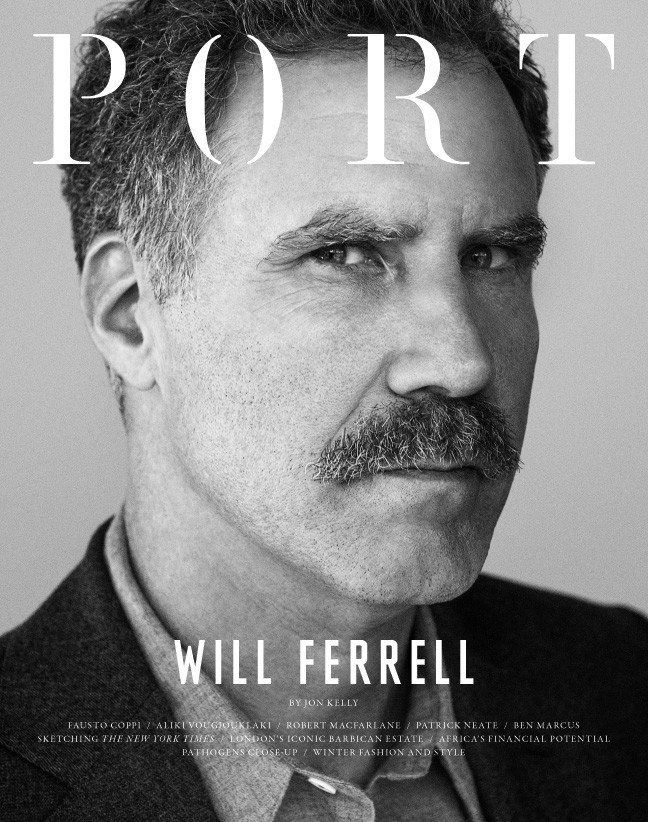 Will Ferrell is gracing the pages of PORT Magazine this winter, and we've got the exclusive first look at both the cover (photo by Tim Barber, styling by David St. John-James) and the story by New York Times Magazine editor Jon Kelly.
Ferrell may be one of the most revered comedic actors working today, but he wasn't always so confident. Back when he auditioned for "SNL", he was downright awkward. Fortunately, that didn't stop Lorne Michaels from casting him. In this excerpt from the PORT interview, Ferrell describes his audition process, and the joke that never quite happened:
Ironically, the biggest break in Ferrell's career came from a joke that he was never able to make. By the mid-90s, Saturday Night Live, the beloved and long running NBC sketch comedy show, was in need of new life. Mike Myers, Dana Carvey, and other stars who had defined it for an era were moving on to Hollywood features. As a result, the scouts were on a nationwide hunt for new talent, which led them to a Groundlings show one Friday night.

Ferrell recalls that he must have had a good night because he was flown soon thereafter to New York to audition for… Lorne Michaels.... He delivered his routine to an empty audience. The only thing in the room was a video camera, which would make a tape for Michaels to eventually watch…. "You just have to do comedy in a void," he said, still seemingly spooked by the experience. "Which Lorne purposely does because he wants you to feel the pressure of live TV."

Ferrell got called back again, but this time Michaels wanted to meet him in person. Eager to impress his would-be boss, Ferrell devised a strategy: "I thought I would be funny with him. So I brought a briefcase filled to the top with $100,000 in fake money. I was just gonna open the briefcase and spin it around and say, 'Lorne, look, we can talk till the cows come home. We all know what really talks. Money. So I'm gonna leave this on your desk and you can take it or leave it.' Then I would walk out."

But it didn't exactly go according to plan. Intimidated by Michaels' presence, Ferrell sat in his chair clutching his briefcase during the entire interview. On the plane ride home, he agonized. Had he blown his chance? What comedian goes to an audition with a briefcase?
Pick up a copy of the magazine for the full interview. PORT Magazine Issue 8 is out December 13.
REAL LIFE. REAL NEWS. REAL VOICES.
Help us tell more of the stories that matter from voices that too often remain unheard.
BEFORE YOU GO
PHOTO GALLERY
Will Ferrells Best SNL Characters