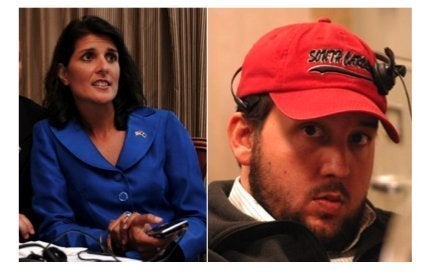 A few weeks ago, conservative blogger Will Folks sparked a firestorm by claiming that he had engaged in an "inappropriate physical relationship" with South Carolina GOP gubernatorial candidate Nikki Haley.
Haley is facing a runoff next week against Rep. Gresham Barrett, and Folks is lending his support despite the fact that he still stands by his claims that the affair took place.
In a blog post Friday, Folks admits that Haley's "political career could very well go down in flames if (and more likely "when") this ticking time bomb goes," but said that the "hundreds of millions of dollars that will likely be saved as a result of her winning the general election in November" is reason enough to endorse her for Governor.
And the bottom line for S.C. taxpayers is that Haley would vote the right way on the S.C. Budget and Control Board, use her veto pen to reduce the size and scope of government and sign a universal parental choice bill which would (at long last) provide parents with real options and our flawed system with real, market-based accountability. Also, all signs are that Haley would aggressively pursue government restructuring - although it's probably fair to say that her credibility when it comes to government transparency (her signature issue up to this point) has been pretty much shot.
Folks later throws a backhand into this compliment, saying that Haley can't "be trusted to keep her word," but reasons that he's willing to let it slide because of the precedents set by current South Carolina Gov. Mark Sanford and President Bill Clinton, who "cut our capital gains taxes, pushed for free trade and worked with Republicans to pass welfare reform" despite their own marital troubles.
REAL LIFE. REAL NEWS. REAL VOICES.
Help us tell more of the stories that matter from voices that too often remain unheard.