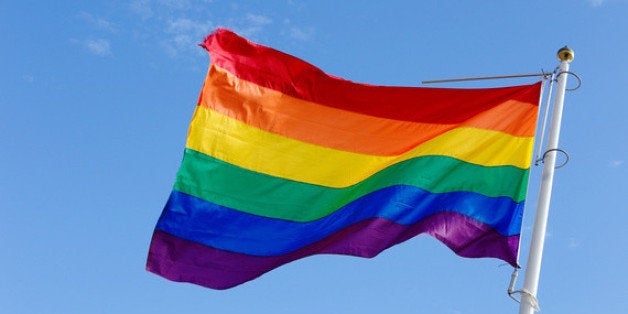 On November 9, under a grey sky with light rain, I drove to federal court in Springfield, MA, to hear summary arguments inSexual Minorities Uganda (SMUG) vs. Scott Lively, a civil lawsuit in which Scott Lively, an American pastor, is being sued for aiding and abetting the persecution of LGBTI persons in Uganda.
It was hard to wrap my head around where I was going. The election result was only a few hours old and I felt physically ill that our president-elect was someone who had threatened countless Americans with racist, misogynistic and xenophobic rhetoric. David Remnick in The New Yorker had called Donald Trump's victory "an American Tragedy."
What was happening in America felt so big that this court hearing felt momentarily of small importance - until I checked Twitter and was resoundingly disabused of that notion. Uganda's president Yoweri Museveni, ranked the 6th worst dictator in the world, had tweeted to @realDonaldTrump that he looked forward to working with him. A confirmed authoritarian had welcomed a new one to the global arena. Fighting for the protection of human rights was - and continues to be - as paramount as ever.
Judge Michael Ponsor asked counsel on both sides to present him with detailed information on two specific issues: what actions did Scott Lively take in the United States that had a direct causal link to the suffering of LGBTI persons in Uganda and what speech or conduct of his fell outside the protection of the first amendment. This evidence will help determine whether the case goes to trial.
SMUG is suing Lively under the Alien Tort Statue by which foreign citizens can seek redress in U.S. courts for violations of international law, including human rights abuses. "We have overwhelming evidence," SMUG'S Executive Director Frank Mugisha said in a press release, "that Scott Lively worked closely with other anti-gay leaders in our country to deprive us of our fundamental human rights."
Twelve gay activists from Uganda flew in for the proceedings. Joining them were other LGBTI Ugandans currently living in the United States under asylum. A few supporters for Lively were also present, as were reporters, ministers, scholars and more. On this rainy, post-election morning, so tightly packed was the courtroom that a live video feed had to be offered in another courtroom for the overflowing crowd.
Representing SMUG were Jeena Shah and Pam Spees for the Center for Constitutional Rights in New York City. Arguing for Lively were Horatio Mihet and Roger Gannam from the Florida-based Liberty Counsel.
Driving in, I had been reminded on the news that this particular day, November 9, marked the 78th anniversary of Kristallnacht - "the Night of Broken Glass" - during which Nazi paramilitary forces began a two-day pogrom against the Jews, arresting 30,000 Jewish men and committing murder, rape and widespread destruction of Jewish property.
Scott Lively believes gays are responsible for the Nazis. He has written a book, The Pink Swastika, in which he and co-author Kevin Abrams claim: "the Nazi party was conceived, organized and controlled throughout its short history by... masculine-oriented male homosexuals." In 2009 Lively drew upon this book when warning Ugandan authorities at an anti-gay conference in Kampala that homosexuals were "monsters" who would recruit and rape their children, destroy Ugandan society, and potentially commit untold atrocities if not stopped by the government.
Back home in Springfield, MA, Lively acted as a consultant and advisor to Ugandan politicians as they drafted the Anti-Homosexuality Act (AHA), legislation so severe that it called for the death penalty in some instances. While Lively disagreed with capital punishment (it was eventually removed), he actively supported incarceration. For instance, to silence LGBTI advocacy groups like SMUG, Lively suggested a 5-year prison sentence for their "promotion of homosexuality."
Lively's lawyers are now seeking to prove that he maintained a constitutional right to share and advocate his beliefs, however challenging they might be, because of his right to free speech. Yet Lively had purposefully sought to imprison LGBTI Ugandans for doing the same. An unsettling privilege was thus unfolding on one side of Judge Ponsor's courtroom. Wrapping himself up in the Bill of Rights, the white American pastor was claiming sanctuary and innocence from wrongdoing in Africa.
As a matter of public discourse, Lively's writings and lectures, no matter how incendiary, are protected under the first amendment. But does the record of his private actions, whereby he became intimately involved in a government-led campaign to deprive LGBTI Ugandans of their civil liberties, leading to extraordinary suffering on the part of the latter, deny him the protection of the first amendment?
Constitutional scholar Robert Post has written: "First amendment doctrine is neither clear nor logical. It is a vast Sargasso Sea of drifting and entangled values, theories, rules, exceptions, predilections." Lively tried to have this case dismissed two years ago on first amendment grounds and was denied. In response to his repeated claims, SMUG'S lawyers argue that Lively's speech and conduct as documented in this case lent practical assistance to the persecution of an entire class of people and was, indeed, criminal.
In January 2011, David Kato, the father of the Ugandan gay rights movement and a co-founder of SMUG, was murdered in his home after receiving numerous death threats for being a gay activist. Hillary Clinton, who was then Secretary of State, called Kato's death "the result of a nationwide campaign to suppress LGBT people by any means necessary, and the government was part of it." When preparing to give her historic LGBT rights speech to the world (in which she boldly proclaimed "Gay rights are human rights"), before settling on Geneva she considered giving the speech in Uganda, due to Kato's tragic death. His murder was symbolic of the price of visibility for so many LGBTI persons, a price that no one should ever have to pay.
A month after Kato was killed, Lively wrote a blog post astonishingly titled "Murdering Uganda" in which he advanced his charge that Uganda was under attack from "the lavender Marxists" who were "the evil in Uganda today." After the AHA became law in 2014, Lively warned three of his co-conspirators: "You may think the battle is over because you have the anti-homosexuality law, but for them [i.e. LBGTI persons] this is only the beginning of the next phase of their war to conquer you."
One might reasonably question, who is this man Scott Lively and how did he acquire so much foreign influence? As we have seen in the presidential election, rhetoric is powerful. The right words at the right time to the right audience can move the most unthinkable of mountains - for good or for ill.
Uganda's Constitutional Court struck down the AHA on a technicality, but another anti-gay bill has been drafted and LGBTI persons continue to be denied their right to free speech, assembly and association. The wave of anti-gay sentiment set off by Lively and his co-conspirators in the Ugandan government remains powerful and dangerous. Last August during the country's fifth annual Pride, police violently raided one of the events (a fashion show), arrested attendees without just cause, beat them, mocked them, and in some instances subjected transgender persons to humiliating genital inspection.
At least two of those arrested, including SMUG'S Executive Director Frank Mugisha, had flown in for the hearing and were sitting in the courtroom opposite Lively. Indeed every Ugandan at this hearing knew intimately about abuse from authorities because of sexual or gender orientation. The presence of these men and women made a powerful testament to the dire importance of protecting gay human rights - and standing up to those who would deny them.
Will Judge Ponsor send this case to trial? Will Scott Lively be able to prove that he committed no crime in conspiring to deprive LGBTI Ugandans of their fundamental freedoms? Will Donald Trump as President of the United States defend the human rights of all LGBTI people the way Hillary Clinton has done?
As with so much else in this post-election world, we must wait and see. In the meantime, we must continue to defend everyone's right to life, liberty and the pursuit of happiness. Twelve men and women traveled halfway across the world for this hearing. At the very moment Hillary Clinton was making her concession speech, they and their friends stood waiting to enter the courtroom, exemplifying Clinton's words: "Fighting for what's right is worth it...never, ever regret fighting for that."
Popular in the Community