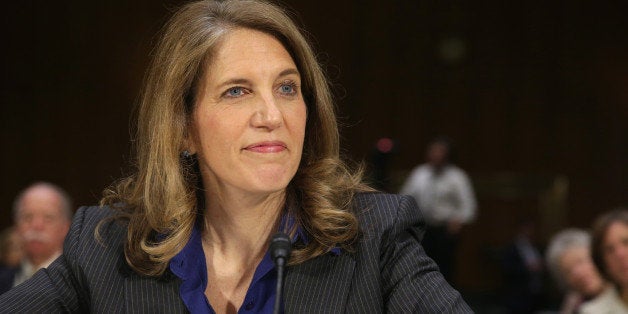 Here's a reality check: Since President Obama took office in 2009, not a single top-level official from the White House, the EPA, the Council on Environmental Quality, the Department of the Interior, or the Department of Justice has ever made a fact-finding tour of mountaintop removal mining communities in central Appalachia, home to one of the worst health and humanitarian disasters in the nation. Even worse, a federal judge ruled last month that the U.S. Army Corps of Engineers may disregard studies on the health impacts of mountaintop removal mining in its permitting process.
That could finally change with the newly appointed Department of Health and Human Service Secretary Sylvia Burwell, who was born and raised in Hinton, West Virginia.
"We implore you to come home for a visit, come to our mountaintop removal communities in the Coal River Valley," nationally-honored West Virginia advocate Bo Webb wrote in a letter to Burwell this week. "Come to Twilight and Lindytown and see what mountaintop removal is doing to us."

Recognizing the staggering human and health crisis from the extreme form of strip mining, including high birth defects and cancer rates, besieged residents and coal mining families in Burwell's neighboring West Virginia communities have now issued an urgent appeal to the HHS chief to make a breakthrough visit to afflicted residents.
"All of us who have been born and grown up in West Virginia recognize our close connection to coal and the coal industry," wrote Webb, a Vietnam veteran, who co-founded the Appalachian Community Health Emergency group. "My father, uncles, grandfather, and cousins, all worked in underground coal mines. Mining has been an honorable job in West Virginia." He added:
But now there is this most destructive method of mining known as mountaintop removal, and if you live near this specific type of mining you have greatly increased chances of getting cancer. (Double that of non-mountaintop removal communities and nearly triple the national average) Birth defects in our mountaintop removal communities have grown shockingly higher as mountaintop removal has become more prevalent. Heart and lung diseases have increased as well. Scientific research continues to unveil this increasing health crisis, yet our family's health is being ignored. It is heartbreaking to continue to witness close friends and family members suffer and die, knowing their deaths are premature and preventable. Yet our state and federal leaders refuse to even acknowledge the multitudes of peer reviewed scientific research that show these health issues are unique and specific to mountaintop removal communities.
The HHS, of course, is the "U.S. government's principal agency for protecting the health of all Americans and providing essential human services."
More than 20 peer-reviewed studies have been published on the heath impacts of mountaintop removal mining on residents and miners.
In an oped in the Charleston Gazette last week, Webb, whose family has lived under a mountaintop removal operation, wrote:
"This is personal to me. In 2012, my wife Joanne was diagnosed with lung cancer. She passed away three months later. It was devastating. We had been married for nearly 40 years. All around us, people are getting sick. They're dying. And the scientific evidence tells us mountaintop removal mining is the cause of much of this suffering."
Here's Webb's full letter to Burwell:
Dear Madam Secretary,

Congratulations on your confirmation of becoming President Obama's choice to lead the Department of Health and Human Services. As a West Virginian I am extremely proud of your service to our country going back to the Clinton administration, your foundation work since, and now this most important appointment. I wish you the very best in your new position and have no doubt you will achieve great success as you have throughout your career.

I am hopeful that your appointment might give those of us West Virginians who are experiencing firsthand the health horrors of mountaintop removal mining an opportunity to finally have someone at the federal level recognize the great number of health disparities that exist in mountaintop removal communities specific.

All of us who have been born and grown up in West Virginia recognize our close connection to coal and the coal industry. My father, uncles, grandfather, and cousins, all worked in underground coal mines. Mining has been an honorable job in West Virginia.

But now there is this most destructive method of mining known as mountaintop removal, and if you live near this specific type of mining you have greatly increased chances of getting cancer. (Double that of non-mountaintop removal communities and nearly triple the national average) Birth defects in our mountaintop removal communities have grown shockingly higher as mountaintop removal has become more prevalent. Heart and lung diseases have increased as well. Scientific research continues to unveil this increasing health crisis, yet our family's health is being ignored. It is heartbreaking to continue to witness close friends and family members suffer and die, knowing their deaths are premature and preventable. Yet our state and federal leaders refuse to even acknowledge the multitudes of peer reviewed scientific research that show these health issues are unique and specific to mountaintop removal communities.

I implore you to come home for a visit, come to our mountaintop removal communities in the Coal River Valley. Come to Twilight and Lindytown and see what mountaintop removal is doing to us. On the average there are 5 million pounds of ammonium nitrate and diesel fuel mix detonated per day in the mountains directly above our homes in southern West Virginia and eastern Kentucky. This has been going on for nearly the last 20 years. The fallout of fine particulates of silica, aluminum and other toxins are killing us.

Please come and see for yourself. Please talk to research scientists at WVU and Indiana University who have published papers on this subject. Please talk to research scientists at the United State Geological Survey that have collected and conducted test on the air we are breathing. I am more than happy to supply you all their names and contact information. But please, more than anything, first please come home and see this with your own eyes. I would be more than happy to organize local groups and individuals for you to meet on such a visit.

Sincerely,

Bo Webb
Related
Popular in the Community