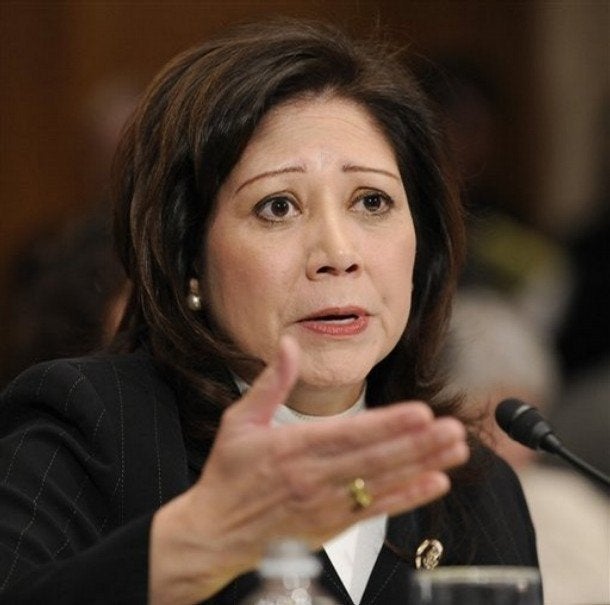 Just a day before Wednesday's Senate panel vote for the pro-worker Hilda Solis as Labor Secretary, another blow for workers' rights was struck by the crusading City Attorney of Los Angeles, Rocky Delgadillo. He filed a 176-count criminal case against two Los Angeles carwash owners and their machete-wielding manager for violating labor laws and criminal statutes by allegedly abusing and intimidating workers, and for failing to pay the minimum wage; the city attorney likened the conditions to a "work environment that bordered on indentured servitude."

"In this city, we will hold to account and prosecute those who cheat or abuse their employees," said Delgadillo. "We are not going to allow business owners to cut corners -- in violation of the law -- to turn a profit." The owners of these four car wash sweatshops, Benny and Nissan Pirian, could each face as long as 86 years in jail and a total of more than $1.25 million in fines and restitution. (Neither Pirian brother returned phone calls for comment, and manager Manny Reyes told this reporter "I don't know anything" about allegations that he flaunted a machete, a bullet and a billy club at various times to threaten workers and organizers. )
But it's not just the Southern California car wash industry that routinely violates basic labor laws on pay, hours and workers' rights: it's a widespread scandal involving an estimated $19 billion a year in virtually unpunished wage theft involving some of the country's major corporations, including Wal-Mart, Tyson and even Federal Express.
And it's no surprise, then, that such companies are among the most virulent opponents of the Employee Free Choice Act, which aims to level the playing field by giving workers the right to choose how to form a union.
One of the challenges for Solis is whether she'll be tough enough in cracking down on such rampant abuses with a Labor Department gutted by eight years of pro-business GOP hacks in charge. It's not that likely, though, that the moderate Solis will pursue criminal cases against the top CEOs who have yet to face the prospect of jail time over wage theft, given the corporate flack the Obama administration faces over the Employee Free Choice Act. Both federal and state wages-and-hours laws include criminal provisions.
Even so, as the AFL-CIO's general counsel, Jon Hiatt, observes, "My dream is that the first act of the new Secretary of Labor would be to identify top executives of companies that routinely violate wages and hours laws -- and take them out of their offices in handcuffs. The deterrent value would be enormous." In the 1930s, he points out, FDR's War Labor Board pursued the prosecution of the top executive of the Montgomery Ward company for refusing to recognize a union -- and he was indeed photographed being dragged from his office in handcuffs.
But even without criminal penalties, the lax federal enforcement in recent years has created a workplace climate that essentially gives a green light to owners and managers to break laws with impunity. These scofflaws apparently included Vermont Hand Wash manager Manuel Reyes, charged with two counts each of witness intimidation and brandishing a deadly weapon -- with a maximum penalty of two and half years in the county jail.
Reyes threatened Israel Jimenez, a union supporter, with violence when the manager showed him .38 caliber bullets on one occasion in April and a machete and combat knife on another occasion in June -- after Jimenez complained about his hours being cut. That's according to this reporter's interviews with union supporters, an unfair labor complaint filed last July, and the new criminal charges.
Jiminez says, through a translator, "When the manager showed me his machete, he said that he kept it, and other weapons, in his car for whatever might come up at the car wash. He has told me when he pulls out his gun, he uses it to kill. This made me afraid for myself and my co-workers who are trying to improve the conditions at this carwash."
Reyes's alleged threats were a response, in part, to the union organizing campaign by the Carwash Workers Organizing Committee (CWOC) of the United Steelworkers that began last March. That organizing effort is joined by a coalition of community and union groups known as CLEAN, which stands for Community-Labor-Environmental Action Network, to improve working conditions for the roughly 10,000 workers in the car wash industry in Los Angeles.
Henry Huerta, the director of the CLEAN Carwash Campaign, says of the car wash owners: "They're driven by greed and a belief that they can get away with a blatant disregard for the law." He witnessed Reyes's unique approach to reform appeals when Huerta was leading a group of demonstrators outside of the Vermont Hand Wash, and Reyes reached into his trunk, then brandished a billy club raised high for all to see. The workers stood inside the car wash, cowed, while Reyes glared at Huerta and others, turning around slowly with the billy club in his hand, signaling his willingness to use it, Huerta recalls.
If all these threats and wage theft abuses weren't enough, the car wash owners charged criminally Tuesday not only forced some workers to live on tips alone, but they have reportedly endangered the safety of their workers with the heedless use of chemicals and arranged for them to drink unclean, polluted water on the job. As even a car care industry newsletter reported:
Prosecutors have accused the Pirians of routinely denying employees fair wages, refusing to pay for overtime, and ignoring rest and lunch break requirements. Some of the Pirians' employees were paid a flat rate of $35 to $40 per day, with some working for tips alone, Delgadillo's office said.

Investigators also have charged the Pirians with failing to provide adequate drinking water for employees. At some of the carwash locations, the only drinking water provided allegedly came from a filtered pump attached to the same washing machine used to clean dirty towels, according to the city attorney's office. The only alternative on-site was to buy bottled water for $1.50 to $2 per bottle, officials said.

The carwashes also did not meet safety standards and failed to arrange necessary medical attention for workers who suffered serious physical injuries, including acid burns, deep puncture wounds and lacerations, prosecutors said.
As Bosbely Reyna told reporters Tuesday when the prosecutor announced the charges: "The owners cheated us out of our wages and didn't pay us for all the hours we worked. The working conditions are dangerous, and they treated us with no respect, yelling at us to work faster and humiliating us in front of customers." In fact, according to the CLEAN campaign, Bosbely , who worked at Vermont Hand Wash for nearly two years as a dryer and detailer, suffered along with his co-workers from health effects from using acids and other toxic chemicals without any protective gear, such as goggles or gloves.
Bosbely bravely reported the dangerous working conditions at the carwash to Cal/OSHA and answered questions from the press when other workers were afraid to. He also joined his coworkers in taking legal action against the owners of the carwash for not paying minimum wage or overtime pay, and not allowing workers to take meal and rest breaks. In October 2008, management at Vermont Hand Wash fired Bosbely.
But all his legal complaints to state labor and environmental agencies didn't lead to any redress by the owners, either because they were tied up in appeals and delaying tactics by the company, or the owners' blunt refusal to abide by any rulings against them. As CLEAN pointed out in its news release this week:
The City Attorney's criminal complaint is only the latest enforcement action taken by government agencies against carwashes operated by Benny and/or Nisan Pirian:

* Pirian family-owned carwashes have been cited by Cal/OSHA for putting workers in danger due to unsafe working conditions;

* The National Labor Relations Board recently filed a complaint against Vermont Hand Wash for, among other instances of alleged misconduct, firing and/or retaliating against workers who spoke out publicly about working conditions;

* A Pirian family-owned carwash was cited by the Los Angeles County Department of Public Works for repeatedly allowing carwash wastewater to flow into our storm drains.

"We hope this sends a message to carwashes across the city that they can no longer violate the law with impunity," said Glen Arnodo of the Los Angeles County Federation of Labor. "This community, including thousands of workers across Los Angeles, will stand together with carwash workers until they win this fight for justice and dignity."
The Los Angeles Times also cited the Pirians' history of flouting laws and a series of lawsuits:
The criminal charges follow a number of lawsuits filed against the Pirians by the nonprofit [legal services organization] Bet Tzedek.

The first suit, filed in 2005, alleged violation of labor laws, including wage and hour and overtime laws. It was settled.

In May, the firm sued the Pirians again, alleging wage and hour and overtime violations.

Bet Tzedek is seeking class action status for about 300 current and former employees.

"It's the exact same thing," sighed Kevin Kish, director of Bet Tzedek's Employment Rights Project. "We deal with a lot of industries where there are a lot of unrepentant employers. I'm a little surprised at the level of unrepentance here."
The entire carwash industry, it seems, along with other industries with low-paid immigrant workers, are a throwback to the early 1900s with bosses who do whatever they like to workers as if federal and state regulations don't exist.
The carwash industry in Los Angeles represents, in short, a utopian ideal of management-labor relations for GOP anti-union politicians and their pro-business cheerleaders in Washington's right-wing think tanks. As James Sherk of the Heritage Foundation asked last year in an essay, "Do Americans today still need labor unions?" His answer was headlined in bold: "NO: LABOR UNIONS ADD TO COSTS AND DISCOURAGE PRODUCTIVITY."
But the crimes being pursued by Los Angeles City Attorney Rocky Delgadillo, responding to the violations brought to his attention by union supporters, show just why unions are needed and why employers can't be allowed the untrammeled freedom to pay workers whatever they want and treat them like serfs. As Kevin Kish, director of the Employment Rights Project at the Bet Tzedek Legal Services, notes, "The City Attorney is sending a clear message: wage theft is a crime, and it won't be tolerated in Los Angeles." The use of criminal prosecution, instead of the time-consuming and often fruitless approach of seeking redress through complex civil ligitation, is "quite extraordinary," observes Jon Hiatt, the AFL-CIO counsel.
Union activists hope that when Hilda Solis is confirmed as Labor Secretary, as now seems likely, she'll take some cues from the innovative, tough-minded prosecution in Los Angeles. If that turns out to be the case, we could perhaps look forward to seeing a CEO from Tyson, Wal-Mart or other wage-robbing employer marched by federal agents in a "perp walk" past ogling cameras and pushed into a waiting squad car. And the dream of union attorneys -- and exploited workers -- everywhere then might then finally come true.
**************************************
Art Levine is the co-host of the "D'Antoni and Levine" show on BlogTalk Radio, every Thursday at 5:30 p.m, ET.


REAL LIFE. REAL NEWS. REAL VOICES.
Help us tell more of the stories that matter from voices that too often remain unheard.