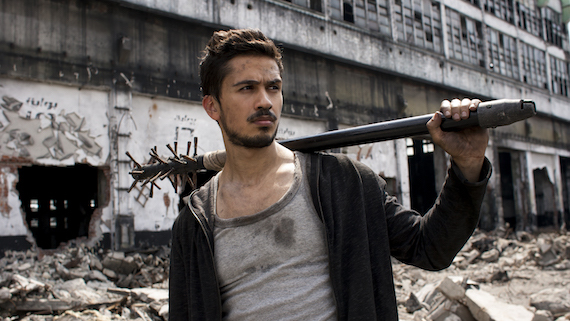 Some people may read books and others listen to the media in times of uncertainty. I turn to cinema to find the answers.
Within Ali F. Mostafa's latest film The Worthy, I found what I sought -- the answers to a few of humanity's questions. But also through this groundbreaking film that is at once entertaining, edge-of-your-seat enthralling and every bit as Hollywood blockbuster as it is truly Arab, I also discovered that I have many more questions. When a film can do all that, in just under two hours, it's a full-out winner.
The Worthy world-premiered at the BFI London Film Festival, which is in itself a sign of the times. The festival must have realized they had on their hands a film with its finger on the pulse of our modern struggles, a precipice-side view into our most disastrous fantasies, complete with an opening line straight out of the headlines.
While a truck travels down a desert highway -- before the story turns to a dystopian, not so far future when the world has been plunged into chaos, all water supplies have been contaminated and only a few individuals have access to this transparent precious commodity, though stuck within a hell of their own -- in Arabic we hear Eissa (played by Mahmoud Al Atrash) speak in voiceover these haunting words. "The Stranger told my father, beware of the Black Flags, they only look out for themselves," he says. That uncomplicated nod to something so known to us today, an iconic mental image of doom, started for me a rollercoaster cinematic journey that sent shivers down my spine and kept my eyes peeled to the movie screen ahead -- even at times when I knew I should have looked away.
But although The Worthy appears to be a prophetic work of art -- since the script by Vikram Weet was written "before all this," as filmmaker Mostafa pointed out during our interview in London -- it's also a proper thrill packed movie.
A true cinema experience, an unadulteratedly violent, gory, action-filled thriller with great special effects and wonderful stars, The Worthy is an ensemble piece that easily showcases the talents of Arab superstars, the best from around the Region. From Ali Suliman, who plays Jamal with an inner tenderness only he possesses, along with favorite Palestinian actress Ruba Blal, whose performance as Raya is touching and wondrous, Maisa Abd Elhadi playing the silent Gulbin to perfection, Samer Ismail as the haunting stranger Mussa, Samer Almasri as Shuab the father, Rakeen Saad as Maryan his daughter, Al Atrash as her devoted brother and even Mostafa's own talented brother Mohammed as Daoud -- every single player in the film adds just what is needed to make the story human, believable and grandiosely entertaining. Not a drop more, and definitely not an inch less.
Rami Yasin, a co-producer on The Worthy along with Peter Safran and Steven Schneider, admitted that "initially the script was set in the States in a future world. When we got it, we were chatting about how to make it ours, how is this relevant to us? And we started with the world, our world." He continued, "where would the world be in ten years if this continues? And that's where it eventually reached." He also explained that "what we love about the story is this universality, which is basically a fight for our humanity. If all else fails, everything else fails, will humanity survive or not? And the world that we came up with was ours."
Yet confining The Worthy to the Arab world, calling it an Arabic movie would be a mistake. Mostafa's film is grand because it represents a gigantic leap forward for an industry that perhaps seemed stuck in trying to tell their intimate stories, within a world craving grand spectacles. Personally, a couple of days after viewing it, I find myself craving The Worthy, wanting to watch it again. And when I think of the film, I forget I had to rely on subtitles to understand the dialogue. In fact, I can't help but feel I've watched cinematic history play in front of my very eyes. A true, mass-appeal, please-the-critics too film coming out of the Emirates, which both Western and Arab audiences can enjoy and yearn to watch. Maybe even side by side.
History has been written. There is no turning back.
Behind the grand project that is The Worthy stands a company I deeply believe in -- Image Nation Abu Dhabi. Pioneers of bridge-building as far as movies go, they have been synonymous with beautiful quality and superior projects since joining the cinematic landscape. From The Help, to 99 Homes, from He Named Me Malala to The Hundred Foot Journey, from Zinzana to From A to B, it seems all I crave to watch these days can be found within their catalogue of works.
I asked Ben Ross, Head of Narrative Film & Television at Image Nation Abu Dhabi, what it was like to have the film premiere in London, at this particular point in time -- when its themes are so relevant to our daily lives. He kindly replied, "we were honored to premiere the film at the BFI London Film Festival, as the festival is a wonderful platform to introduce The Worthy to the world, not only as a next step in bringing a new Emirati film to the international stage, but to show the world cinema audience that stories from our region can be relevant with their content in a way that Western audiences most often think the region isn't capable of." He then added, "hopefully we can change these misconceptions one film at a time by telling universally-themed stories with our unique regional point of view."
Mostafa also mentioned the global, contemporary importance of The Worthy when he told me "yes it's set in the Arab world, yes it has relevance to what is happening or could happen, but it is about "will humanity survive?" And that is a very universal story." When I pointed out that perhaps filmmakers are the prophets of our time, Mostafa kindly argued that "prophets usually foresee things that will actually happen; what we're doing is in pretense." I defended my position by letting him know that his films in particular have been wonderful learning experiences for me. His first City of Life taught me about life in Dubai, while From A to B was instrumental in understanding friendship, deeply. Mostafa, without missing a beat, replied, "but that's the job of a filmmaker. Not a prophet."
I know that I took away from The Worthy a few messages, mostly about personal courage and how bonds can sometimes hinder our progress. I was also left with more than a couple of questions, which may end up getting answered in future chapters perhaps... The filmmakers did hint at a sequel during the Q & A after the successful London screening! Which all depends on how the film fares in its own market, with the help and support of home audiences.
But I asked Mostafa and Yasin if they could choose a single message, to gift to their audiences, what would that be? Mostafa answered, "that humanity always prevails." Yasin, without missing a beat, then added, "love, it's the only thing that can see us through."
Image courtesy of BFI London Film Festival, used with permission.
Popular in the Community