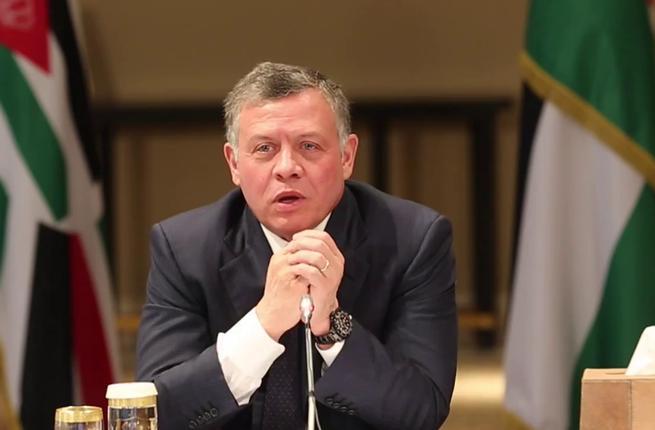 The Hashemite Kingdom of Iraq fell in 1958, when King Faisal II, cousin of the current King of Jordan, was executed in a coup d'état along with numerous members of his family. Though the so-called 14 July Revolution marked the end of Hashemite rule in Iraq, the neighboring Hashemite kingdom of Jordan still believes that Iraq should remain one of its main economic partners.
Jordan's political and economic relations with Iraq have remained positive since. Thus, it was not surprising when Ammar al-Hakim, head of the National Iraq Alliance, an Iraqi electoral coalition mainly composed of Shiite Islamist parties, met with Jordanian officials on December 7th in Amman.
In preparation for the upcoming Arab League summit, which will be held in Jordan at the end of this month, Hakim highlighted the importance of Jordan's leadership on two issues: one, Jordanian support of national reconciliation in Iraq, which Hakim commended after Jordan's King Abdullah II Bin al-Hussein used his ties with Sunni Arabs to encourage them to engage in the reconciliation process; and two, Jordan's role in supporting pan-Arab causes, including Iraq's efforts to regain its stability and resume its role in joint actions in the region.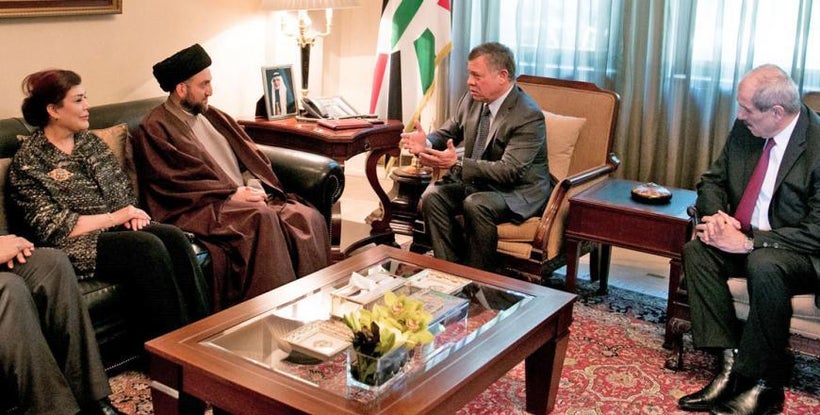 The Efforts of His Majesty
King Abdullah II Bin al-Hussein has also shown his readiness to assist Iraq by agreeing to meet a number of the country's Sunni leaders, including Speaker of Parliament Salim al-Jabouri, Mutahidoun bloc head and Iraqi Vice President Osama al-Nujaifi and Al-Arabiya coalition leader Saleh al-Mutlaq. The three men met Dec. 19 with King Abdullah II to discuss Iraqi reconciliation, but they were unable to decide on a single, united vision.
Turkey, with the support of Jordan, the United Arab Emirates, Qatar and the United States, hosted a series of closed meetings between Iraqi Sunni leaders on March 8 in Ankara. Attendees included former Deputy Prime Minister Saleh al-Mutlaq; the leader of the Arab Project (Al Mashroaa' Al Arabi), Khamis al-Khanjar; former Nineveh governor Atheel al-Nujaifi; the head of the "Solution" parliamentary bloc Mohammad al-Karbouli; and a number of lawmakers, tribal leaders and clerics.
Those who didn't attend the meeting – dubbed "Maliki Sunnis" – likely did so under the influence of former Iraqi prime minister Nouri al-Maliki, who was trying to convince Sunni officials not to attend. Those who stayed behind included Abdullah Al Sumaidaie, of the Iftaa' council (Majlis of Iftaa') and Abdul Latif Al-Humim, head of the Sunni Waqf in Iraq, among others. Speaker al-Jabouri likely did not attend to avoid any negative blowback from the Shiite parties or the Iraqi parliament as a whole.
The conference's most surprising guest was Dr. Muthanna al-Dhari, secretary-general of the Association of Muslim Scholars and the leader of the 1920 Revolution Brigades, a Sunni militia that used explosives and carried out armed attacks on the US forces during the American occupation of Iraq. He gave a speech about his vision for Iraq reconciliation, and then immediately left the conference. Since 2003 the Association of Muslim Scholars has refused to deal with Sunni representatives in the government.
Nevertheless, the Ankara meeting showed that these Sunni leaders were motivated by the Arab states to discuss the political future of Iraq post-ISIS. It was, in other words, a message to the other Iraqi political parties and the Iraqi government that the Arab world is also interested in helping Iraq unify itself.
Iraq's Prime Minister Visit to Washington
Iraqi Prime Minister Haider al-Abadi visited Washington Monday to meet with President Donald Trump. That, along with his recent talk at the United States Institute of Peace, showed his readiness to encourage friendly relations between not only Iraq and Saudi Arabia but also the other countries on Iraq's borders, such as Turkey, Jordan, Syria, Iran and Kuwait. Iraq is in the middle of these countries, and Iraq "can't move it from the map," he said during his USIP talk, adding that "we have to live with our neighbours."
There was another breakthrough in Iraqi-Arab relations when Saudi foreign minister Adel bin Ahmed Al-Jubeir visited Baghdad in February the first trip by Saudi high official from Riyadh since 1990. This is an encouraging move which could suggest that Iraq might be able to engage more in pan-Arab politics during the coming Arab League summit.
al-Abadi also addressed the Saudis' apparent willingness to open commercial and humanitarian relations and their interest in helping to reconstruct parts of Iraq liberated from ISIS. This kind of language by al-Abadi will also assist King Abdullah II of Jordan in his attempt to improve Iraqi-Arabs relations, as Ammar al-Hakim requested. But the bigger question is how much Tehran is willing to set Iraq free from its influence.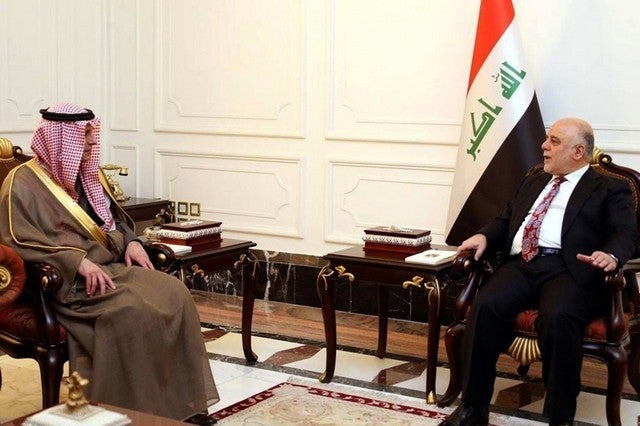 al-Abadi also stressed the importance of the Popular Mobilizations Units (PMU) law, which designated the PMU as the official security force of Iraq. Though in his talk he said PMU soldiers were "volunteer(ing) with their lives to protect the country (and) fought very well," he admitted that "there are others who are motivated by something else." Some PMU units, he said, have gone so far as to commit crimes like robbery and kidnapping. These units must be managed within the country's military institutions, and that the Iraqi government must apply law and order to ensure they are held accountable. Any PMU soldiers who operate outside these institutions, he said, "will be considered outlaws according to the Iraqi constitution." Many Iraqis applauded al-Abadi for his honesty and boldness in confronting this issue.
But al-Abadi knows that these statements won't make some political leaders in Iraq happy. Some will turn against him in the next election, especially if he decides to run as the leader of a new party. It was smart of al-Abadi to address the danger of the PMU at his talk, he insisted that the PMU should not be involved in politics. Some of these militias, like the Badr Organization, the largest Iranian-backed militia in Iraq, have political as well as military wing."You cannot carry arms and (be) a political group at the same time," he said, "otherwise you will use these arms in an election." al-Abadi reaffirmed these sentiments in his speech at a meeting of the Global Coalition against ISIS Wednesday.
The efforts of King Abdullah II to help Iraq integrate into joint actions in the region will be one of his main agenda items for the upcoming Arab League summit. But it seems he will need to do a lot of coordinating with Baghdad in order to help Iraqi Arabs, both Sunni and Shiite, come to agree on an acceptable reconciliation program. He might be able to play a bigger role if a reconciliation plan were to be led by an international organization like the UN or EU. Finally, al-Abadi's statements in Washington and his speech at the anti-ISIS coalition meeting, which were received with high praise from many Iraqis, could jeopardize his future, since Tehran and Iranian-allied groups in Baghdad have a different approach to reconciliation and the PMU. Iran will not stop mobilizing in an effort to meddle in Iraqi politics.
REAL LIFE. REAL NEWS. REAL VOICES.
Help us tell more of the stories that matter from voices that too often remain unheard.
This post was published on the now-closed HuffPost Contributor platform. Contributors control their own work and posted freely to our site. If you need to flag this entry as abusive,
send us an email
.